Your subscriptions support new blog articles and research. Please consider
subscribing
.
today.
---
by Stacey Lantz on May 21, 2013 11 Comments
A few weeks ago, I posted an article aimed at those of you travelers looking to plan your first ever Disney World trip. I covered three very important topics… requirements, when and how long, and tickets. In this second part I am going to go over transportation, accommodations, and the ever important itinerary.
Accommodations
I am pretty sure that almost anyone that looks at a list of possible accommodations in the Orlando area will be totally overwhelmed. There are so many options! Off property, on property, vacation homes, motels, hotels, value resorts, and even cabins! In order to make the big decision of where you are going to rest your head, you want to look at your options in categories and then break it down from there.
First off, if you have no interest in renting a car, either because you are petrified of driving around an unknown area, or because you do not need to go off of Disney property for anything, you probably should look at accommodations available to you right on Disney property. Disney hotels also work well for families looking to camp. When you are looking at on property versus off property, the major differences lie in what discounts and special perks you get from staying right with Disney. Disney offers guests staying right on property benefits like free parking at the Disney theme parks, shutter service to and from the parks, a "magical" bus shuttle to and from Orlando International Airport, room charging privileges, package pick-up at resorts, and the ability to add-on one of the controversial Disney Dining Plans.
by Adam Roth on May 20, 2013 7 Comments
For a while now I've hinted at my minor obsession with Bubba Gump Shrimp Co. at Universal Orlando's CityWalk. Long before the popular restaurant chain had a location in Orlando, I had been scouting out Forrest Gump-themed eateries across the country (and later, across the world), visiting eight other locations to experience was is honestly one of my favorite places to eat on the planet. As I've mentioned before, I'm a bit of a foodie, especially when it comes to seafood, but I'm also a huge fan of the film Forrest Gump, so the marriage of my two passions has always hit a soft spot for me.
by Seth Kubersky on May 18, 2013
With heavy lifting recently completed on the reconstruction of Big Thunder Mountain Railroad's track, the construction crane near Disneyland's Big Thunder Trail has been removed, reopening the pathway between Fantasyland and Frontierland full-time and returning the Big Thunder Ranch to daily operation. That's good news, because that area can expect to see much higher attendance next month when the Toy Story team arrives.
Similar to the Big Thunder Ranch Jamboree held last summer at Big Thunder's festival arena, Woody's All-American Roundup will include character meet & greets, carnival games, kids crafts, and specialty snacks. New this year is "Talent Roundup" stage show, featuring Jessie the Cowgirl's slingshot skills, Woody's lasso tricks, and the musical stylings of Buckaroo Bob.
by Tammy Whiting on May 17, 2013 5 Comments
It seems a lot of people have questions about tickets at Disneyland! The blog post I did on them last year around this time turned into an FAQ of sorts over the last 11 months. Over time, some things have changed and some have stayed the same. Disneyland tickets are still different than tickets at Walt Disney World in a lot of ways. So I thought now was a good time to update!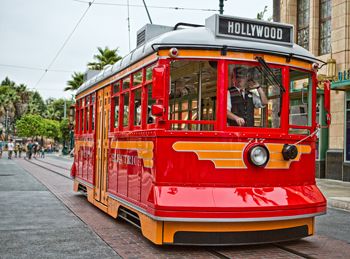 1. Prices Usually Go Up Once a Year – and if last year is any indication, that time is probably getting close. Price jumps are usually pretty nominal, but last year a few things, like the Premier Annual Pass, which gets you entry into both Disneyland and Walt Disney World for a one year period, went up quite a lot. The day passes shouldn't go up much, but if you're planning a trip later this year, you may save a few dollars buying them now. At Disney World, it's a tougher decision whether or not to buy tickets before prices go up, because at Disney World, the big discounted packages (free dining anyone?) often require a ticket purchase. At Disneyland, that's not typically the case. Historically Disneyland discounts are concentrated on room discounts. You can add tickets or not, the discount is the same. There are no guarantees on any of this, but it's information you may want to take into account.
2. Tickets Are Non-Transferable – Disneyland (and Disney World while we're at it) tickets are non-transferrable. They are. It's the rule. You can do it and offer every excuse in the book as to why it was okay, but that doesn't change the fact that it's against the rule. I know you would save a lot of money if your friends bought 5-day tickets, only used 3 and then gave them to you. Believe me – I know. But that's just not how it works. Whoever uses the ticket on the first day is who needs to use the ticket on the last day, the middle day, the middle-middle day. Got it? People overlooking that rule caused Disneyland to shorten the length of the tickets they offered.
by Rikki Niblett on May 17, 2013 1 Comment
It is the event that we've been waiting for to officially kick off a great summer at Walt Disney World and at Disneyland. The weekend is officially almost here.
Guests who visit on May 24 will have the opportunity to spend 24 hours in either the Magic Kingdom at Walt Disney World or Disneyland and Disney California Adventure at Disneyland Resort.
Walt Disney World
Those attending at Disney World will have the opportunity to see Mike and Sulley take part in the Move It, Shake It, Celebrate It Street Party. In addition, before the two performances of the Celebrate a Dream Come True Parade, a special pre-parade will take place featuring the duo plus a cheer squad, a marching band playing the MU fight song, and flag corps.
In Tomorrowland, from 4 – 9 pm, guests will be able to boogie down at the Monster Mania DJ Dance Party over at the Rockettower Plaza Stage. From 11 pm – 5 am, that same area will feature back to back showings of Monsters, Inc. You'll also have the opportunity to meet and greet Mike and Sulley.
Over in front of Cinderella Castle, from 2 am – 5:45 am, take part in the Disney Up All Night Dance Party.
by Rikki Niblett on May 17, 2013
We are slowly getting information about the 2013 Epcot International Food & Wine Festival, in my opinion one of the best times of year at Walt Disney World.
Earlier this week, we found out who some of the new artists performing during the Eat to the Beat Concert Series were (along with a few new details for this year's Food & Wine Festival). They include The Go-Gos, Edwin McCain, The Manhattan Transfer, Spin Doctors, and Christopher Cross.
Here is a look at when they, along with the other performers, will be taking the stage:
Sept. 27-29 – Starship starring Mickey Thomas
Sept. 30-Oct. 1 – Go-Go's
Oct. 2-4 – Air Supply
Oct. 5-6 – Sister Hazel
Oct. 7-9 – Sugar Ray
Oct. 10-11 – Edwin McCain
Oct. 12-13 – Manhattan Transfer
Oct. 14-15 – Wilson Phillips
Oct. 16-17 – The Pointer Sisters
Oct. 18-20 – Night Ranger
Oct. 21-23 – Boyz II Men
Oct. 24-25 – Survivor
Oct. 26-27 – 38 Special
Oct. 28-30 – Smash Mouth
Oct. 31-Nov. 1 – Spin Doctors
Nov. 2-3 – Christopher Cross
Nov. 4-5 – Hanson
Nov. 6-8 – Dennis DeYoung
Nov. 9-11 – Big Bad Voodoo Daddy
The performances take place at the American Gardens Theater in the American Adventure Pavilion.  Concert times are 5:30 pm, 6:45 pm, and 8:00 pm and are included with your park admission.
by Scarlett Litton on May 17, 2013 14 Comments
We're getting ready to stay up for a full 24 hours in Magic Kingdom for Monstrous Summer on May 24, 2013, and we want you to join us! I plan on being in the parks all day and will be roaming around handing out stickers, subscriptions, and water bottles…but there will be some scheduled meets as well.
Meet #1: Bi-Coastal Opposite Day Photo Opp: 1:00pm – The Partners Statue in the Hub: Disneyland has a small castle, Magic Kingdom has a big castle; Disneyland has a male researcher, Disney World has a female researcher; and if those researchers both want to have meets in front of their respective castles, why not make them full on opposites? Since Guy is having a meet in front of Sleeping Beauty Castle in the middle of the night at 1am, I'm having my meet at Cinderella Castle in the afternoon at 1pm! That way we can have two opposite pictures from opposite coasts to commemorate the day. Guests who come to this meet at Magic Kingdom will get a 3 month extension to their TouringPlans subscriptions, and there will be other giveaways.
by Scarlett Litton on May 16, 2013 8 Comments
After a morning at Disney's Animal Kingdom checking out the new Adventurers Outpost meet and greet, I went to spend the day at Magic Kingdom.
First thing we saw upon arriving was that the Citizens of Main Street were out and about, and I wanted to get my picture with the Mayor. He was just wandering around chatting with people and had no problem stopping for a quick picture…he even commented on how much he loved standing next to a gorgeous red head…that mayor is quite the charmer! Even though they aren't a major attraction, I really enjoy the Citizens of Main Street. They add so much to the ambiance and theming of the land and make it seem more authentic.
I was anxious to get to Monsters, Inc. Laugh Floor because I heard they added in a few things from the upcoming Monsters University movie. The queue and pre-show were completely unchanged. Even the actual show had very little done. The Marty Wazowski set had a Monsters University backdrop, and he made a comment about wanting to grow up to attend Monsters University, but that was all. The only other significant thing I noticed was that we got Buddy Boyle's box trick instead of his mind-reading act. The box trick set he does has always been an option for the show but is rarely used since it is much more complicated for the actors than the mind reading. I've heard a few other people mention they have gotten this set recently, so it may be used more often now that Disney made some adjustments. Read the rest of this entry »
by Guy Selga Jr. on May 16, 2013 2 Comments
All-nighters at Disneyland are tough, but TouringPlans is here to help you. I'm happy to announce that we will be having three meets during the Monstrous 24 hour event on May 24!
Meet #1: Good Morning Meet
10 AM to 11 AM – Pacific Wharf seating area – Disney California Adventure
We will all meet in the morning at provide you with some snacks (bagels, danishes, muffins, fruit) to fuel up for the day.
Meet #2: TouringPlans Hospitality "Lounge"
4 PM to 5 PM – In a to be announced hotel room – Grand Californian Hotel
For 1 hour on Friday we will open up the TouringPlans staff hotel room for our friends so they can come and relax before the madness of that evening begins. We will provide soda, water, and snacks as well as some nice prizes for those in attendance. This isn't a traditional meet; we'll have the room open for two hours, and people can come and go as they please. The room number will be announced in Disneyland Lines Chat and on our Twitter account.
Note: We don't foresee this being a problem, but we may turn away people if the room becomes too crowded. Please check the TouringPlans Twitter account at the time of the meet.
Meet #3: Midnight Meet
12 AM to 1 AM – Jolly Holiday Bakery – Disneyland
Join us at Jolly Holiday Bakery, where we will provide coffee or hot chocolate. Disneyland should be in full-on insanity mode at this hour; if for some reason the hub becomes gridlocked (like it did during the leap day 24-hour event), this meet will be moved to a lower traffic area. Again, please check Disneyland Lines chat and the TouringPlans Twitter account at the time of the meet.
See you on May 24 at Disneyland Resort!
by Scarlett Litton on May 16, 2013 2 Comments
On May 24, 2013, Disney Parks will host a Monstrous Summer 24-hour event at Magic Kingdom in Orlando and Disneyland and Disney California Adventure in Anaheim. Just like at One More Disney Day last year, there will be special t-shirts and other merchandise available for the event. We were sent a picture of some of the items that will be available.
The button in the picture below is supposedly the free button all guests will receive upon entering the park (while supplies last, just like those given out for other special events). The special desserts pictured will likely be available for the rest of the summer but will debut on May 24. We don't have any information about pricing or sizing of the merchandise but will provide updates as we know more. Read the rest of this entry »