Your subscriptions support new blog articles and research. Please consider
subscribing
.
today.
---
by Seth Kubersky on December 12, 2013 4 Comments
While Mickey's Very Merry Christmas Party, the Osborne Family Spectacle of Lights, and other seasonal entertainment at Walt Disney World seem to get the lion's share of publicity this time of year, visitors to Orlando shouldn't overlook Universal Orlando's holiday offerings. Universal Orlando holidays might not have quite the nostalgic lure of Mickey's merrymaking, but Universal's options are every bit as expertly produced, and have the benefit of all being included with regular park admission (unlike the extra-cost "hard ticket" nighttime parties at the Magic Kingdom).
Universal Orlando's holiday lineup, which kicks off the first weekend each December (unlike Disney, which starts Christmas almost before Halloween is over) and continues through the Saturday after New Year's Eve, consists of two main components, described in detail below.
by Rikki Niblett on December 11, 2013
The Holidays are an extremely busy time of year at Walt Disney World, so Disney offers special entertainment for guests to enjoy.
For 2013 Disney's Hollywood Studios is bringing back the popular Comedy Warehouse Holiday Special. This fantastic show takes place at Premiere Theater, which is located on the Streets of America near meet and greet locations for Cars characters and Phineas and Ferb..
The show will feature hilarious hijinks in the form of improvisational comedy (for those who may remember the Comedy Warehouse at Pleasure Island or have seen Whose Line Is It Anyway? on TV, it's the same premise). It is completely interactive, and sometimes guests will be asked to participate in the fun.
During the show, comedic actors will field suggestions from the crowd, needing help in composing funny Christmas songs, putting their own spin on classic stories, and creating hilarious scenarios. The entire act will be festive and family-friendly. I particularly love that due to the improvisational nature, the show is also different each time. (And as someone who's tried her hand at improv, it is not an easy art-form. These performers are extremely talented, witty, and quick on their feet.)
by Seth Kubersky on December 11, 2013
Construction on Diagon Alley at Universal Studios Florida's new Wizarding World of Harry Potter expansion never sleeps, and so neither does PotterWatch, our ongoing series of updates on the Boy Who Lived's anticipated arrival in Universal Orlando's original park.
There's been no noticeable progress on the Hogwarts Express since it completed its first test run, as reported in our last installment. Instead, let's take a nighttime look at the London Waterfront, the facade that conceals Diagon Alley.
by Rikki Niblett on December 10, 2013 3 Comments
I almost don't want to report this since it is regarding a restaurant that I frequent on almost every trip. Plus, I've always loved the fact that I could only dine there via walk up. But as of December 18, 2013, Beaches & Cream Soda Shop at Disney's Beach Club Resort will accept Advanced Dining Reservations.
Guests who visit the Walt Disney World Dining website will see that they can now check availability:
When checking, I did notice that it seems you will only be able to make reservations for parties of four or smaller. This quirk is likely due to the teeny size of the restaurant and its tables. (The restaurant boasts about 10 tables total and limited counter seating.)
Guests wishing to make Advanced Dining Reservations can do so both online and by calling (407) WDW-DINE. For those looking for just ice cream, you can still order some items at the Beaches & Cream To Go counter.
by Guy Selga Jr. on December 10, 2013
Part 2 of a 3-part special edition of Ask Jim Hill! Join Len Testa and Jim Hill as they discuss various pieces of Disney theme park memorabilia. In this episode, Len Testa and Jim Hill take a look at memorabilia and share stories about from Main Street Electrical Parade and Who Wants to be a Millionaire: Play It!
New episodes are posted every Tuesday, so be sure to subscribe on YouTube!
by Tammy Whiting on December 10, 2013 7 Comments
Tips on tipping! See what I did there? First time cruisers always have questions about tips. In a somewhat all inclusive environment, it's easy to forget about gratuities! Tips are expected on any cruise line and they can be a significant expense you need to be prepared for. Notice I said tips are "expected" not "mandatory". Tips are always optional. But, just like you wouldn't walk into a nice restaurant and consider not tipping (and if you would, that's a whole different conversation), you really shouldn't consider taking a cruise and not tipping. If you are someone who wants to tip appropriately, but are worried you don't know the standard cruise tipping principles, this blog post is for you. And, Disney has made a lot of this easy for you (well, if you are planning to give the recommended amounts). See below for more!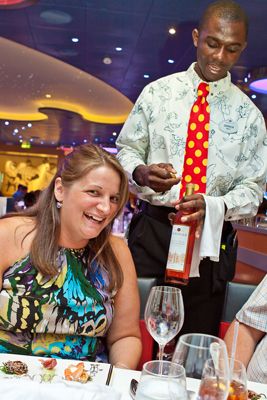 1. There are Four Main Tipped Positions – There are four positions where tips are expected. These tips are so expected they will actually be charged to your onboard account automatically (see #2 below for what that really means). Those four are your three dining room servers (Head Server, Server, and Assistant Server), as well as your Stateroom Host or Hostess. Now if you've never cruised before, the Head Server is kind of like the maitre d', the Server is in charge of your personal table service team, and the Assistant Server is just that, the assistant to your lead Server. The Stateroom Host/Hostess is the person who keeps your cabin clean, makes your bed, turns your bed down at night, makes those awesome towel animals, leaves you chocolate (!), and generally ensures you have everything you need in your room. The total amount you will tip is determined by the number of nights of your cruise. The recommended amounts per night are $4 for Server, $3 for Assistant Server, $1 for Head Server and $4 for Stateroom Host/Hostess per person in your sailing party. You'll notice that adds up to $12 per night. Take that $12 and multiply it by the number of nights and the number of guests in your stateroom. That will be your suggested tip amount. For my family of four on a 12-night cruise this summer that was $576. That's a lot of money, but the people who received the tips did a ton of work for us during those 12 nights (all with a smile on their faces)!
2. You Can Change Tip Amounts – As mentioned above, Disney now automatically charges the standard tip amounts to your onboard account. Those amounts are auto-charged, but not set in stone. If you want to give more, or in the rare circumstance where you may want to give less, you can go to Guest Services before the cruise ends and have them changed. If you just want to add a little, you could also add some cash to the tipping envelopes you will find in your room on the last day of the cruise. Read the rest of this entry »
by Fred Hazelton on December 9, 2013 2 Comments
Post Thanksgiving week crowds at Walt Disney World are usually a lot like pre-Thanksgiving crowds, lighter than average but not as low as early fall. This year, crowds during the first week of December were at or below average but higher than we predicted. In some cases, much higher. We under-predicted every day by one or two index points. The first week of December is one of our favorite times of year to visit Walt Disney World. The crowds are usually below average, the parks and resorts are decorated for Christmas, but the fall heat has faded to a moderate temperature, perfect for touring. Given the levels hit this past week, it may be a sign that the first week of December is losing favor as a great time to visit, perhaps due to special events. The Christmas Day Parade taping at the Magic Kingdom brings hordes of visitors to Main Street, U.S.A., in early December, and the Pop Warner Football Championship brings thousands of 'tweens and their families to the value resorts. If you can avoid the impact of these events, then the festive atmosphere and cool temperatures may make the first week of December a favorite for your family.
by Rikki Niblett on December 9, 2013 3 Comments
New Year's Eve is just three short weeks away, and those lucky enough to be at Walt Disney World during this time are in for some amazing treats! Here is an idea of some of the fun you can expect to see at Walt Disney World for New Year's Eve.
Magic Kingdom
Celebrate 2014 with a bang…literally…as the Magic Kingdom will show not one, but two fireworks spectaculars on two separate nights. On December 30 and 31, guests may take in Holiday Wishes:  Celebrate The Season at 9 p.m. and then Fantasy in the Sky, which is scheduled for 11:50 p.m.
Epcot
This year, World Showcase will feature a variety of DJs found situated throughout the different pavilions. Guests can dance in the New Year at the Future World Fountain Stage, near the Italy Stage, at the America Gardens Theatre, and by the United Kingdom Stage, among others. As we mentioned a few weeks back, many World Showcase restaurants are also offering special dining opportunities.
Two showings of IllumiNations will light up the sky on New Year's Eve, ending with the Holiday Tag after the 6:30 p.m. show and the New Year's Eve Countdown spectacular after the 11:40 p.m. show. Read the rest of this entry »
by Rikki Niblett on December 9, 2013 5 Comments
A brand new dance party is scheduled to begin tonight (December 9) at the Rockettower Plaza Stage in Tomorrowland in the Magic Kingdom.
Called the Incredibles Super Dance Party, this new energetic celebration will feature characters from the hit Disney-Pixar movie, The Incredibles. Guests will be able to boogie down with Mr. Incredible, Mrs. Incredible, and Frozone.
The party is scheduled to take place on Mondays, Wednesdays, and Saturdays. Make sure to check a Times Guide for specific details.
With the introduction of this new party, Club 626, which featured Chip n' Dale, Pluto, and Stitch, is officially retired.
by Fred Hazelton on December 9, 2013
Like most Thanksgiving Holidays at Disney World, the final week of November 2013 proved to be a busy one. The resort hit a level '7′ on Sunday, November 24 and remained at that level or higher until Saturday, November 30. We've seen busier Thanksgiving weeks in the past, but still this was a very busy week for Disney World guests. Inevitably we hear from guests who tour the parks during a crowd level '8′ and say "Wow! I can't imagine how crazy it must be during a 10!" If you visited Thanksgiving week we hope you used a touring plan and used Lines, our mobile app, to Optimize while in the parks. In general, our wait time predictions hit the mark with only a few exceptions. Most notably, our wait times models correctly predicted when wait times would start to surge (Sunday) from the influx of holiday guests and when they would begin to taper (Saturday). See below for our day-by-day Crowd Report of how the crowds looked Thanksgiving week.