Your subscriptions support new blog articles and research. Please consider
subscribing
.
today.
---
by Erin Foster on April 22, 2014 67 Comments
A while back, I wrote a post about the relative offense of various theme park etiquette infractions. How bad is it to stop in a walkway, skip the tip, or decorate your door? Since that post, I've been back to Walt Disney World a few times and have noticed more things that might, or might not be breaches of civilized behavior.
As before, my caveats apply: With any opinion-based topic, there is bound to be a substantial gray area. What slightly miffs one person might absolutely horrify another. In the interest of promoting discussion, here are some possible theme park infractions and my personal assessment of their level of severity.
I'm going to rank items on a scale of 1-5.
1 = Perfectly fine. No bother at all.
2 = Mildly annoying.
3 = Pretty yucky.
4 = Bad. This is really no way to behave.
5 = Really super bad. Just stop now, you're embarrassing yourself and those around you.
Wearing Pajamas to the food court
What's the issue?: You just woke up and need your coffee. I roll out of bed at home to get my brew, why not do it on vacation?
My rating?: 1 if you're under the age of 8. 3 if you're under the age of 18. 4-5 if you're an adult.
My rationale?: I've got no problem with little kids in their PJs in the food court for an evening snack. I'm somewhat less tolerant of the packs of teenage girls that head to breakfast wearing PJ bottoms and a tank top during cheerleading competition season. While Disney may feel like home, it is not actually your house. It takes about a second to throw on some jeans, but I give teens a moderate pass because they're still learning the ropes. However, on several occasions, I've encountered adult men in their 40s, 50s, and 60s in the resort food courts wearing pajamas. Be a grown-up and put on some actual clothes.
Saving seats at the pool
What's the issue?: You're going to want a prime pool-side chaise later. Better mark our territory by leaving some towels and personal items on the chairs we want.
My rating?: 2-4 depending on the time of year and the duration of the hold.
My rationale?: It's not really a big deal if one member of your party heads down to stake out a spot and the others follow down within half an hour or so, particularly if it's not during peak swim season. However, leaving personal items on chairs and then heading out to the parks for several hours is just plain rude. Read the rest of this entry »
by Kristina Murphy on April 22, 2014 6 Comments
January 2015 will mark the 22nd running of the Walt Disney World Marathon, the flagship event of the runDisney endurance event series, which includes eight race weekends spread across both Disneyland and Walt Disney World. Since its inception in 1994, the race has grown tremendously, both in participants (from 5,588 to a total of 24,000*) and duration, with 5K, 10K, half marathon, and marathon distance races offered on consecutive days – along with a variety of additional endurance challenges.
Although next year's event is sure to sell out quickly (regular registration opens today, April 22, at noon Eastern, visit this page to sign up), you may be surprised to hear that these events were not always as popular as they are today. In fact, in 2011, registrations were at such a low number (under 50 percent by the summer of 2010) that Disney announced a special "Marathon Monday" incentive, which would give all 26.2 finishers free admission to the Disney parks – a perk that has not resurfaced since, much to the chagrin of many runDisney participants!
Read the rest of this entry »
by Rikki Niblett on April 21, 2014 2 Comments
A few minor new Walt Disney World newsworthy mentions, as well as a few in-park tests have cropped up over the past few days that I wanted you all to be aware of. Here's the dirt:
For those who are fans of Anna and Elsa from Frozen and want to meet the sisters, you now must do so at the Magic Kingdom's Princess Fairytale Hall in Fantasyland. The duo arrived to the new meet and greet area on Sunday. If you can snag one, you can FastPass+ this attraction. (Make sure to choose the Anna and Elsa meet, not the Cinderella and Rapunzel meet. If you want to meet Cinderella and Rapunzel, you will need to use a separate FastPass+ reservation.) Also, as a note, the Frozen meet and greet opportunity at Epcot's Norway Pavilion has now closed. Do not head there to meet the two princesses. (Well, queen and princess.)
If you will be in Disney's Animal Kingdom over the next couple of weeks, you may be able to run into Professor Parker Woodson from the Dino Institute and her pet velociraptor, V. This experience has guests coming into contact with the raptor in a show as the two roam the streets. V, being a dinosaur, does not meet with guests, but you can enjoy the show. Showtimes are expected to take place every half hour at 11:00 a.m., 12:00 p.m., 2:00 p.m., 3:00 p.m., and 4:00 p.m. in Dinoland U.S.A. The test is rumored to run until May 3. To see a video of a bit of the show, check it out here. Read the rest of this entry »
by Fred Hazelton on April 21, 2014 2 Comments
We received a lot of questions about this year's Easter crowd level predictions, most of them doubting the crowds could be that low on Easter weekend. We stuck by our estimates however knowing that Easter crowds are lighter when it occurs in late April, and it turns out that we were right. In fact, thanks to a storm on Friday the crowds were actually lower that expected heading into the Easter weekend. We correctly predicted that the peak crowds around Easter would occur mid-week, not on the Holiday weekend itself. Easter will not occur late in April again until 2019.
Let's look at how the crowd levels stacked up each day last week.
The Walt Disney World Crowd Report
April 13 to April 19, 2014
Sunday's crowds were the lowest we would see between Sunday and Friday last week. Magic Kingdom was a '7′ as predicted even though it hosted Extra Magic Hour morning, Extra Magic Hour evening (until 3:00am), two daytime parades, two evening parades and Wishes. No other park was more crowded than Magic Kingdom on Sunday with Epcot and Animal Kingdom reaching a level '6′ on our scale (predicted '8′s at both parks). The Studios was also less crowded than expected with average wait times only reaching a level '3′ (we predicted '5′). Read the rest of this entry »
by Morgan Crutchfield on April 21, 2014
While I will always be a huge fan of the parks, there are times that even I need a break from the crowds and the noise (the 5th of July and January 2 come to mind). There are several places on property that I've found that get me back to zen, and I thought I'd share one of my favorites. Just past Pioneer Hall (that place where they do the Hoop De Doo Musical Revue) at Fort Wilderness (not the Wilderness Lodge) there's a series of barns and paddocks that make up the Tri-Circle-D Ranch. The ranch is home to the horses of Walt Disney World including the Main Street Trolley horses, all the horses that pull the various carriages and wagons around property, and even the Cinderella Carriage ponies. And, in a happy turn of events, you can visit these gorgeous animals free of charge daily from 8 a.m. to around dusk. The ranch officially closes at 3:30 p.m., but there are often ranch hands in the open barns until well after that caring for the animals.
Read the rest of this entry »
by Tammy Whiting on April 21, 2014 2 Comments
Well they did it! Disney Cruise Line finally put us out of our misery and ended the wait! The rest of the 2015 itineraries are out! Oh, wait! No, they're not. After all of the hoopla Disney only announced through the summer of 2015. Come on, Disney! The good news is, aside from the standard 7-night Caribbean and 3- or 4-night Bahamian cruises (which are excellent if you haven't tried one) there are some really exciting options out there. I had a hard time choosing which one (or ones truth be told) I wanted to do most! Here are some of the highlights for me.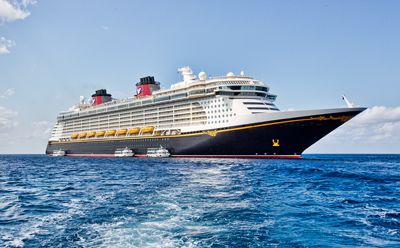 1. Norway – No one ever accused Disney of missing marketing opportunities. Anyone heard of a little movie called Frozen? It did alright. After announcing Norway itineraries with Adventures by Disney, Disney Cruise Line has followed that up with the first ever sailings through the Norway Fjords on the Disney Magic! Can you even imagine how awesome and gorgeous? There are both 7- and 9-night options. With stops at Stavanger, Alesund, Bergen, and Geiranger (all in Norway), this new itinerary is going to be amazing! I can't wait to see what wonderful excursions Disney has in store!
2. Iceland – That's right, Disney is visiting Iceland too! On a great 11-night itinerary that sails to Norway, as well! After departing Copenhagen, Denmark, and visiting the Norwegian ports of Oslo, Kristiansand, and Stavanger, the Magic makes two stops in Iceland in Akureyri and Reykjavik. The Reykjavik stop even includes a somewhat rare thing for Disney Cruise Line – an overnight in a port! That's an amazing opportunity. And if that weren't enough, there's a stop in the Faroe Islands before ending in Dover, United Kingdom. Not too shabby, right? Read the rest of this entry »
by Seth Kubersky on April 20, 2014 1 Comment
Just as Walt famously said that the Disney empire "all started with a mouse," the magic of Touring Plans all started with a book — namely, the Unofficial Guide. As co-author (with Bob Sehlinger and Len Testa) of The Unofficial Guide to Disneyland, I'm proud to announce that preliminary work is complete on the 2015 edition of our Anaheim guidebook, which will make its way to store shelves in plenty of time for the resort's upcoming 60th anniversary. Naturally, we'll continue to refine the text right up until the time it is sent to the printers later this year, and we'll be bringing you details on the changes made to the tome as its publication approaches in the fall. But for now, I wanted to share a tiny taste of a couple of the changes coming to the Unofficial Guide, via a few fun Disney California Adventure videos — featuring the Mariachi Divas and World of Color — that I recorded during my most recent visit to the Happiest Place on Earth.
Mariachi Divas
The Mariachi Divas are one of my favorite under-the-radar entertainment diversions found at Disney California Adventure, but until now they've be unjustly under-represented in the Unofficial Guide to Disneyland. We've rectified that with an an expanded entry on this fabulously festive singing group.
by Laurel Stewart on April 19, 2014 14 Comments
As we write our updates for the 2015 Unofficial Guide to Walt Disney World, I find myself reaching out to Liners for their best quotes and tips.  First, you many ask yourself, "what's a Liner?" Well, you know Lines? The highest rated Disney free or paid app on iTunes or Google Play? The one that comes with your TouringPlans subscription? In it is a feature called Chat. Subscribers can even access it on their desktop computers by going to http://m.touringplans.com and logging in. It's a lively unstructured discussion of all things Disney, and there are some pretty knowledgeable users online who can answer all kinds of questions in 255 characters or less. This week I asked, "What are your Disney money saving tips?"
Disney Money Saving Tips from Liners
by Derek Burgan on April 19, 2014
This week's SATURDAY SIX covers Top Six Outrageous Food Items at Walt Disney World. Regular readers of this column know that we like our theme park food, and the more outrageous it is, the better. While Disney has its fair share of fine dining (Victoria & Albert's, California Grill, and Jiko among others), it also has many food items that would make your cholesterol and blood sugar rise just by looking at them. Today we are going to look at six of our favorites…
# 6 – The Doh-Bar (Cookes of Dublin)
Downtown Disney is our first stop, and while Raglan Road is the critics' darling, Cookes of Dublin next door has one of our favorite snacks on property, the 'Doh bar.' Picture this: a Snickers bar is dipped into donut batter, deep fried, and then sprinkled with powdered sugar. Basically, a work of art that ranks somewhere in between Da Vinci's Mona Lisa and Michaelangelo's David.
by Rikki Niblett on April 18, 2014 1 Comment
Have you been busy dying eggs and eating the ears off chocolate bunnies? Here's what you missed this week!
In Case You Missed It – Disney News and Rumors
Easter is this weekend and one of my favorite things that Walt Disney World used to do was televise their Easter Day Parade? There was nothing like waking up with Joan London and Alan Thicke as they shared commentary about all the Easter happenings. Today, I have for you the 1990 parade. Unfortunately there are a few pieces missing, but it's still fun to watch! (Part 1, Part 2, Part 3, Part 4, Part 5 Part 6, Part 7, Part 8) It's also a nice reminder of when these parades weren't super over produced and we actually got to watch the parade! If anyone else has any of these old parades, you should totally post them on YouTube. I'm always looking for these videos around Easter. I miss this parade so much!
Parents Magazine had a great article about the "Top 5 Things To Do With Preschoolers at Walt Disney World." There were some great suggestions for parents to consider.
Have you ever noticed that a lot of things related to Disney revolve around birds? There are birds everywhere in many of Disney's films and in the theme parks. Find out more. (My favorite birds…the seagulls from Finding Nemo. Mine!) Read the rest of this entry »