Your subscriptions support new blog articles and research. Please consider
subscribing
.
today.
---
by Tammy Whiting on July 21, 2014 6 Comments
Aloha! This week I've got Disney's Aulani Resort on the brain! Why, you ask? Because I spent a glorious week there recently. I've been to Hawaii before, and there's a reason people call it paradise. And let me assure you, Aulani does its part to live up to that. It's an absolutely stunning resort, and that trip was one of the most relaxing vacations we've ever had. I highly recommend a visit. And if you do get a chance to stay there, here are ten things that may help you experience the magic even more.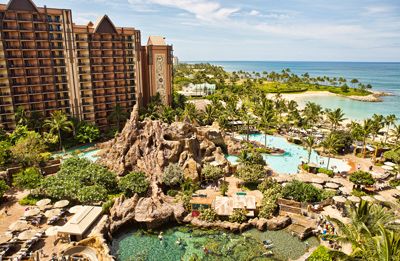 1. It's Disney With a Light Touch – Aulani is absolutely a Disney resort. And that's a good thing. It's also a Disney resort with one of the lightest touches you'll find. Sure, you'll have the opportunity to see Mickey, Minnie, Goofy and friends decked out in Hawaiian garb, but they're in an environment that truly feels authentic to the island. Because at Aulani, the central themes are the islands of Hawaii, its people, and their culture. Need examples? The interactive game at the resort isn't a Phineas and Ferb adventure, it's based on Menehune, a mythological Hawaiian people. Although there are hidden Mickeys to be found, there are actual hidden Menehune statues all over the resort. The collage of photographs behind the front desk is made up of individual photos taken by Hawaiian students across the islands. Additionally, the lobby is breathtaking and open air like you find in resorts all over Hawaii, and it has a grand 360-degree mural which tells the history of Hawaii. Even the pools aren't Mickey shaped; they're free form, most with gorgeous views of the ocean and lagoon the resort is situated on. Finally, in a fun touch that my family really enjoyed, the elevators play classic Disney songs using Hawaiian-style music and lyrics in the Hawaiian language. Have fun guessing which song is being played! Read the rest of this entry »
by Thomas Cook on July 20, 2014 22 Comments
First of all, I am not a meteorologist. I don't even play one on TV.
That being said, I have thirty years of experience in Orlando weather, including doing extensive research on hurricanes.
The 2014 hurricane season has begun, and the year marks the tenth anniversary of Orlando's "Year of Three Hurricanes". In this article, I'll cover the issue of hurricanes and Orlando's famous thunderstorms as well as how to avoid them and vacation around them.
Officially known as "tropical cyclones" but colloquially as hurricanes, the massive summer storms are one of the most powerful and dangerous natural events on earth. The amount of energy released in one day by an average cyclone in producing rain (which is 400 times greater than the wind energy) is equal to the yearly energy production of the U.S.
So you're thinking hurricanes and Florida go hand-in-hand like Vermont and snow, right? Well, sort of. Florida is a big state. Not only in terms of square miles, but it's long. For instance, it takes 12 hours to drive from Key West to Pensacola.
Of course, every mile is a potential hurricane target, but Walt Disney World is only some 40 miles square. Additionally it's in the center of the state, relatively far from the Atlantic or the Gulf of Mexico. This means every time your local news tells about a hurricane in Florida, it's unlikely to be passing close to Disney world.
The U.S. government started regular tracking of tropical cyclones in 1851. Looking at those statistics gives excellent news: The frequency of a hurricane passing through the Walt Disney World area in any year is 1 in 10. A 10% chance each year is all local have to worry about. Want even better news? If you're visiting for a week or two, you have an even smaller chance of having to deal with one of nature's super storms. Read the rest of this entry »
by Maddi Higgins on July 19, 2014 5 Comments
Dedicated blog readers may recall Erin Foster's article "Spring Break at Disney World – Teens' First No-Parent Trip," outlining her teen daughter and friends' first Disney trip without parents. Though now I'm (supposedly) a real adult—I just graduated in May–it wasn't long ago that I was a teen taking my first Disney trip without parents. My first winter break in college, I went to Walt Disney World with my boyfriend and two other friends. Two years later, I went for my 21st birthday with my three younger siblings. So for any teens or young adults out there planning your first parent-free trip, here's a quick guide into your first clumsy steps into Disney adulthood.
Why a Disney Trip Without Parents?
Walt Disney World is the safest place to go for your first no-parent trip. The crime rate is essentially zero and every single cast member is trained to help you stay safe. It's also one of the best options for fun. All through college, I never found the MTV Spring Break-style college trip terribly appealing. I enjoy the occasional beverage, but I can only "WOOOO!" for a few hours before I'm bored. Walt Disney World has an infinite number of activities and it's impossible to get bored. I had been planning my family's trips for years, so I felt comfortable planning my own trip.
Read the rest of this entry »
by Derek Burgan on July 19, 2014 6 Comments
This week's SATURDAY SIX takes a look at Top Six New Drinks in Universal's Diagon Alley. The original plan for this week was to take a look at the top six options for food and drink in the newest addition to the Wizarding World, but after reaching out to a blue panel commission to tabulate the results we came to one realization: that mission was truly impossible. There are so many new foods, snacks, and drinks within Diagon Alley and each person seems to have a different favorite. So we're going to take a page from Bill O'Reilly's playbook by throwing out the previous plan and we'll do it live! We're gonna break down our favorites in each category over the course of the next three weeks and we'll start off with our favorite beverages…
# 6 – Tongue Tying Lemon Squash
Our list begins with the Tongue Tying Lemon Squash. Think of the lemonades you get freshly made at your local fair or farmer's market and imagine more lemon being used along with a hint of vanilla. The taste is very tart, but this drink has already become the best lemonade on property. ($4.79 at the The Hopping Pot)
by Angela Dahlgren on July 19, 2014 10 Comments
Recently, fellow blogger, Daisy Lauren, posted tips to beating your post-Disney blues. Inspired by her article, I have compiled a list of ways to keep the Disney magic flowing once you return home. Keep track of how many you've done and put your total in the comments!
Here we gooooooo….. (Peter Pan reference anyone? Yes? No? Okay, let's move on.)
Read the rest of this entry »
by Seth Kubersky on July 19, 2014 11 Comments
It's been a little over a week since the grand opening of The Wizarding World of Harry Potter – Diagon Alley, and Universal Studios Florida's blockbuster new attraction continues to attract astoundingly oversized crowds. While you won't find the massive queue clogging park walkways that accompanied the opening of the original Wizarding World in Islands of Adventure, thanks to greatly improved crowd control procedures, guests are still waiting upwards of 5 hours on a daily basis just to Escape from Gringotts. While the new "multidimensional" thrill machine is certainly a marvel, we here at Touring Plans are congenitally allergic to advising any of our readers to invest half their vacation day in any one attraction, at the expense of experiencing everything else that Universal has to offer. In that spirt, we offer our newly updated Wizarding World of Harry Potter Diagon Alley Touring Plans, along with a comprehensive commentary with everything you need to know in order to open your magical bank account with a bare minimum (relatively speaking) of waiting.
The following Diagon Alley touring plans are based on first-hand observations conducted during pre-opening media previews, soft openings, and daily operations during grand opening week. The plans were optimized based on a peak day (9.5 out of 10 on our crowd calendar) and may need modification once off-season arrives with shorter hours. As operational patterns evolve, we'll continue to update our plans for maximum efficiency.
These plans will also shortly be available as premium plans on TouringPlans.com and in our Lines app, so subscribers will be able to copy and edit them at will. Be aware that our system is not yet able to properly account for the queuing and return time tickets required to enter Diagon Alley, and may therefore return inappropriate results for that area's attractions; for the moment, we recommend editing the attraction order manually through our website, and using "evaluate" instead of "optimize" for Diagon Alley plans.
by Rikki Niblett on July 18, 2014
Today Planes: Fire and Rescue debuts in theaters.  Who's ready to rejoin the fun of Dusty and crew?
This week we have a cornucopia of fun for you, including the monorail being evacuated, details about the upcoming Big Hero 6 movie, and more! Read on to find out what other goodies I found!
In Case You Missed It – Disney and Universal Orlando News and Rumors
Bob Iger must be doing a good job according to his peers, because he has been named as the 2014 CEO of the Year. Congrats to Mr. Iger.
Forbes ran an intriguing article titled "The Secrets Behind Disney's $2.2 Billion Theme Park Profits." The beginning of the article looks more at the domestic parks, but then it morphs into a look of Disneyland Paris. Still, it's a good read. Read the rest of this entry »
by Claire Nat on July 18, 2014 14 Comments
Sometimes, a trip must be made.
Whether it's the perfect time of year, the premier of a new attraction, or simply the impatience, a person just needs to go to Walt Disney World. I am planning a trip in October, and even though the timing/cost does not work out for my friends and family, it works out for me. So I am going by myself.
It's not uncommon to see solo travelers in Walt Disney World – I have already done one solo trip back in 2012. There are blogs covering the topic at AllEars.net and even an entire website called Solo Disney Traveler. If you have an inkling to get down to Walt Disney World soon, and find it difficult to arrange dates with your family and friends, don't be afraid to try out a solo trip!
Here are some of my suggestions when booking and taking a Walt Disney World solo trip:
by Bob Whitten on July 18, 2014 26 Comments
When my wife and I visit the parks, we go loaded for bear. Laden as we are with our bags and gear and gadgets we are often mistaken for Sherpas, which explains why folks are constantly asking us to lead them to Expedition Everest. We of course try to explain that we're not really Sherpas, but they just respond that it's all right, it's not really Mount Everest. Touché.
Fortune, as they say, favors the prepared, and although I'm not sure who "they" are, they nevertheless make a good point. Whether or not you choose to gear up for a day at the parks, however, is strictly personal. Of course, you could always make some other member of your party the pack mule, in which case, it's nothing personal. Or that's what you should tell them. Read the rest of this entry »
by Ray on July 17, 2014 7 Comments
Disneyland has such an interesting and unique culture that is not found at any other Disney park around the world (well, maybe Tokyo). Having a Disneyland Annual Pass is like being in a club all its own, and Disneyland fandom is very strong on the West Coast. The creation of social media has made it easier to connect with people with this same passion. With the mix of passionate Disneyland fans and social media came social clubs. There have been a ton of articles written about social clubs lately but I am here to give you the quick facts, the history, and some insight on who and what social clubs are.
So, What Exactly are Disneyland Social Clubs?
Disneyland social clubs are an organized group of fans that gather together to share their love all things Disney. Social clubs have their own unique attire, to separate themselves from other Disneyland visitors.  Each club has their own guidelines and steps for members to follow before joining. All social clubs names reflect something Disney related and have a certain part of Disneyland they enjoy spending time at the most.