Your subscriptions support new blog articles and research. Please consider
subscribing
.
today.
---
by Guy Selga Jr. on February 19, 2015
Disney California Adventure is home to, in my opinion, the best Christmas entertainment in any Disney park, Viva Navidad. But did you know it's also home to an annual celebration of Lunar New Year? Starting today and running until Sunday at Paradise Gardens, you can find cultural entertainment, food, activites, and Disney characters all decked out in Lunar New Year gear. The main attraction is the Lunar New Year Procession hosted by Mulan and Mushu. It features a group of performers in elaborate costumes that dance and drum along with the music (listen closely and you'll notice the music is from the old Mulan parade at Disneyland and Disney's Hollywood Studios).
More pictures after the jump. Read the rest of this entry »
by Kristi Fredericks on February 19, 2015 18 Comments
Disneyland or Disney World? Welcome back to our four part series, where we will continue to debate this very question. In case you missed it, in part one we took a look at some of the key differences between Disneyland and Disney World in the areas of size and scope, atmosphere, and weather. In part two, let's continue our side-by-side comparison of Disneyland and Disney World by discussing the topics of crowds, pricing, and accommodations.
Crowds
The Disneyland Resort crowds are greatly affected by the number of local tourists that visit the Parks every day of the year. Disneyland Resort offers a variety of annual pass options that many local residents choose to purchase. Weekends and nice weather days will always see a jump in attendance throughout the year as annual pass holders take advantage how easy it is to just drop by the resort. Fridays and Mondays are also more crowded than the rest of the weekdays as locals extend their weekends. Another factor that impacts the Disneyland Resort crowds is the number of people visiting the area for conventions. The Anaheim Convention Center is the largest facility on the west coast and hosts thousands of visitors each year. Although the attendees are usually occupied for several hours a day with business, these travelers often take this opportunity to bring their families with them to enjoy the Disneyland Resort while they work. Not to mention, the crowds are also greater when the Disneyland Resort is offering one of their special events such as Halloween Time or Happy Lunar New Year.
by Daisy Lauren on February 19, 2015 2 Comments
Hi, Everyone! Welcome to the Best Week Ever here at Walt Disney World. This week we're enjoying meals not just at Kona Cafe, but also Finnegan's Bar & Grill over at Universal. Of course, we're also visiting the Universal Orlando Parks, Downtown Disney, and stopping by the Magic Kingdom too. I don't know how I'm going to fit it all into just one blog! Let's figure it out together.
For Valentine's Day lunch we couldn't think of a better place than Kona Cafe. The food is wonderful and the setting is comfy and casual. Traffic was worse than we'd anticipated so we made it to the podium exactly on time for our 12:30pm reservation. Of course, that meant we had to wait about 15 minutes for a table. They seemed quite short staffed with several empty tables despite gobs of people waiting outside. It was nice to have the tables next to us open, though. Our appetizer of potstickers ($8.49) were super yummy and came out so quickly they beat our drinks!
Want to see what we ordered? Be sure to click to read more! Read the rest of this entry »
by Erin Foster on February 18, 2015 15 Comments
I'm a big fan of Disney Cruise Line. I am most decidedly NOT a fan of the Disney Cruise Line website. Even as an experienced user, I'm often frustrated when trying to navigate the site. I know the information is there, they just make it so darn hard to find it.
Here are some of the things I think the DCL website could do to improve the end user experience.
1. Allow you to search for any cruise within a range of dates.
The DCL home screen has a "cruise search" tool with three pull-down menus: Date, Destination, and Departure Port. To search for a cruise, you are forced to make selections for all three parameters. I'd love to be able to see all the cruises available using just one or two of the parameters.
For example, after our very active Adventures by Disney trip to Peru last Christmas, my family unanimously decided to be as lazy as possible during Christmas 2015, which means lounging on the deck of a cruise ship with umbrella drink in hand. Since the point of the trip is sitting and sleeping, we honestly don't care where the ship is going. And since we'll have to fly to get to any DCL voyage, it doesn't matter much to us which port we sail from. I want to input the dates of my kids' holiday break and see what all our options are in one swoop, but this is not possible. Instead, I have to run multiple searches, choosing the month desired AND a destination AND a departure port. I really don't care if we sail out of Miami or Port Canaveral or if we go to the Bahamas or the Caribbean, but DCL forces me to make those choices. It takes too many steps just to figure out which sailings occur in December.
by Rikki Niblett on February 18, 2015 3 Comments
Star Wars Weekends are rapidly approaching; we are only 3 months away from Weekend I! This year the event takes place at Disney's Hollywood Studios on weekends (Fridays, Saturdays, and Sundays) from May 15 through June 14.
Star Wars Weekends dates for 2015 are:
Weekend I: May 15-17
Weekend II: May 22-24
Weekend III: May 29-31
Weekend IV: June 5-7
Weekend V: June 12-14
The excitement is ramping up as new details are starting to trickle out about this year's events, like that fact that once again performing hosting duties each weekend will be character actor, James Arnold Taylor, who voiced Obi-Wan Kenobi in "Star Wars: Clone Wars."
In addition to his general hosting duties, he will also be hosting the "Stars of the Saga" talk show, where he will interview some of the many celebrities that appear during Star Wars Weekends. The "Stars of the Saga" show will be taking place in an all new venue this year, the Theater of the Stars, allowing for more Guests than ever to experience the show. (The Theater of the Stars is where Beauty and the Beast – Live on Stage is held, however don't despair Beauty and the Beast fans! The show will still also be performed in the Theater of the Stars during Star Wars Weekends.) Read the rest of this entry »
by Tammy Whiting on February 18, 2015
I've said before that a Disney Cruise is worth every penny to me. So does that mean I just throw money at Disney and don't worry about the price? Of course not! More money saved means more money for cruises! So here are a few tips to save money I've learned over the years.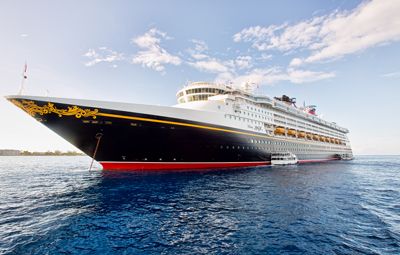 1. Book Early! – I always say this. Book early!! If you know you want to be on a particular cruise, book it. Prices usually only go up on Disney cruises, and particular categories will certainly sell out. Don't risk missing out or paying a higher price. The itineraries for the rest of 2016 will be out soon, so be ready! Last year the 11-night Norway and Iceland cruise filled up extremely fast even as prices went up and up. Verandahs are long gone on that sailing. If you know you want something, book it while you still can! Aside from concierge, all deposits are refundable up to a certain date, so know that date and book away! If you book concierge and have to cancel, as long as you are outside the penalty period, you can move that deposit to another date or category. You just won't ever get that deposit back, it's still non-refundable. Read the rest of this entry »
by Rikki Niblett on February 17, 2015
Many people dream of walking the red carpet, hearing people shouting at them "Who are you wearing?" and seeing that beautiful golden statue in front of their eyes. Well, while I can't guarantee you'll ever get to experience taking part in the Oscars, I can guarantee you'll get to experience a really neat and unique opportunity. You see, for a limited time, until February 22, Guests who visit Disney's Hollywood Studios will have the once-in-a-lifetime chance to see and take a photo with a gorgeous Oscar statuette.
The opportunity is being billed as the "My First Oscar Moment" and will be taking place during park hours inside The Magic of Disney Animation building. To find the photo opportunity, guests need to head to the location where Minnie Mouse meets (the section marked "Drawing Room"). The room has been taken over temporarily by the "My First Oscar Moment" experience, so Guests will be able to find Minnie in the hub area.
During the opportunity, Guests will get to walk the red carpet and pose with the Oscar statue, against a signature backdrop similar to one you'll see the actual Oscar winners pose against, just moments after they win the golden statue. Guests are encouraged to post their unique photos to social media using the hashtag, #Oscars.
The 87th Oscars are airing this Sunday, February 22, on ABC at 7:00 p.m. ET/4:00 p.m. PT and will feature host Neil Patrick Harris.
by Dora on February 17, 2015 14 Comments
Budgeting for a trip, be it to Walt Disney World or Universal Studios Orlando, is hard whether you live down the street, or you're flying down for a week with the whole family. Between gas, hotels, meals, transportation, not to mention the tickets themselves (and don't even pretend you ain't all about a pair of those mouse ears), a trip of any length is already expensive. So why make it harder on your budget by buying the things in the theme parks that will gouge you the worst? Today we're going to talk about some of the things you should never buy in a theme park or an on-property hotel if you value your wallet, and no, we're not talking about souveniers or turkey legs… we're talking about the necessities you might not think of, or might be thinking you can just pick up inside the park itself. And just because they don't get enough love, let's bring Lilo and Stitch along for the ride.
Sunscreen
I want you to imagine this item strung from the ceiling above you with streamers, confetti, and a couple big neon Las Vegas arrows pointing at it for good measure. If you're not from Florida, you might be underestimating just how abysmally evil that great big daystar is no matter what the season, and when you or your family starts turning pink, it's usually far too late. (One poor British woman stopped me outside the lady's room to ask me if her back was "as bad as it felt". I think my face melted off like in Raiders of the Lost Ark when I saw it. It's okay… I got better.) While most stores in the parks will carry some sort of sunscreen, not only are the types and SPF factor going to be extremely limited, but you're going to pay upwards of $12.00 USD or more for a tiny bottle! You definitely shouldn't mess around with sun protection, but you should definitely bring your own!
by Fred Hazelton on February 17, 2015
Each day last week, crowds at Universal Orlando Resort came in at or below levels predicted by our Universal Crowd Calendar. The beginning of the week was particularly slower than expected but then crowds picked up by midweek and continued through the weekend.
Let's look at how the crowd levels stacked up each day last week on the TouringPlans.com Universal Orlando Resort Crowd Report:
by Fred Hazelton on February 17, 2015
Crowds at Walt Disney World started off much lower than our crowd calendar predicted in the first part of the week but then we quickly saw an increase in-line with the predicted arrival of guests for Presidents Day weekend. The peak in attendance on Friday and Saturday is not due to a surge of guests arriving to celebrate Valentines Day but rather due to the combination of Presidents Day and Mardi Gras occurring the following week.
Let's look at how the crowd levels stacked up each day last week on the Disney World Crowd Calendar Report: