Your subscriptions support new blog articles and research. Please consider
subscribing
.
today.
---
by Len Testa on January 21, 2015 16 Comments
For the next edition of the Unofficial Guide, we interviewed dozens of families planning their first Disney trip, and Disney-specialist travel agents who talk to Orlando-bound families every day. Almost all of them said the cost of a Disney vacation was the biggest surprise, and more important to them than when to travel, where to stay, or how to beat the lines.
All money questions involve trade-offs, of course, and only you know what you're willing to do to save a buck. For every person who thinks a $65 per day food allowance is malnourishment, there's another who says they can feed a family of 5 on $10 and some budget gazpacho made with leftover Taco Bell sauce and hot water.
To give you a realistic idea of how much to budget, we've created the following set of charts showing the kind of Disney World vacation your family can get for $500, $1,000, $1,500, and $2,000. Each column represents a different family demographic, and each row represents a different budget amount. Our starting assumptions are at the bottom of the page.
by Maddi Higgins on January 21, 2015 27 Comments
Disclaimer: While I am a Cast Member, the following is based on my own experience and does not necessarily reflect the policies of the Walt Disney Company.
Philosophers of the age ask: If there are no pictures, did it really happen? Photos are an integral part of preserving your Disney moments and sharing the memories with family and friends. To that end, Disney offers the Memory Maker for purchase. The Memory Maker is a way to get digital copies of all of the PhotoPass photos and videos from your Walt Disney World vacation. Like any major Disney purchase, you should look at the pros and cons before you decide to drop the cash. I recently had the opportunity to use a Memory Maker as a Guest and participated in the One-day Memory Maker pilot program as a Cast Member. Here are the questions I heard from Guests—and had myself—about the Memory Maker.
by Ray on January 21, 2015 21 Comments
My mother always told me to not believe everything you hear. This is definitely true when it comes to things you find on the internet. Searching for an answer to any of your questions on the web will take only seconds but is it the correct answer? Is that answer up to date? That is the thing about looking for information on the internet, once you find an answer to your question, you always have to double and triple check to make sure that it is the correct one. The same thing goes for looking for tips and tricks for Disneyland.
If you search up "Disneyland tips and tricks" on any search engine, you will discover hundreds of different lists and suggestions on the subject. Now, are all these tips and tricks you just discovered true, out of date, or just plain false? Well, I am here to help you weed through the five most popular outdated and false tips that I have seen around the web. These five tips come up frequently, and I wanted to set the record straight so that all of you know which tips are simply fools gold.
Read the rest of this entry »
by Tammy Whiting on January 20, 2015 18 Comments
I get asked all the time how the four Disney Cruise Line ships differ. And I especially get this question from guests who have sailed on one of the two newer ships (Disney Dream or Disney Fantasy) and are contemplating sailing on one of the classic ships (Disney Magic or Disney Wonder).  "What are the differences?" "Will I like the Magic and Wonder as much as I liked the new ships?"
To be sure, there are many things about the four ships which are the same, like the level of service Disney Cruise Line is known for, those amazing Disney stylistic touches, and the excellent officers and crew. But, make no mistake, there are differences. I'll break them down for you here!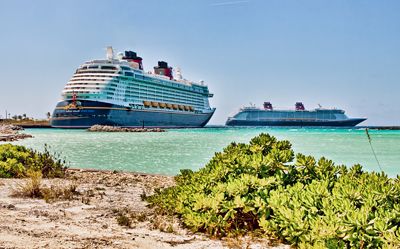 1. Size and Capacity– The most obvious difference between the ships is the physical size, and thus the number of passengers each can carry. The Magic and Wonder were originally 83,000 gross tonnage when constructed, but the Magic, after its 2013 reimagination when it added a little bit more weight and then length to balance that weight, is now approximately 84,000 GT. The Dream and Fantasy, however, are longer, wider, and heavier, weighing in at just under 130,000 GT. The physical size difference is most apparent to me in the lobby. The lobbies of the Dream and Fantasy feel practically cavernous if you're used to the Magic or Wonder. The Dream and Fantasy have 14 passenger decks while the Magic and Wonder only have 11. The Magic and Wonder have a passenger capacity of around 2,400, while the Dream and Fantasy hold more than 50% more passengers at 4,100 (with a similar increase in the crew size).
by Fred Hazelton on January 20, 2015
Last week, Disneyland Parks were most crowded on Friday and Saturday, least crowded on Sunday and Thursday and moderate in between. Our predictions did well, missing by no more than one level at Disneyland Park each day. As expected, Saturday's crowds were higher than usual thanks to the Star Wars Half Marathon Weekend.
Let's look at how the crowd levels stacked up each day last week on the TouringPlans.com Disneyland Resort Crowd Report:
by Fred Hazelton on January 20, 2015
Last week, the flow of guests to Universal parks mirrored what we saw across town at the Disney parks: very quiet the first half of the week then busier towards the weekend. Our goal is to be within one index level for each prediction and to minimize the number of times we miss by more than two. Based on that standard we did very well last week, missing by no more than one index level resort-wide each day.
Let's look at how the crowd levels stacked up each day last week on the TouringPlans.com Universal Orlando Resort Crowd Report:
by Fred Hazelton on January 20, 2015
Last week at Walt Disney World we saw the lightest crowds we've seen since September, especially in the first half of the week. The light crowds were short-lived however with several '7's and '8's on Friday and Saturday even though we saw the rare case on Wednesday where all parks were a level '1' on our scale.
Let's look at how the crowd levels stacked up each day last week:
by Rikki Niblett on January 19, 2015 1 Comment
Happy Monday! I'm back again with a few little news notes that may be helpful for your next trip to Walt Disney World. These fun little nuggets include new fun for Peter Pan's Flight, where you can find Flame Tree Barbecue's treats during its refurbishment, and more! So, here we go!
For those of you who are fans of Flame Tree Barbecue at Disney's Animal Kingdom, you may be worried about where you can get the delightful treats that you know and love while the restaurant is closed for a refurbishment that's scheduled to last until sometime in April. (During the refurb work, they are working on the current seating areas.) Today, I come bearing the answers of where those yummy bites can be found. Guests looking for the half chicken, the half slab of ribs, or the combo of ribs and chicken should head to the Gardens Kiosk or the Beastly Kiosk. For those searching for the turkey leg, you'll need to visit Trilo-bites, and for the pork sandwich, stop at a cart found in near Trilo-bites. All of these locations are near Flame Tree Barbecue.
Moving over to the Magic Kingdom, a brand new interactive queue has been introduced for Peter Pan's Flight. The new queue takes guests into the Darling household, and new interactive elements include Tinker Bell flying around and interacting with Wendy, John, and Michael's toys, guests' own shadows coming alive on the wall in the children's nursery, and a sprinkle of pixie dust before heading off into Never Land. The queue's new effects are currently in testing and should be fully rolled out within the next week, or so.
by Len Testa on January 19, 2015 12 Comments
I knew that custom MagicBands were going to be a 'thing' about two minutes after asking for one in purple and learning they don't come in that color. Y'all are a creative bunch, of course, and sites like Pinterest are full of Magic Band bedazzling, from sparkles and nail polish to fabric and plastic jewels.
But honestly, my DIY skills are limited. I'd probably end up with a glittered house cat and smeared nail polish on the kitchen table. Fortunately, a couple of companies have started making custom vinyl stickers to decorate your MagicBand, for around $5 to $8 each. And for the last couple of months, I've been testing them to see how they hold up under heavy use. It turns out they're great. Read on for more.
Tracy and Matt Davis came up with the idea for custom MagicBand stickers when their daughter asked for a purple MagicBand and was told they didn't exist. (Note to Disney: might want to look into this 'purple' thing.) And apparently they jumped in to the idea with both feet, purchasing a $50,000 custom vinyl printer in late 2014 to launch their business. Today they produce designs ranging from Halloween and Christmas holidays, birthdays and celebrations, to the flags of different countries.
by Savannah Sanders on January 19, 2015 8 Comments
It's fresh and creamy, it's cold and sweet, it's literally paradise in a cup. It's a Dole Whip! If you haven't heard, this treat is as popular as some characters and attractions at Disney World and has the long lines to prove it. For those of you who haven't sampled this famous Disney treat; and for those of you, like myself, who are craving one right now, check out this Tribute to the Dole Whip!
So what is a Dole Whip? A Dole Whip is pineapple-flavored soft-serve and the perfect blend of sweet and tang; but I must warn you, it's addictive! In fact, during one of my trips to the Magic Kingdom last year, I waited in a thirty minute line for a Dole Whip and even got a sunburn in the process. But hey, I have no regrets. It was totally worth it!
Unlike other popular sweet treats at Disney World, like Mickey Premium Bars or cupcakes, Dole Whips can't be found just everywhere. For many years, Captain Cook's at Disney's Polynesian Village Resort and Aloha Isle in Adventureland at the Magic Kingdom were the only locations where this snack was offered.
Fortunately, it seems that Disney has taken pity on us Dole Whip-crazed guests, and I'm glad to report that there are now more places than ever to enjoy a Dole Whip while at the Walt Disney World Resort. Let's take a look at a few of the old, as well as the new, shall we?