Upgrading from your usual category stateroom is a dangerous game. You start off on your first cruise in an inside room thinking, "I'm just happy to be on the ship! How much time will I spend in my room anyway?" On your next cruise, you upgrade to an oceanview for one cruise and realize you can't ever go back to a room where there are no real windows. Then, just once, you decide to splurge for a verandah—and now you never want the terrible inconvenience of walking up a few decks to be outside in the glorious ocean air. Well, let me tell you those upgrades were but a hop compared to the Grand Canyon jump that is concierge. After my recent sailing in a one-bedroom suite on the Dream (all the suites are "concierge" on Disney Cruise Line), I'm pretty sure I'm going to feel like I'm sailing in a closet in my oceanview stateroom on my upcoming Thanksgiving cruise!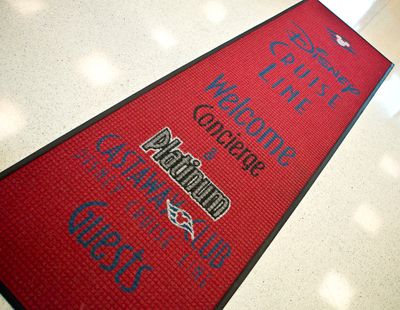 Recently, I was lucky enough to split the cost of a one-bedroom suite on the Disney Dream with a friend on a 4-night, off-season cruise, and my cost wasn't ridiculous. There are times when the additional cost has passed ridiculous and found full-blown disbelief. Price out the Roy Disney Suite on a longer summer cruise and you'll be convinced there must be a typo or horrible glitch in the system. No one really pays that right? Actually they do. Concierge sells out all the time. There are reasons it costs more though. And for some people, it's worth it.
1. Embarkation Day is Super Smooth – For those of you that are frustrated by picking arrival times to the port, you may like to know that concierge guests do not pick an arrival time, they can arrive at their leisure. Once there, they also have a separate check-in with minimal to no waits. After concierge guests check in, they are welcomed into a separate lounge reserved just for them while awaiting boarding. When the ship is cleared, before boarding numbers begin to be called, the concierge guests are led through a side door and up the gangway. When we boarded the Dream, we took our boarding picture quickly and were literally the first guests onboard the ship. The concierge guests gather in an empty lobby and are then escorted upstairs to the concierge lounge on Deck 12 by one of the concierge hosts. They are met there by some of the ship's officers and the rest of the concierge team. There are snacks and drinks (both non-alcoholic and fully alcoholic), and the concierge hosts meet with each family to go over everything they have booked beforehand to see if they would like to add anything. It's quite the luxurious way to start a cruise.
Read the rest of this entry »