Did you hear the Disney Magic was just "reimagined"? They recently dragged me off I recently returned from the inaugural sailing of the new Disney Magic, and (spoiler alert!) I loved it. Since I had also spent 12 wonderful nights on the Magic this summer before she went to dry dock, I had a very recent experience to compare the "old" Magic to the "new" Magic. So, let me tell you my impressions (and reviews) of the new Magic (and her new features)!
[Shameless plug: Check out our new Disney Cruise Line coverage, with more than 300 pages and 400 photos! - Len]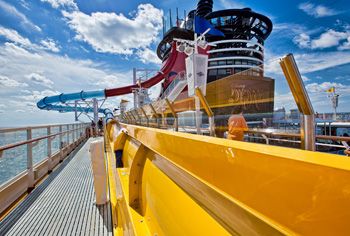 1. AquaDunk – The AquaDunk is by far my favorite addition. I'm not a big fan of body slides, but it's a complete rush. It lasts all of 7 seconds and yet somehow feels like you fall for at least 7 minutes. Some critics of the AquaDuck on the Disney Dream and Fantasy felt like it was too tame. Not so with the AquaDunk. You step into a vertical tube with water pouring down your back and a Plexiglas door closes around you. After you give the thumbs up signal that you're ready, Huey, Duey and Louie count you down, then the floor drops out from under you and you fall. And fall and fall and fall! Oh, and twist through a tube that goes out over the ocean, which is more than 100 feet below you. The wait was short on my sailing, but it certainly could be long during a hot afternoon at sea. Ride first thing in the morning or during the evening shows. If you're onboard during a port day, the line should be short, as well!

Read the rest of this entry »
Everyone loves a good secret, right? Of course, as soon as enough people tell it, it's no longer a secret. Hear that, Disney Vacation Club? So if you've been on a Disney cruise or have been researching for a while, there may not be any great surprises here. But here are 10 of my favorite "not so well known" tips. If you've got any others, definitely add them in the comments!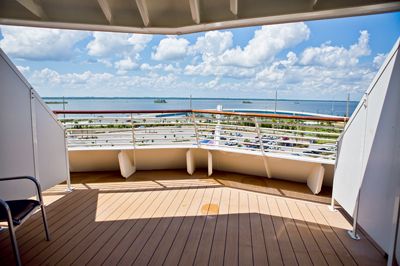 1. All Rooms Are Not Created Equal – While there are three basic room types – inside, oceanview, and verandah, each room type has several options. On the Magic and Wonder there are rooms with obstructed portholes that are classified (and priced) as inside rooms because of the obstruction! An oceanview room for an inside price! On the Dream and Fantasy category 8A's are like mini-suites in some cases! A mini-suite for an oceanview price! Some of the category 5E's on the Dream and Fantasy have ginormous verandahs! On the classic ships, 7A's are classified as a Navigator's Verandah which should mean the verandahs are enclosed with a circular cut out window. Some of them are actually regular verandahs with slight obstructions so they were reclassified into a cheaper category. Some of the concierge staterooms have huge bump out verandahs unlike their concierge neighbors. There are some "hidden" gems out there. Find them before you go all willy-nilly and book the first thing you see!

Read the rest of this entry »
Today we're launching coverage of the Disney Cruise Line!
It's more than 300 pages and 400 photos – the largest expansion ever to TouringPlans.com. You'll find detailed reviews of every ship, port, show, restaurant, bar, and activity on-board, plus itinerary, port, and Port Adventure details.
Our Coverage Includes
A new Fare Tracker shows you the daily price of every cruise on every ship for every stateroom category. See whether you'll save money by booking now or waiting, and see how Disney priced the same cruise last year.
Details and photos of the Magic, Wonder, Dream, and Fantasy, including stateroom types and descriptions, children's clubs and activities, restaurant and bar reviews, family activities, how to meet characters, on-board seminars, and shopping. We'll even tell you which theater shows to skip for more time at Senses Spa.
Complete coverage of Castaway Cay, Disney's private island, including reviews of every Port Adventure activity, what to pack for your day, food and bar reviews, and more.
Woo hoo! Everyone's favorite topic – saving money! Last week I talked about how to save money when booking a Disney cruise, so today let's talk about saving money once you board one of DCL's amazing ships! 10 ways to save money onboard.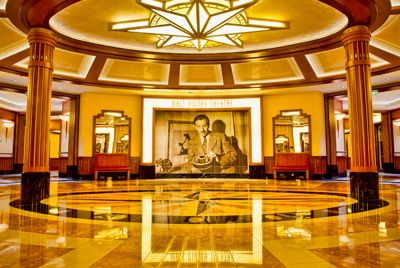 1. Don't Buy Food Onboard – After 11 cruises, I have never spent a dime for food onboard. Oh wait! I lied. I did spend money on the adult restaurants. Totally by choice, totally worth it. Other than that, never a dime. Disney sells some packaged snacks outside the theaters and from room service, but those are so easy to avoid! There's free food everywhere! You can do without M&M's for a few days! Substitute free ice cream or room service in their place! Or veggies! Yes. I meant veggies. Similarly, if you get a soda from a bar or room service, they're going to charge you. Don't. Go up to the pool deck to get a soda to drink with your room service. Take a soda from up there into the theater. It's that easy. You can also buy specialty coffees and smoothies, but again, free coffee is always available and free drinks are occasionally available (see #3 below)! If you do feel a need to buy a nice coffee, make sure you get a coffee card! You'll get the sixth one free, even if it's on your next cruise!