The following is an excerpt from my December 2010 trip report, which discusses my thoughts on the December 9, 2010 Mickey's  Very Merry Christmas Party.
We arrived at the Magic Kingdom for Mickey's Very Merry Christmas Party around 6:40, and immediately got in line for Snow White and the Seven Dwarfs. Well, we thought Snow White would be there. Apparently, Grumpy had made some sexist remarks to Snow White about women, "not belonging in the 'Dwarf Mine'," and Snow White was a bit offended. So she never did show up. While this explanation might be more humorous, I imagine the actual explanation was that Disney wanted to give the impression of more entertainment at the party than there actually was, so Snow White got her own meet & greet in Toontown, thereby creating two separate lines for people to wait in to see her and the dwarfs. This was really disappointing, because the Dwarf Mine set up for the little guys looked great, and was (surprisingly) well lit. At least we got a photo with Snow White AND the Dwarfs at last year's MNSSHP; unfortunately, the lighting was subpar at the Halloween party.
By 7:15, we were through the Dwarf line (ironic, as it was quite a lengthy line). We wandered around, heading over to the Golden Horseshoe to watch the dance party again. For some reason, this dance party was very captivating to us–us being Sarah and my mom. Both of them danced with the characters, having quite the good time. I am not down with the hip hop music, so I didn't quite see the appeal. I also was a bit surprised at some of the lyrically suggestive songs being played. I doubt the little tikes understand the messages of these songs (or at least I hope they don't understand them at their ages), so maybe it's not such a big deal. Still, not what you'd expect to see in the Magic Kingdom. Before we left, I saw one of the Country Bears "getting down," so I busted some of my ill moves next to him. I can assure you all, you've never seen moves like mine. They are…terrible…seriously, train wreck bad. Ill is not an exaggeration. They are so ill that they are reminiscent of a rabid raccoon.
Since it's patently obvious that WDW has made cuts to MVMCP in the last several years (free photo, Twas the Night Before Christmas, portions of the fireworks, etc.) without adding much new quality entertainment (nothing pertaining to the Castle counts as that is run regardless of MVMCP–even if it weren't, the argument can be made that the Castle lights only offset the loss of Country Bear Christmas), and while dramatically increasing the price, it would be nice if little "plusses" were made to the party. For example, during a normal day at the MK, the toilet paper that is out is pretty brutal. During the party, maybe they could bring in some of that nice 2-ply stuff they have at the Grand Floridian and Polynesian. Perhaps that isn't so feasible, but it sounds good in theory.
After the dance party, unsurprisingly, my mom wanted to do some more shopping. Since I knew she wouldn't want to stay the entire night, and the stores get especially packed around closing, I agreed to go then. Plus, you never want to delay when LE pins are at stake! The Emporium, unsurprisingly, was a mad house. I quickly exited the store in favor of wandering around Main Street. I told Sarah to call me when they were done.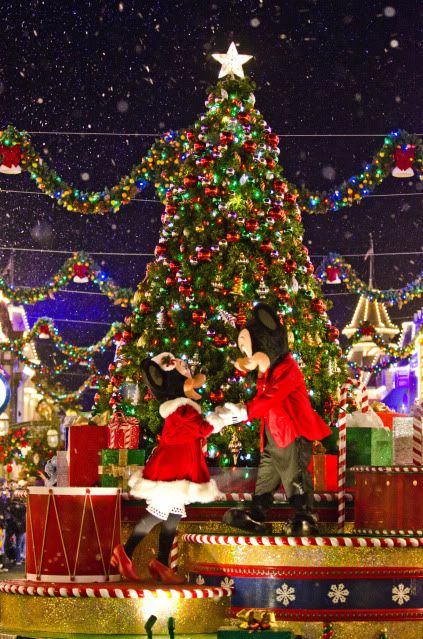 We caught the first parade, arriving only 15 minutes early but catching it from our super secret perfect location. Watching it so many times gave me the luxury of shooting it with numerous different lenses. I actually ended up using all of my lenses except the 50mm f/1.8, which has become the black sheep of my herd (oh yes, the appropriate term for 4 or more lenses is a herd).
After the first parade, we found a spot for the fireworks. Given that the party was sold out, I was a little surprised that Main Street wasn't more packed for the fireworks. My theory was that a large block of tickets went to the cheerleaders, and they either left voluntary because the cold was too much, or were hospitalized because of it. Either way, I wasn't too beat up about the park being less busy than I expected. The fireworks, just as they were the time prior, were awesome. I could watch that show again and again–I certainly listen to its soundtrack enough during the Christmas season.
Celebrate the Season was next on the agenda. This was the one thing, entertainment-wise, that Sarah and I had not done the previous party. We had only seen this show once ever, as it was cancelled in 2008 when we last attended the party. This show was pretty good; perhaps better than I remembered. That, or last time the measuring stick for it was Mickey's Twas the Night Before Christmas, and this time, the measuring stick was A Totally Tomorrowland Christmas. Funny how everything is relative.

For the second parade, we were going to go for our normal spot, when I spotted a new awesome spot! It turns out that a filming crew was at the MK to shoot a commercial for ABC. There was a "father and son" (those are air quotes, for what it's worth) on the curb right in front of us who were models for the commercial. Let me just say that I would not want to be a Disney model. Different people kept approaching the two of them, telling them to do things differently. Three different people told them contradictory ways to sit (boy on outside vs. father on outside), and kept making other requests of them. It was funny to hear the kid and dad talk; I realize actual father-son teams are not usually cast for these things, but it's still funny to hear a "father" ask his "son" where he is from. It was also funny overhearing the crew talk amongst themselves about how much they hate shooting at WDW because of all the rules, requirements, and control. The coolest part, by far, though, was seeing all that camera gear. I can only imagine how much some of THAT stuff cost. I think my little Nikon D7000 and fisheye lens had a bit of performance anxiety.
The rest of the evening was spent enjoying the ambiance of the party (oh, and we saw A Totally Tomorrowland Christmas again) and trying to stay warm. We had plenty of hot chocolate, and plenty of cookies. I think the cookies we had at the three parties probably account for about 7 of the 10 pounds I probably gained while we were down there.
Overall, the party was a great time and definitely worth doing once per year, despite the cuts and the price.  Although it's a little too late to do it this year, I would highly recommend attending the party if you'll be visiting the World in 2011.  There is plenty of entertainment for guests of all ages, and you can easily have a full evening without ever setting foot in an attraction. The special party area music is great, the lighting cool, and there is nothing quite like seeing snow in Florida. (Although this particular evening, it was cold enough that the snow could very well have been the real thing!)
To read the trip report in its entirety, please click here.