by Tom Bricker on July 1, 2011 38 Comments
Filed under: Uncategorized
Although it's no secret that the TouringPlans headquarters are located in a gated compound deep in the mountains of Kentucky (no, we don't moonlight as a moonshine bootlegging company, although…), we do like to keep our finger on the pulse of all things Disney. Okay, saying we like to keep our finger on the pulse of all things Disney is a real understatement. We are all rabid Disney fans. We own Mickey Mouse ice cube trays. We know the recipe for a Kungaloosh! by heart. We can recite the script from the MuppetVision 3D pre-show. Yeah, we've got a bad case of Disney fever.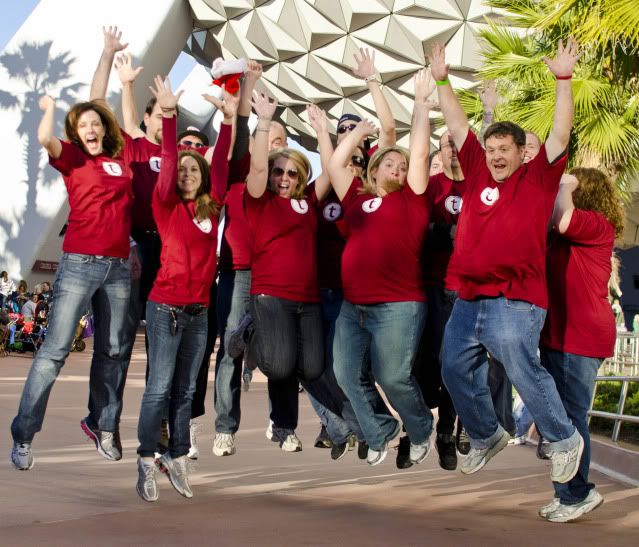 And despite some of our transgressions, (my raving about "out-dated" attractions like Country Bear Jamboree in these posts, and the fact that Gadget's Go Coaster and Primeval Whirl graced the covers of the Unofficial Guides to Disneyland and Walt Disney World, respectively, in 2010) we are knowledgeable and passionate fans of Disney. In dealing with some other companies in the "industry," we've found this is not the case. Some folks in those organizations couldn't tell you how to get from the Jungle Cruise to Pirates of the Caribbean, or even where all of the high-point targets are in Buzz Lightyear's Space Ranger Spin (okay, maybe it was unreasonable to ask them that one). But the purpose of this article isn't to bash the other Disney organizations that are only in business to make money and don't give a hoot about how they profit. The purpose of this post is to share our passion for Disney with you!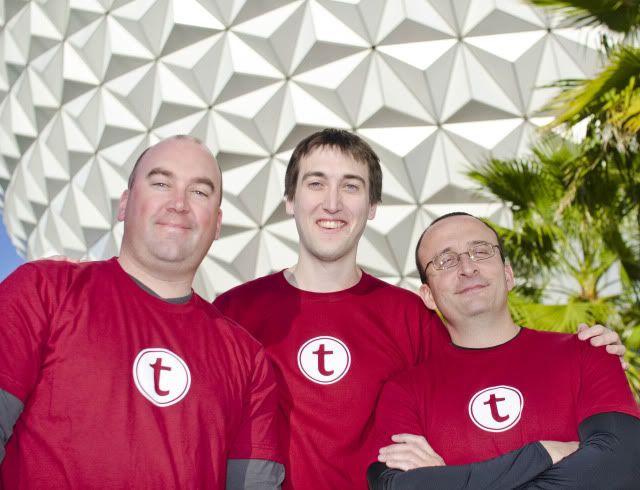 Let's start with the man who started it all: the man, the myth, the legend, Len Testa. Easily the biggest celebrity residing in the state of (Editor's Note: the state of Leonard Testa, Jr. the IV has been redacted due to concerns over paparazzi setting up camp outside his home), Len is co-author of a little book known as the Unofficial Guide to Walt Disney World, among like 8 other books on the Disney theme parks. Len is also the class clown of the WDW Today podcast, and is the world podcast record-holder for stream-of-consciousness tangents. Recently, he has taken to Disney marathons, which he unsurprisingly dominates.
Fred Hazelton is the big block super-charged Hemi engine that powers the TouringPlans machine. He's the man behind the Crowd Calendar and wait time models used here. Curiously, Fred's favorite attractions include the American Adventure and the Hall of Presidents. Fred is also especially fond of Sam the Eagle. When he's not toiling endlessly on perfecting our wait time models, Fred makes frequent guest appearances on WDW Today.
I still haven't quite figured out what exactly a "web developer" does, but whatever it is, Henry Work spends freakishly long hours doing it. Henry Work is a Disney-knowledge powerhouse, with touring chops so excellent that he won the D23 Great Disneyland Scavenger Hunt! Henry is also the host of the Betamouse podcast, and his favorite attraction in a bug's land at Disney California Adventure is Heimlich's Chew Chew Train. Seriously.
Katie Siloac-Lotoczky is the social media director extraordinaire for TouringPlans, meaning that she keeps this blog firing on all cylinders (censoring this crazy group of bloggers is really a full-time job). She's the owner-operator-CEO of the dvc life, is a co-host on Betamouse, and also contributes to beersandears.net, a site about Disney beers.
David Davies is the Ultimate TouringPlanner. Among other things, David sends daily emails to Neil Patrick Harris, asking him if he will participate in an Ultimate Touring Plan the next time he's in Disneyland. David has participated in three WDW marathons, including the Goofy this year, and one Disneyland half-marathon. David and his wife love Beaches & Cream so much that they introduced their son to the restaurant when he was 7 weeks old. Like a true Ultimate Tourer, his son ate an entire Kitchen Sink. By himself.
Scott Barrett is another "developer" for TouringPlans.com, doing super-duper-secret stuff. He's also on that Betamouse podcast, and owns the website DizCollect.com. First and foremost, though, Scott is a Disney dad. He uses Disney as a vehicle for teaching his two daughters to dream big and use their imaginations. Luckily, he doesn't use the Chew Chew Train as a way to teach these lessons.
Laurel Stewart, is a TouringPlans biz dev. She is an old school WDW fan, with trips dating to when the place was called the "Vacation Kingdom of the World." Laurel is a Disney Vacation Club enthusiast, and a marathoner (no, it's not a requirement to be a part of the team that you either run marathons or co-host a podcast!). Laurel also has a weakness for Vinyl, err…Vinylmation, and has been meticulously creating her own line of TouringPlans Vinylmations. Look for them in every single WDW gift shop in 2034.
Steve Bloom represents the other half of our burgeoning international statistician department. Steve enjoys frequent trips to WDW with his two kids. At age 4, his son insisted on wearing cowboy boots to reach the height requirements for Test Track. His daughter believes that a smoked turkey leg and Dole Whip make a perfectly balanced meal.
Scarlett Litton doesn't have an official title, but we refer to her as "The Crazy One." You know, in an endearing way. She earned this moniker after her (in)famous #StarToursWatch, for which she set up shop outside of Star Tours all-day, every-day for the weeks leading up to the opening of Star Tours 2. Going through withdrawals from no compulsive attraction-watching, she has recently taken to riding Space Mountain numerous times per day. She also has the world's largest Dumbo collection.
Josh Schlutz spams Twitter and Facebook with the TouringPlans gospel. His projections indicate that Google+ is being rolled out slowly because Google fears that once TouringPlans has a page on there, the system will be overwhelmed. Josh is another Disney Dad on the team, and he reads bedtime stories to his two kids each night over the "heroic" Disney Vacation Club and how it saves the day for the weary vacationers. Nice work indoctrinating them early, Josh!
As for me, I'm the Chief Photographer here, and the world's premier (and as best I can tell, only) Disney Theme Parks Glyphish Designer. However, my passion for Disney lies with my freakish obsession with Figment. I also spend approximately 16.437 hours per day writing random musings about Disney that no one reads on all corners of the internet, including here and on my personal blog, Disney Tourist Blog.
As you probably guessed, our blogging team is pretty bonkers about Disney, too. Here are a few examples. Kristin Helmstetter is so crazy about Disney that she wrote her senior honors thesis about the Hall of Presidents and the American Adventure. While experiencing the attractions. She was also the Disney Drive Life's "Neurotic Disney Person of the Year." Speaking of neurotic, JL Knopp is the leader of the Disney-obsessed though TheDisneyDrivenLife.com and the Inner Mouse vid/podcast. JL also recently participated in D23's Great Disney Scavenger Hunt. Todd Perlmutter reads and tweets about every single Disney blog-post. He also co-hosts the Disney Film Project podcast with his wife, Cheryl and fellow blogger, Ryan Kilpatrick. Speaking of Ryan, in addition to the podcast, he blogs about each of the films they watch at DisneyFilmProject.com.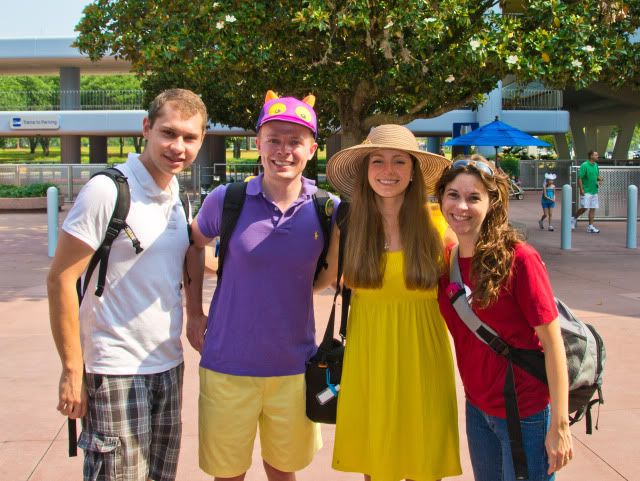 So there you have it. We're certifiably Disney-Insane. To our credit, though, it's the good, harmless, kind of crazy (we prefer "over-zealous" or "uber-passionate"). We don't just do "Disney-Stuff" for the benefit of TouringPlans.com. For us, Disney is a way of life.
Now that you know a little more about us, help us get to know a little more about you in the comments. What Disneyana do you collect? Do you have any interesting "Disney-facts" about yourself (for instance, you named your first-born "Dreamfinder" or have a large Horizons tattoo on your back)? We'd love to read more about everyone in the TouringPlans.com family!