by Tom Bricker on July 22, 2011 36 Comments
Filed under: Uncategorized
You get two hours into an Ultimate Touring Plan–nay, you get three hours into the "Dumbo or Die" Touring Plan–and your feet start bleeding. Your shirt is fully sweated-through. Your face is already beginning to feel as if it's baking.
Here at TouringPlans we make much ado about situating yourself for the best touring experience possible. However, as the great poet Robert Burns once said, "The best laid schemes o' Mice an' Men, Gang aft agley." Roughly translated to modern English, that means, "The best laid Touring Plans of Men in the House of the Mouse, often go awry." Even with the best Touring Plan in hand, all it takes is one flaw in your overall park-going strategy for the day to take a turn for the worse. One of the most common ways I've had this occur to me is by wearing improper attire when touring. To avoid common touring attire pitfalls, here are my suggestions for men and women, based on the practices of my wife, Sarah, and me.
Men – As someone with about 26 years experience dressing as a male (besides a regrettable period towards the beginning where I crawled around half-naked in an incognizant stupor), I would consider myself an expert on wearing men's clothing.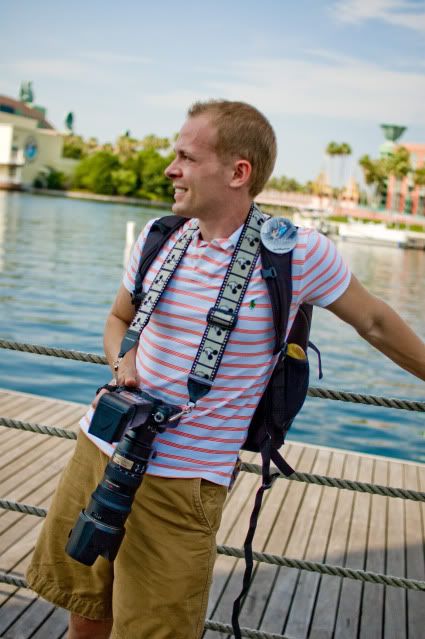 I typically wear a polo and flat front khaki shorts when touring, but I'm admittedly a bit of a unique example, as I have a camera strap with heavy lenses (I'm not talking about your standard kit lens!) rubbing against my neck all day, and without a collar acting as a layer between my skin and the camera strap, my neck would become pretty raw. Not to say I don't like polos anyway, as I do, but if you're more of a casual person, you can't go wrong with a good breathable shirt.
As for footwear, I have become a big fan of Saucony shoes in the last year. They're a smaller brand, and they spend money on actual making awesome products rather than advertising the heck out of subpar products (cough*Nike*cough). The principal benefit for Disney is that most Saucony shoes have "Hydrator" technology that wicks water away from your feet. These shoes are especially great for wet rides aboard Splash Mountain, Grizzly River Run, and Kali River Rapids. To complement my 'kicks', I always wear a good pair of moisture-wicking socks. Moisture-wicking shoes don't do nearly as much good if your socks are retaining all of the water.
Women – Admittedly, I don't have the same type of first-hand experience dressing as a female, but as someone who has been dragged to shopping malls all of his life by his mother and wife, I feel I have a pretty good handle on this, as well. If you've ever read one of our Disney trip reports, it's no secret that my wife likes to wear large floppy hats and sundresses. (The volume of inquiries I've received about her attire is actually why I'm writing this.)
Although I can't offer direct confirmation, she assures me that the hats are excellent because they block your face from harmful and aging sunlight, and the dresses keep you cool in the especially warm summer months. She also has indicated that it's important to be careful getting in and out of low-sitting ride vehicles like Space Mountain in these dresses. This is a family blog, so I'll let you connect the dots.
With regard to footwear, Sarah is a big fan of Merrell sandals and Mickey Crocs because they're both comfortable. Ahh, Crocs. Right up there with Refillable Mugs in terms of the Great Disney Debates. Personally, I think Crocs look hideous. How these things (I won't even call them footwear) have defied conventional wisdom to become a footwear mainstay is beyond me. I will concede this, however, they are extremely comfortable. If you don't care how you look, Crocs are a great option. Your feet will dry quickly after water rides, you likely won't have a problem with blisters, and your feet will stay cool.
Now that I've shared some of our favored attire for optimum touring, I'll share some mistakes we've made.
Touring Attire Mistakes
First, and easily the biggest mistake is wearing traditional thong style sandals. This may work for you Southern or West Coast types who can wear sandals year-round and develop calluses, but for us Midwesterners, thong sandals combined with aggressive park touring is a recipe for disaster. This is one mistake we repeated over the course of several trips, becoming good friends with the nurses in the First Aid buildings by the second days of a couple of trips. If you're not used to constantly wearing sandals, don't wear them on a Disney trip!
The second mistake is always assuming it will be warm in Walt Disney World. This one has gotten me twice, but I think I've finally learned my lesson. When we went down for WDW Today Reunion last year, despite reading weather forecasts that it would be as low as 50 degrees, I brought mostly polos and shorts, two pairs of jeans, and no coat. By the second day of the trip, I had purchased a zip-up sweatshirt, and ended up wearing it each subsequent day of the trip. The next time we travel to Walt Disney World for Christmas, I'm packing as if we're heading to the arctic. Lesson learned: it does get cold in Florida.
Third, wearing non-touring attire in a touring setting. I'm a strong believer in appropriate situational dressing (aka "SUITING UP!"), and as such, I'm one of the few people who typically wears a jacket and/or slacks to Walt Disney World's Signature Restaurants. When we first went to California Grill, I thought it would be okay to wear my suit around to the other monorail resorts after dinner. Even though we weren't heading to the parks, this was a terrible idea. Lesson learned for our subsequent trips to Victoria & Albert's and Club 33: get a locker for your clothes or change in your hotel room. Don't wear the clothes around any longer than necessary.
Finally, I'd like to thank my sponsors for this blog post: Robert Burns, Saucony, Merrell sandals, and Crocs. Make sure to get those checks in the mail, guys!
What are your best tips for proper touring attire? Have you made any 'mistakes' in the past that you want to share to help the rest of us out? Share your thoughts on touring attire in the comments!