10 Impressions From My Trip to Disneyland Last Weekend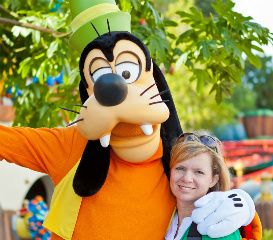 I just got back from a great weekend at Disneyland!  I stayed in the Disneyland Hotel for three nights.  True to the Crowd Calendar predictions, the parks were crowded on Saturday and Sunday, but pretty quiet on Monday.  Here are some of my thoughts, good and bad.  Mostly good, of course, because it is still a trip to Disney after all!
1. Holidays at the Disneyland Resort – A visit to Disneyland during the holidays is a must do.  It's just wonderful to see the entire resort decorated.  Disney goes all out.  The trees, the lights, the wreaths, the garland – it's everywhere!  The holiday overlays for it's a small world and the Haunted Mansion are exquisite.  They didn't just stick some garland in the scenery.  They shut the rides down and went to town!  Some of the big rooms in small world will take your breath away.  The World of Color preshow starring Prep and Landing was perfect.  If the rumors are true, next year Disney may have an entire World of Color holiday edition.  That alone will make a visit to Disneyland well worth the cost!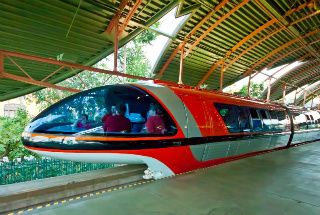 2. Monorails – Plain and simply, Disneyland's monorails are great.  Walt Disney World seriously needs to upgrade its monorails.  Every time I ride the sleek Mark IVs, I am reminded how old Disney World's monorails feel.  Don't get me wrong, Disney World's monorails are more useful as an actual mode of transportation for getting around the Disney property, but still, the monorails in Florida are not nearly as nice.
3. Disneyland Hotel Refurbishments – It has been a couple of years since I've actually stayed at the Disneyland Hotel so I was interested to see the changes.  My first impression was that standard rooms are very standard.  Of course I knew that from previous stays, but this stay reinforced that.  The parking lot view is just awful!  Now if you don't care about your view, then the newly redone rooms are great.  The light up headboard is awesome!  I toured a Downtown Disney District view room last time and it was beautiful. I decided the next time I stay there, the upgrade is worth the price for me.  The new pool is also superb.  It was a little too chilly for me, but not for the scores of kids I saw having a great time in it.  Tangaroa Terrace, a casual dining restaurant, is also a nice addition.  The Disneyland Hotel and Paradise Pier were really lacking for a food court type restaurant.  Tangaroa doesn't have quite the selection that White Water Snacks over at the Disney's Grand Californian Hotel and Spa does, but it was still a great option.  Well, mostly a great option.  A word of warning to picky eaters:  there were no regular french fries available, just sweet potato fries.  Yuck!  I realize I may be alone with that last sentiment.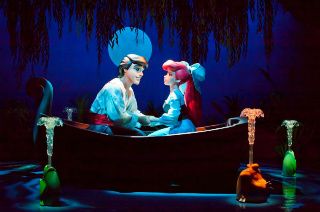 4. Disney California Adventure's Special Entrance – The DCA entrance from the Grand Californian is so very handy.  It's often the quickest way into DCA from any of the Disney hotels.  Especially with the main entrance being so torn up right now.  The Grand Californian entrance opens 45 minutes before the main entrance for guests staying at any of the Disneyland hotels so they can experience the new ride, The Little Mermaid – Ariel's Undersea Adventure, and get a FASTPASS for World of Color before the general public.  I wasn't even there at opening and was still able to ride Ariel's multiple times with no wait.
5. World of Color – World of Color is wonderful.  Like Disneyland's Fantasmic!, it also needs seating.  I lined up really early so I had an unobstructed view, but the same can't be said for the 5 rows of people behind me in my section.  It's just frustrating to wait so long for something and then not be able to see it all.  Any show where the cast members encourage you to let the children and shorter people go to the front of the section has a problem.  It's an amazing, amazing show.  I just want to know if I wait that long to see it, I will in fact be able to see it!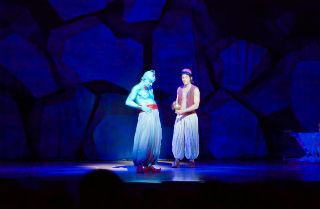 6. Disney's Aladdin – A Musical Spectacular – The Genie on Sunday was "en fuego" (that's "on fire" in ESPN speak).  He was one of the best I've seen and had the audience in stitches every time he was on stage.  Aladdin still hasn't got that flying carpet working (there was an accident with it a few months ago, no one was injured).  I certainly don't want them to rush or bring it back before they are sure it's fixed, but they need to come up with something to temporarily replace it.  It was a little awkward hearing the song and not being able to see the singers.  The little girl next to me kept asking where they were.  That was the one slight downside in an otherwise spectacular show.
7. The Pathway Between a bug's land and the Hollywood Pictures Backlot – This is something I have seen before of course and my first impression was, it's super convenient!  My second impression is, it kind of messes up the atmosphere in Bug's Land.  Bug's Land used to feel like it was its own little park.  Removed from all the main traffic.  Now it's really just thoroughfare for people to cut through.  It's kind of sad to me.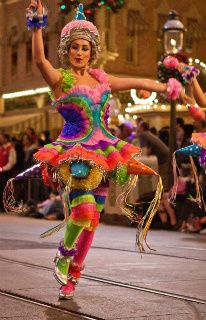 8. I love parades – Sadly, my teenagers don't have much interest in sitting around and waiting for parades anymore.  This weekend I got to experience two – Mickey's Soundsational Parade and the first A Christmas Fantasy Paradeof the season.  The Christmas parade is wonderful, as usual.  Nothing gets me in the Christmas spirit like an ice skating Mickey and Minnie and seeing Santa on Main Street.  Soundsational was also fun and has some great elements.  The drummers at the beginning were just awesome!!  They were soooo talented!  I also wondered if anyone else thought some of the costumes were a little, um, interesting?  Seriously!  Who designed the costume on the right? It's just crazy!
9. DCA is torn up – I mean torn up!  Now I've seen it in various stages of reconstruction and yet it still surprises me every time.  The main entrance is just convoluted right now!  If you want to get to The Twilight Zone Tower of Terror you have quite a walk.  You are rerouted behind Soarin Over California, and you don't emerge from behind the construction walls until you are somewhere in the middle of Condor Flats.  Now these are no ordinary construction walls, Disney does an excellent job of making them look as attractive as they can.  They have decorative signs and posters, and even a few Christmas wreaths here and there.  I won't complain too much, because I do think the growing pains will be worth it.  Cars Land promises to be amazing.  I wouldn't let the construction keep you away from visiting Disneyland, just remember that it's not in its full glory currently.
10. Toy Story Zoetrope – I don't know why, but the first time I saw the Zoetrope (in the Animation Academy building) I thought it was temporary.  Every time I go back and it is still there I am relieved.  Seriously, they could charge admission to that thing.  It is just fascinating!!  It's also hilarious watching people try to photograph it while it's spinning and the lights are flashing.  Needless to say, timing the photograph precisely with the strobe lights is just about impossible!  I have no earthly idea how to describe the Zoetrope.  Spinning Toy Story Characters that are doing nothing but spinning, but the spinning makes it look like they are doing much more.  If you haven't seen it, go!
What do you think?  Do you agree or disagree with my impressions?  I have a lot more thoughts on Disneyland that will be coming in the next few weeks!