by Tammy Whiting on December 6, 2011 4 Comments
Filed under: Uncategorized
It's holiday time at Disneyland!  The parks are decked out in their Christmas finery and it's the perfect time to visit!  You get all the normal fun of the parks, and all the extras you can enjoy only during the Christmas Season.  This year the holiday season runs from November 14, 2011 to January 8, 2012.
What's so awesome about the holidays at Disneyland?  Well, here are some of the my favorites!
1. it's a small world – it's a small world is my favorite change for the holidays.  The Imagineers go all out, and decorate the ride to the nines.  There are over 300,000 lights added.  Giant light displays, new signage, Christmas décor, and the list goes on.  I also love the Christmas music mixed in with the classic song.  I'm a Small World fan, but sometimes it feels like that usual song goes on and on and on.  Mix in a little Jingle Bells and it makes the normal song so much better plus it's just so festive!  Don't miss the outside of the building at night.  The lights and decorations are amazing!
2. The Trees – I love Christmas trees.  As I write this blog, I have about 27 crammed into my modest sized townhome.  Don't judge, it's a winter wonderland.  So, of course, I love all the trees at Disneyland!  There are little ones, medium sized ones, and, of course, absolutely ginormous ones!!  There are trees all over the resort.  The Christmas tree on Main Street, U.S.A. is 60 feet tall!  The tree in the lobby of Disney's Grand Californian Hotel and Spa is spectacular!  Each tree is decorated differently and worth some time examining the glorious details.
3. A Christmas Fantasy Parade– Who doesn't love a good Christmas parade?  Dancing reindeer, characters in costumes, wish lists, it's all there!  The Wooden Soldiers marching down Main Street are so much fun!  The sound of their feet hitting the pavement as they march is exactly the sound you would expect if a wooden soldier in your house suddenly came to life and started marching around.  True to the tradition of grand parades like Macy's Thanksgiving Day Parade, Santa is the grand finale.
4. Santa's Reindeer Round Up – Disneyland takes the Big Thunder Ranch area of the park and makes it home for Santa and Mrs. Claus.  Santa is almost always around to listen to your Christmas wishes!  And that's not all; Santa brought some real reindeer along with him!  If your kids have always wanted to see a reindeer, this is your chance.  To top it off, there's a great sleigh right out front that's perfect for those Christmas cards!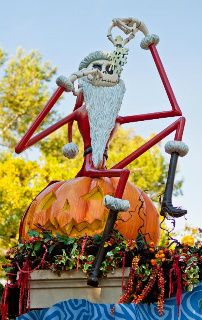 5. Haunted Mansion – The Haunted Mansion is transformed in time for the Halloween celebrations and has a great mix that includes both Halloween and Christmas decorations.  I've never quite understood the fascination with Jack Skellington and his Nightmare Before Christmas pals, but I love their overlay to the Haunted Mansion.  Skeletons dressed in Santa Claus costumes and holding jack o lanterns? Pumpkins and Christmas garland?  Sign me up!
6. Christmas Decorations – Aside from the trees, the decorations are everywhere.  It's hard to find something that's not decorated!  The little villages you pass on the Storybook Land Canal Boats have wreaths.  Even the construction walls at Disney California Adventure are decorated for Christmas! Garland is all over everything.  The different lands are decorated in their respective themes.  New Orleans Square is awash in purple, gold and green.  Frontierland has a western themed Christmas happening.  a bug's land has giant Christmas light strands and ornaments.  The castle is decorated with icicles, garland, lights and snow. It's truly a sight to behold!
7. Fireworks and Snow on Main Street – At night, the Believe…In Holiday Magic fireworks show lights up the skies around Sleeping Beauty Castle.  Towards the end of the show, beautiful snow will fall on Main Street while Christmas music plays through the speakers.  At Walt Disney World, up until just a few days before Christmas, you'll have to pay extra for these holiday additions.  At Disneyland, it's included in the price of your daily ticket.  It's the perfect way to end an evening.
8. Candlelight Processional – The Candlelight Processional is a retelling of the Christmas Story by a celebrity on Main Street, U.S.A.  There's also a full orchestra and a chorus to enjoy.  It's only shown on two nights in December, the 3rd and 4th this year.  At Disney World it has many more showings and takes place at Epcot.  It's a more intimate feeling on Main Street at Disneyland, but, unfortunately, there are not nearly as many opportunities to see it.
9. World of Color with Prep and Landing– Anyone familiar with the ABC holiday series Prep and Landing, will love seeing them at the beginning of World of Color.  Prep and Landing are two elves that prepare the way for Santa on Christmas Eve.  It was rather exciting to hear their voices when the show started.  It really made me feel like Christmas time was here.  There are lots of rumors that World of Color will have a complete holiday version next year.  If it does you can bet I'm there!
10. Snacks – Disneyland has all kind of special snacks at Christmas!  In addition to your regular favorites like Mickey bars and Dole Whips, there are special holiday themed snacks.  You can buy your popcorn in an adorable souvenir Mickey snowman bucket.  Gingerbread men with Mickey ears, Mickey snowman caramel apples, gingerbread beignets at Cafe Orleans, Christmas cupcakes and the ever popular handmade candy canes.  The candy canes are only made on certain dates and they sell out quick!  This year, they will be reportedly be available on 11/30, 12/2, 12/6, 12/9, 12/12, 12/16, 12/21 this year.  Get there early!  At park opening go right to The Candy Palace on Main Street to get your candy canes or vouchers.
Tom Bricker recently said in his blog that "Disneyland is unquestionably the most beautiful Disney theme park at Christmas-time." I'd have to agree. If you haven't been, you need to go. Just go!
Here's some more pictures to get you in a holiday mood:
How about you? What are your favorite things during the holidays at Disneyland or Disney World (or Disney Cruise Lines, or any of the other Disney properties)?
Posted on December 6, 2011