During this time of year, when there is so much reminiscing going on, I thought it would be fun to look back at some of my photos and favorite memories of Disneyland. With several thousand Disneyland photos taken over the years, that was no easy task mind you! Not all of these are technically great, most of them are there strictly for the memory they evoke. My favorite part of any Disney vacation is the memories we create with our friends and family. I know at this point you're all thinking this blog is a thinly veiled attempt to make you sit through a family vacation slide show, but I promise that is not my goal! It's an excellent side benefit, but not my goal. I'm hoping that my memories will bring back some of your own. So without further ado, here they are!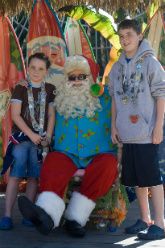 1. Surfing Santa – It's Christmas, so Santa has to be number one! I have made my kids take a picture with Santa every year since they were born. We put them all out at Christmas time and laugh at our favorites. Two of them are with the Santa Claus at Disney California Adventure. He stands out as the fun Santa in a collection of formal pictures. You know, the Santa we didn't have to get dressed up to go see. There aren't too many places where you can find Santa in a Hawaiian shirt. Well, probably in Hawaii. Incidentally, California Adventure Santa was an excellent one. He immediately mentioned to my daughter that she must have bought more pins since the last time he saw her. She was beyond excited that he remembered her. Well played, Santa.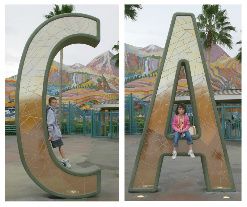 2. The Letters – Ah, the letters. I miss the letters. What a photo opportunity. Especially when you have a child whose name starts with "C" and a child whose name starts with "A". I know I'm not the only one who loved the letters because it was rare we didn't have to wait in a line to take a picture with them. And how fun was it to go during the Holiday season and see the letters decked out like candy canes! Sigh. I hope the new entrance erases all the pain that I feel that the letters are gone.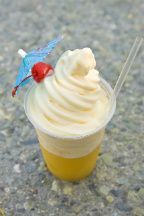 3. Dole Whip Float – I love this picture for reasons obvious to anyone who has ever tried the Dole Whip Float in Adventureland. This is a dessert of indescribable deliciousness. Refreshing, light, wonderful. A trip to Disney is not complete without a trip to the Tiki Juice Bar. To my knowledge, and I'd love to know if there are more, there are only three places in the United States to get Dole Whip Floats – Walt Disney World, Disneyland and Hawaii. So unless you've been lucky enough to get to Hawaii, Dole Whips and Dole Whip Floats evoke wonderful memories of Disney.
4. Year of a Million Dreams – I know not everyone is a big fan of the yearly Disney promotions, but we had so much fun with this one. I mailed in entry post cards every day and tried to win the big prizes from home. When we were in a park we were watching for giveaways everywhere we went. We ended up with quite a collection of mouse ears, FASTPASSes, and pins. And every single time we won something, we were excited. We took this picture right after we won our Dream FASTPASSes. Despite my extra 16 chins that appeared for this photo, it brings back memories of one of those days and I love it.
5. Mickey's Fun Wheel– Even in its changing state, the fun wheel is such a striking symbol on Paradise Pier. I think I prefer the new version with Mickey, but really I liked them both. I'm not crazy about the ride itself, I'm just not a Ferris wheel lover in general. The loading and unloading process is entirely too time consuming for a ride that's never very long. However, the wheel at Disneyland presents an excellent picture opportunity and it completes the look of the pier for me.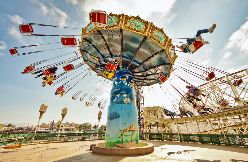 6. Silly Symphony Swings – This is another ride that has changed in name, and slightly in appearance, over time. This is also a ride that I'm not crazy about riding because of the nauseating feelings it inevitably brings out in me. I can't blame the ride for that one though! My kids have always loved this ride, and the day my daughter was finally tall enough to ride was one of much rejoicing.
7. Duck Duck Goose with Mickey – As the days of random character encounters seem to be dwindling, this picture brings back memories of a rare encounter indeed. As we were leaving Disneyland one night we noticed the big cheese himself was organizing a classic game of Duck Duck goose. My daughter joined in immediately and was the goose Mickey chose! How often does your child get to chase Mickey in a circle without risking some kind of security intervention?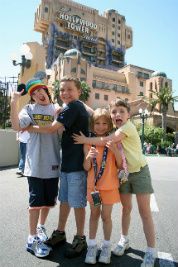 8. The Twilight Zone Tower of Terror Pictures– Doesn't everyone have this picture? Isn't it funny how even little kids understand that you should be screaming if you're in a picture with Tower of Terror in the background? I don't think we even told the kids and their cousins what to do. Tower of Terror = Screaming. Even though Tower of Terror was borrowed from Walt Disney World, it's one of the best rides at either park and a marvel of technology.

9. Burrbank Ice Cream and Engine Ears Toys– Sadly, Burrbank ice cream and Engine Ears are no longer. At least in their former state. Burrbank was always one of our favorite stops for snacks. Aside from serving delicious ice cream and Sundaes, what a great location! How fun to buy ice cream in a train! And toys for that matter!
10. Cookie Making Time – Free cookies! My kids loved making the Tollhouse cookies at the end of Main Street. Was it a shameless product plug? Possibly. Did that matter at all to the kids making and baking and, of course, eating the cookies? Nope! The only cookie I can think of that's better than hot chocolate chip cookies fresh out of the oven would be hot chocolate chip cookies fresh out of the oven at Disneyland.
So those are mine! Do you have any wonderful memories of Disneyland trips that you'd like to share?