by Tammy Whiting on April 20, 2012 16 Comments
Filed under: Uncategorized
When people visit Disneyland or Walt Disney World for that matter, it's so easy to concentrate only on the headline attractions!  The biggies for me would include rides like Space Mountain, Indiana Jones, California Screamin', the Tower of Terror, etc.  If you get wrapped up just going from biggie to biggie, however, you will probably overlook some great smaller scale attractions.  I'm not necessarily saying you should skip Indiana Jones for any of these attractions, but I'm saying if you've got enough time, or, for that matter, you don't have time to stand in a long line for Indiana, here are ten excellent alternatives.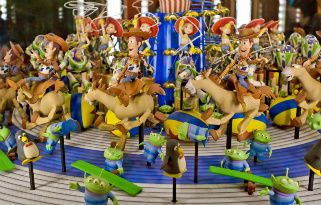 1. Toy Story Zoetrope – The Zoetrope is definitely number one!  I love this attraction!  It's located inside the Animation building in the center of its own room.  It's very hard to describe but I'll try!  If you first see the Zoetrope when it's stationary, you will just see one giant circle full of smaller circles of stationary Toy Story characters.  Each circle has multiple statues of the same character, and each statue is slightly different than the other.  Well, after a minute or so of everything being still, the circles start spinning and strobe lights start flashing.  Think of those books with a slightly different drawing on each page.  If you flip through the pages quickly, the drawings look like they're moving.  That's what's happening!  Suddenly the characters look like they've come to life!  They're all doing their own thing and it's seamless.  I stood next to a little girl once that kept arguing with her dad and insisting the characters were moving and if you walk up while it's spinning, it would be hard to believe otherwise. That was a very long description, all to say – don't miss this Zoetrope!!  Go find it!! It's easy to overlook because of its location and if you catch it between spins, it may look like there's nothing of interest there.  But trust me, there is!
2. Turtle Talk with Crush – Located in the same building as the Zoetrope, Crush may be overlooked by adults or older kids.  Don't do that!  Crush is amazing!  Sure he spends a lot of time with the young kids seated on the floor next to the screen, but it's thoroughly entertaining for all ages.  When Crush starts interacting with the audience and you realize this isn't a pre-taped video segment, you will be asking yourself how they do this.  Crush is quick witted!  He must have been a stand up comedian at some point during those 150+ years.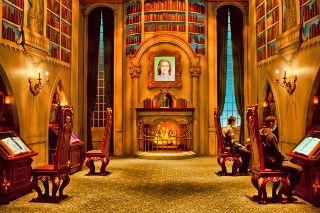 3. Sorcerer's Workshop – The Sorcerer's Workshop, also found in the Animation building, is a neat series of interactive walk-through exhibits.  It starts off with several animation displays where you can create your own moving pictures, or make Disney's pictures come to life.  Next, you'll enter Beast's library where you can find out which Disney character you were in another life.  The walk culminates with some Disney karaoke in Ursula's Grotto!  Who doesn't enjoy a little Disney karaoke?
4. Animation Academy – A couple of weeks ago, in a blog about the Disney Fantasy, I mentioned my love of the Animation Academy.  Our first visit was with two young children who hadn't, at that point, shown any overwhelming artistic abilities that I was aware of.  Did I insert enough qualifiers in that last sentence to not emotionally scar my children who may secretly harbor dreams of becoming an artist?  The Animation Academy is taught by a Disney cartoonist who leads you in drawing a beloved Disney character with often surprising results.  You, and your children, may draw a lot better than you think you will!  Plus it's free souvenir!
5. Davy Crockett's Explorer Canoes – The canoes are a hidden gem.  They're kind of tucked away on a platform much lower than the walkway and you may not even realize they're there.  It's a fun and different way to see the Rivers of America.  The canoes aren't open every day; they seem to only open during more busy times of the year.  They're a bit of work, let me warn you!  The canoes hold about 20 people and you are actually paddling!  There's no track here.  In fact, if you happen to be there on a hot day, I'd probably avoid these like the plague!  But on a nice day, they're super fun!  Some of the guides are excellent and may have missed their calling as Jungle Cruise skippers.  We have laughed our heads off at times.  Admittedly, other times we have just sweated a lot and exhausted ourselves while we took in the scenery.
6. a bug's land – Yep.  This is a whole land it's easy to overlook!  The rides in bug's land were certainly meant to appeal to children first and foremost.  But, there are some awesome details back there in bug's land!  Even if you don't want to ride any of the rides, you need to go back there to wander through.  You'll really feel "bug sized" as you pass giant Chinese takeout cartons and firefly bottoms serving as lamps!  When the holiday decorations are up you'll even see giant Christmas ornaments.  Of course It's Tough to Be a Bug is an excellent show and it will draw people part way into the land, but it's easy to stop there and miss the rest.  Keep going!  Go explore back there.
7. Honda's Asimo – Honda's Asimo is an incredibly impressive robot located inside Innoventions in Tomorrowland.  Innoventions isn't always a happening place, so Asimo is easy to miss for that reason alone!  Honda says it's the world's most advanced humanoid robot and it's hard to question that when you see him/her (it?).  Asimo can walk, dance, go up and down stairs and even run!  All by his lonesome!  He has no strings!  It's a 15 minute show and well worth your time.
8. The Bakery Tour – On one hand, The Bakery Tour in Disney California Adventure is great just because you get free bread.  And yes, it's true that you can get the bread, watch the first brief movie clip, and then, when the doors open so you can move to the next movie clip, you can just keep on walking right out the door without taking time for the movie.  I admit it, I've done that.  But really, at least once, you need to watch the movie.  Your hosts are Rosie O'Donnell, the former talk show host, and Colin Mochrie from Whose Line is it Anyway – man we used to love that show.  They describe how bread is made in a very funny series of clips.  At the same time you can watch actual bakers behind the glass making the bread they sell in the park.
9. Great Moments with Mr. Lincoln – When Splash Mountain is calling your name, it's very hard to stop for a movie.  Especially one with such an educational sounding title.  But this theater at the beginning of Main Street, U.S.A. really is worth a stop.  When you enter the lobby you start out in a walk through Disneyland's history.  The memorabilia and nostalgia alone would be enough to make it worth it.  But it doesn't end there!  After the walk down Disney memory lane, you're admitted to a large theater where you are treated to a miniature Hall of Presidents with only one, incredibly lifelike animatronic, president.  Lincoln was a personal hero of Walt Disney, and this attraction does justice to Walt's love of this great American president.
10 – Redwood Creek Challenge Trail – Redwood Creek Challenge Trail is easy to overlook because it boils down to a giant children's playground.  An immersive, incredibly detailed children's playground, but a children's playground nonetheless.  But don't boil it down!  Soak it in!  When you walk in, you'll feel like you could have left California Adventure and entered Sequoia National Forest.  Immediately to your right, you can walk through the trunk of a giant sequoia.  Follow the path as it curves around and you'll see some Jr. guests on zip lines.  Past that you'll see a multi story climbing area with slides, rope bridges, etc.  There's a miniature rock climbing wall in the back and now you can earn a Wilderness Explorer Badge with Russell from Up.  Even if you don't have kids with you, it's still worth some time to explore.
How about you?  What are some attractions or areas of the park that you think are easy to overlook?