Top 10 Apps for Your Disneyland Vacation
Let me say right up front, I am excited about reading your comments to this blog! You see, I've only had a smart phone for about 2 months (in my case, an iPhone). I've had an iPad for over 2 years, however, and I love it! As I've said many times, it has revolutionized my life (my dear husband hates it when I say that—he says he already revolutionized it when we got married!). Sure, Honey…
Of course a few members of my family have been carrying smart phones for the last few years, so we've been to Disney with one—but, I have never carried it in my own hands. That means I still have a lot to learn.
From my family's experiences, here are the top 10 apps that help us maximize our Disneyland vacation. Since we carry iPhones (this is not a paid endorsement!), I'll refer to iPhone apps, but I hope those of you carrying other smart phones will use the comments section to tell us about your top 10.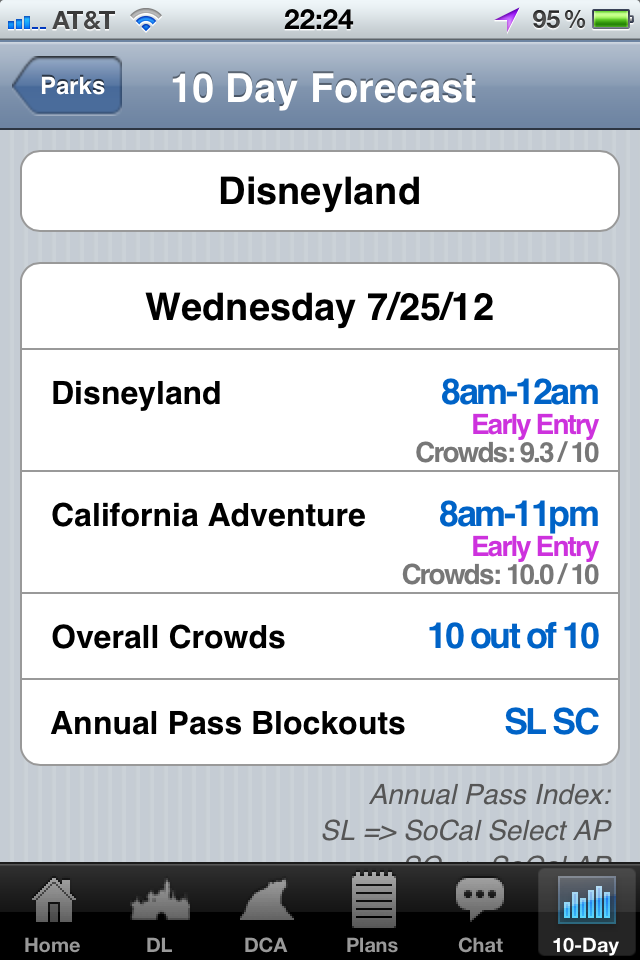 1. Disneyland Lines from TouringPlans.com—Don't call me a shill! This is a great app (as is the Disney World version)! Lines gives you free real-time attraction wait times, forecasted wait times, and FASTPASS distribution and return times. The app also provides searchable menus for every restaurant, food cart, and bar on property.My family loves how Lines lets you update wait times on your smart phone while you are in the park to help other users of Lines. It also has a timed feature that measures the actual time you wait in a queue to optimize Lines' accuracy. In addition, you get access to Touring Plans' famous computer-optimized Touring Plans. Just so you know, there are additional features that require a subscription (which is not expensive, and can get a discount by purchasing a great Unofficial Guide book), including full access to the famous TouringPlans Crowd Calendar and Unofficial Guide Touring Plans. There is so much more I haven't even mentioned! Definitely get this app.
2. Disney Mobile Magic—This is Disney's own app, and it is very well done. The app has lots of maps, and tons of information on all the various parts of the Disneyland Resort—parks, Downtown Disney District, and hotels. This app has menus, a built in trivia game, and even special features that are only unlocked when you are in the parks. Mobile Magic even gives you a recommendation for each attraction based on wait times ("See Now"; "Wait: Moderate FP: Available"; "Temporarily Unavailable"). If you have a little mouseketeer who wants to meet characters, this app can tell you where specific characters will be and when. Plus, there is tons more info, as well!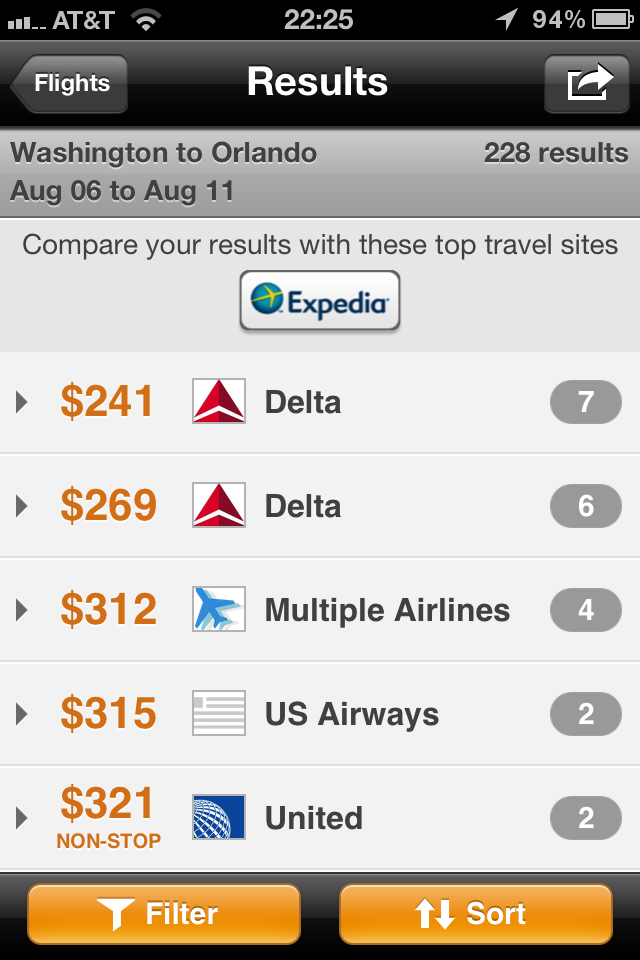 3. KAYAK—If you don't use a travel agent, although you really should use a travel agent :), but if you still don't—planning your trip to Disneyland is a critical step. Kayak allows you to quickly search for flights, hotels, and rental cars. You can quickly sort results based on dozens of attributes (e.g. specific airline or hotel, number of connecting flights, cost, etc.) to get just what you want. Additionally, the app has some useful features such as packing lists, a currency converter, and information on luggage fees for all airlines. You might be able to find apps that do each of these things better, but this is the best all-in-one travel planning app I've found.
4. Waze—Are you driving to Disneyland on SoCal's maze of highways and freeways? Then you need Waze. Waze is a free, turn-by-turn GPS system that factors in traffic conditions in real time (and will automatically route you around heavy traffic if alternate routes are available). Having spent hundreds of dollars on a portable GPS system a few years ago for my old car, and refusing to pay hundreds of dollars to update the maps in the built-in GPS in my new car, Waze is amazing. It will alert you to accidents, police, and construction. And, while you are driving with Waze, it will automatically be updating its database with the average speed on your road and update your expected arrival time accordingly. Now, you will want a power cord for your phone in the car when you use Waze, but rest assured that you will get to Disneyland on time with this app.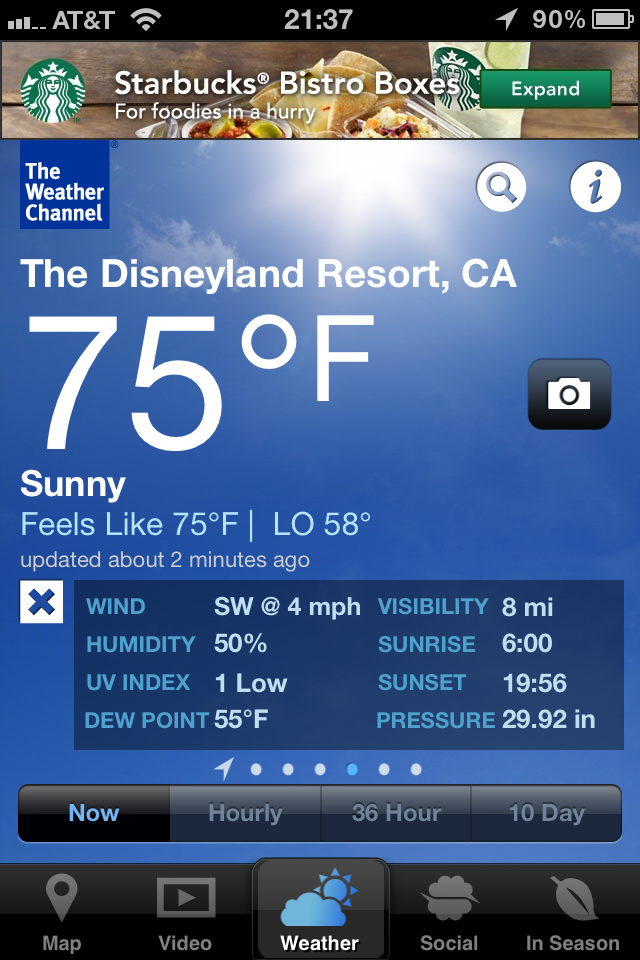 5. The Weather Channel app—Smart phones are awesome if you love tracking the weather. Even the first two apps above have limited weather features built into them. But, if you want to be able to get minute by minute conditions, see the weather that's coming on a map, be notified of weather alerts, watch the forecast on video, get pollen alerts, etc., then this app is for you. Plus, I keep Disneyland as one of my "favorite locations" so that I can see what the weather is there at any time—and day dream about my next trip! There are several other great weather apps out there, but this is my favorite.
6. Instagram—This is a super fun app. I love to take pictures, and I've spent a lot of time learning how to use a DSLR on manual mode and improving my photography. I've got stacks and stacks (OK, gigabytes upon gigabytes) of pictures of my family at the Happiest Place on Earth! With Instagram, however, lugging around that giant camera and equipment bag isn't always necessary. Instagram makes it possible to get really interesting pictures right from your smart phone that you can instantly share with your friends and family. Or complete strangers for that matter! While Instagram and my iPhone camera isn't going to replace my DSLR anytime soon, this makes photography fun and convenient for everyone!
7. Facebook app—This isn't the greatest app in the world (IMHO), but don't you love the thought of tagging yourself at all the great Disneyland attractions and making your friends jealous? 🙂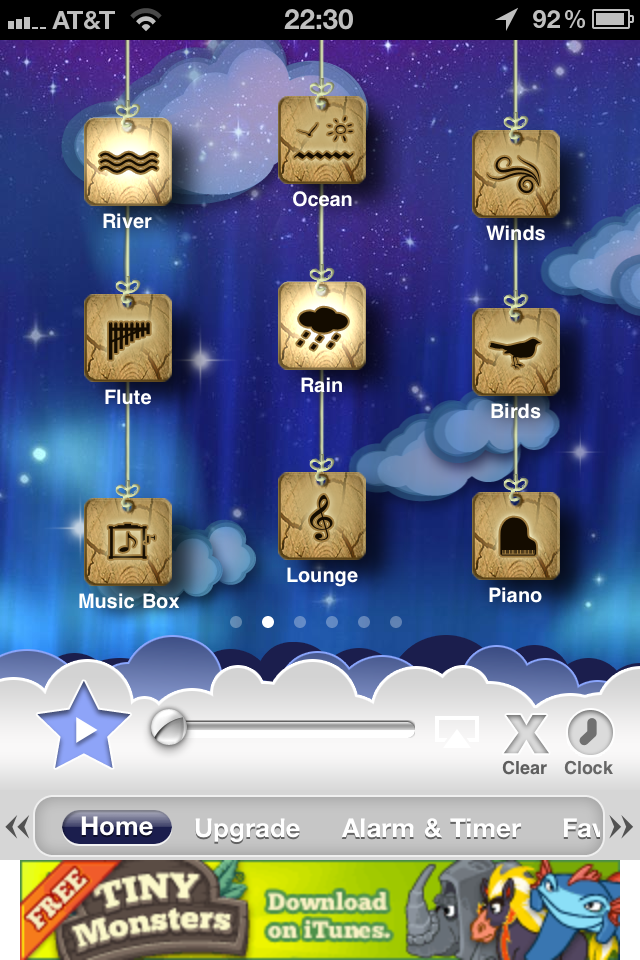 8. Relax Melodies—One downside to most Disneyland vacations is that you end up sleeping in a hotel room with your kids or friends. Unless you are fortunate enough to stay in a DVC suite, or off property in something similar, you may have to put up with new noises (i.e. snoring, coughing, sleep talking, etc.) from people you normally don't share a room with. We find a noise generator to be a great way to drown out these noises, sooth a child to sleep, or mask noises coming from outside the room. Relax Melodies lets you mix and match dozens of sounds (we like the river sounds combined with light rain). And with this app, you don't have to lug around a noise generating machine—it's all on your phone!
9. Kindle app—Occasionally when we are at Disney, we find ourselves waiting (shocking, I know). For example, I recently found a great spot to catch the Mickey's Soundsational Parade, so I just pulled out my iPad and started reading a book on the Kindle app while my family ran off to get Dole Whips. When I got back to my room later that night, I grabbed my husband's iPhone while I uploaded pictures to my iPad and picked up reading right were I left off. In general, I don't promote getting absorbed in a book while in the parks (you've paid way too much for those tickets!), but there are circumstances when it is a great way to kill a little time. Plus, if you like to read, rather than bringing physical books you can just bring your phone! Tip—If you're like me and get sucked into whatever you're reading, don't bring something that's too good *cough * cough* Hunger Games *cough*. You don't want a book cutting into your much needed sleep at night!
1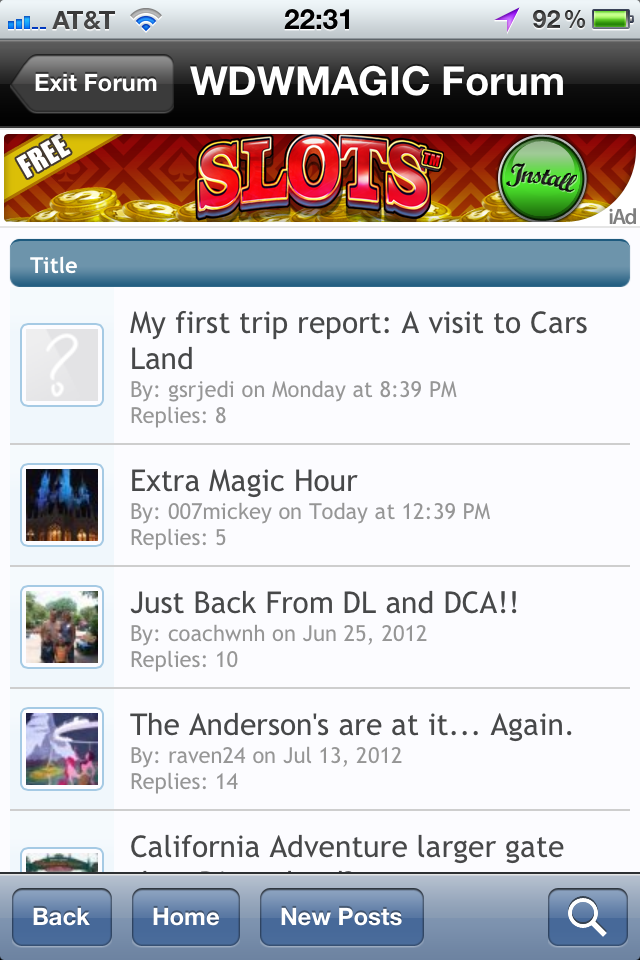 0. WDWMAGIC.com app—One of the things I love best about Disney is sharing my love of it with fellow Disneyphiles! Perhaps that's why I so love writing this blog! As you probably already know, there are wonderful online communities that talk nothing but Disney, all day every day 24/7/365! WDWMAGIC.com is one such community, and it has an iPhone app. It doesn't cost anything to join, and you get news, park hours, pictures, and tips. My favorite parts, however, are the Discussion Forums. There are dozens upon dozens of threads for all things Disney. If you have a question, you can bet you can get it answered here. Find reviews, trip reports, trivia, you name it! Plus, you can get to know some really nice and knowledgeable people.
There you have it, my 10 favorite apps. If you use these apps, just think what you don't have to lug with you to Disneyland? A portable GPS, a camera, a white noise machine, and books! That leaves more room to bring home souvenirs!
So, what are your favorite apps on a Disneyland vacation, and why?