by Tammy Whiting on August 17, 2012 19 Comments
Filed under: Disneyland (CA)
What are the ten best transportation rides at Disneyland? What on earth is a transportation ride at Disneyland and are there even 10 of them? In last week's blog post comparing dark rides at Disneyland, someone asked if the Tomorrowland Transit Authority PeopleMover would qualify as a dark ride under my definition. Robert came on and made the good point that the PeopleMover is what he would call "a transportation ride." He defined a transportation ride as a ride in which "the mode of transportation was the main point of the attraction." A ride where the "vehicle is as important or more so than the scenery." Vehicles that "travel the same path but they are different experiences." He suggested a blog comparing transportation rides! I was intrigued by the idea of even defining 10 rides as such! So let's see what we can come up with. Robert, this one's for you!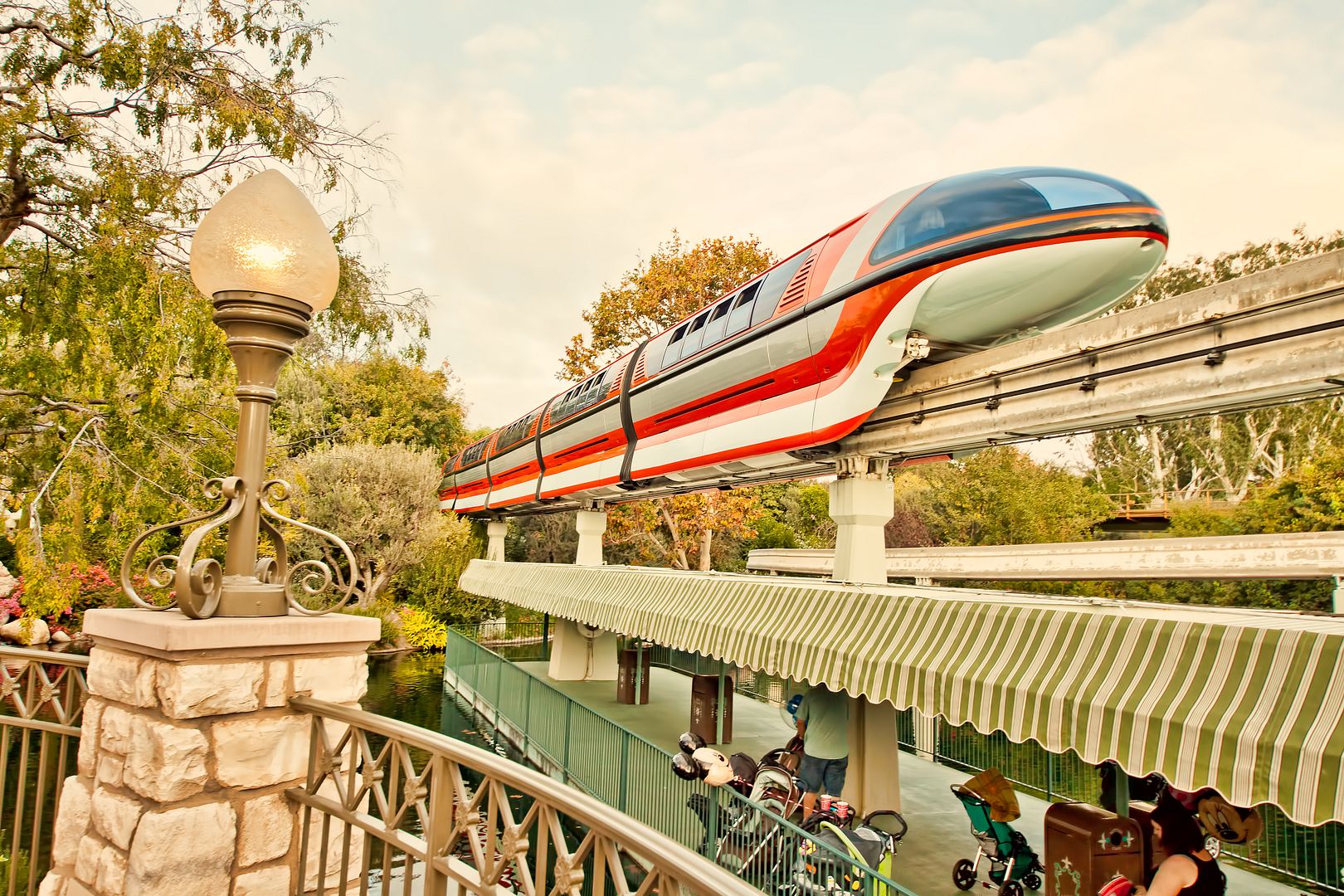 1. Disneyland Monorail – The Disneyland Monorail is the most obvious, and I would argue the most enjoyable, transportation ride. The monorail at Disneyland is actually very different than the monorail at Walt Disney World. First of all, Disneyland's monorails were updated in 2008 to the very beautiful Mark VII versions. It's been a long time since Disney World's monorails got an update. At Disney World, the rail system itself is much more extensive. At Disney World you can ride from Epcot to the Ticket and Transportation Center; you can ride from there to three beautiful resorts; and of course to the gates of the Magic Kingdom. All without even purchasing a park ticket! But, while the Disneyland monorail ride is much shorter than the Florida version, it packs a lot into it. For example, the monorail actually stops inside Disneyland (that means if you don't have a valid park ticket for Disneyland, you're not getting on!), and it goes through both Disney California Adventure and Disney's Grand Californian Hotel and Spa. What a great transportation ride it is! Disneyland's monorails are a sight to behold. They're sleek, smooth and look like they really could be the transportation ride of the future.
 2. Disneyland Railroad – Even the Unofficial Guide defines the railroad as a transportation ride!  The Disneyland railroad is a great, and nostalgic, way to get around the park. It makes a giant loop around Disneyland with 4 stops along the way. You can board or disembark at any of the stops. Unlike Disney World's version, there's even some scenery (dinosaurs!) created just for the train along the way. It's a great ride to sit and relax if you just need a break. It takes about 22 minutes to make the full circuit.
3. The Red Car Trolleys – These get high props because they're so new. And so Walt! Although walking can often be faster, what a neat way to travel down DCA's Buena Vista Street! The overhead lines are just for show since these trolleys are battery powered. Because of that attention to detail, the Red Car Trolleys can make you, if only for a minute, feel like you're back in the 20's and 30's. Of course, you weren't likely to see a lightning struck hotel with falling elevators and ear piercing screams at the end of the street in the 20's and 30's so you may need to focus inward to really be transported.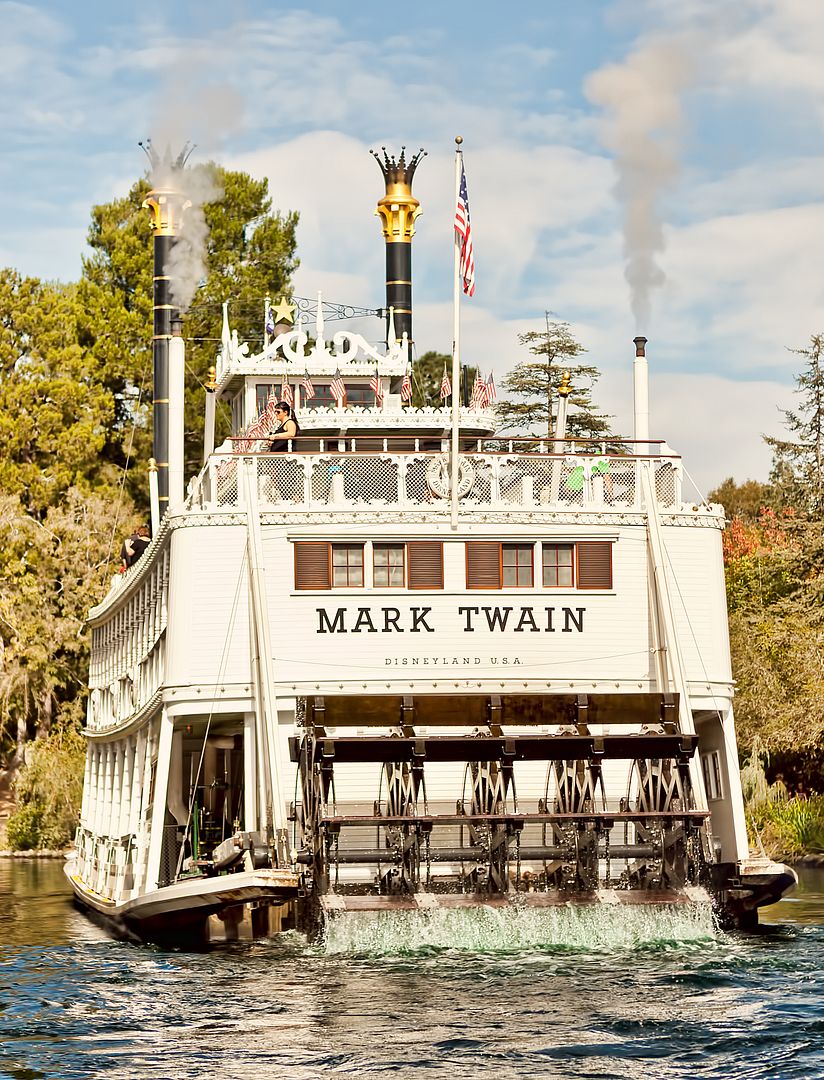 4. Mark Twain Riverboat – The Mark Twain Riverboat is one of several means of traveling the Rivers of America, and it's my favorite. The giant paddle-wheel riverboat cuts quite a figure traveling down the river, and the views from the top can be quite beautiful. There are several sights to see around the river, and even a nod to Princess and the Frog in the audio. With lots of seating and standing areas, the riverboat can hold a ton of people, and yet still seem like a peaceful trip. It made my list of places to relax at Disneyland! Well, for 20 minutes or so, anyway.
5. The Sailing Ship Columbia – The Sailing Ship Columbia is a beautiful ship and would be higher on the list if it wasn't closed so often. There are two decks for visitors (and the one below gives the appearance that sailors from the late 1700's could appear at any moment to resume their life onboard). This beautiful red ship is wonderfully detailed and would appeal to the sailor/pirate in anyone. If it's open, I'd head there before the Mark Twain Riverboat!
6. Davy Crockett's Explorer Canoes – Ah, the canoes. I have a love/hate relationship with the canoes. On one hand, they are a fun and unique way to see the Rivers of America, and if you get a funny guide, you can laugh your way around the river. On the other hand, if your arms haven't lifted anything heavier than an ice cream cone on a regular basis, you may want to avoid the canoes. Because you aren't just sitting back and relaxing on the canoes! Oh no, you are actually paddling around the river. And it's hard work paddling a giant canoe full of people around a river! Especially when Grandma Betty is behind you not lifting a finger and you really feel like you need to make up for her "lack" of helping. But if it's a cool day, and you don't mind a little work, then try the canoes. They're fun and different, and may even be hilarious! Either because of the guide, or because of the look on your kid's faces who can't believe you dragged them on this "ride" that feels so much like exercise.
7. Raft to Tom Sawyer's Island – The raft over to Tom Sawyer's Island is a necessary transportation ride if you want to get to Tom's island. It's the only way to get across, but at least it's unique! Leave it to Disney to come up with something a little more enticing than just another bridge or walkway. Sure it takes a little longer than a bridge or walkway, but it's a much more intriguing way to get across. And really, the rafts load pretty quickly and the trip across won't take up too much of your time.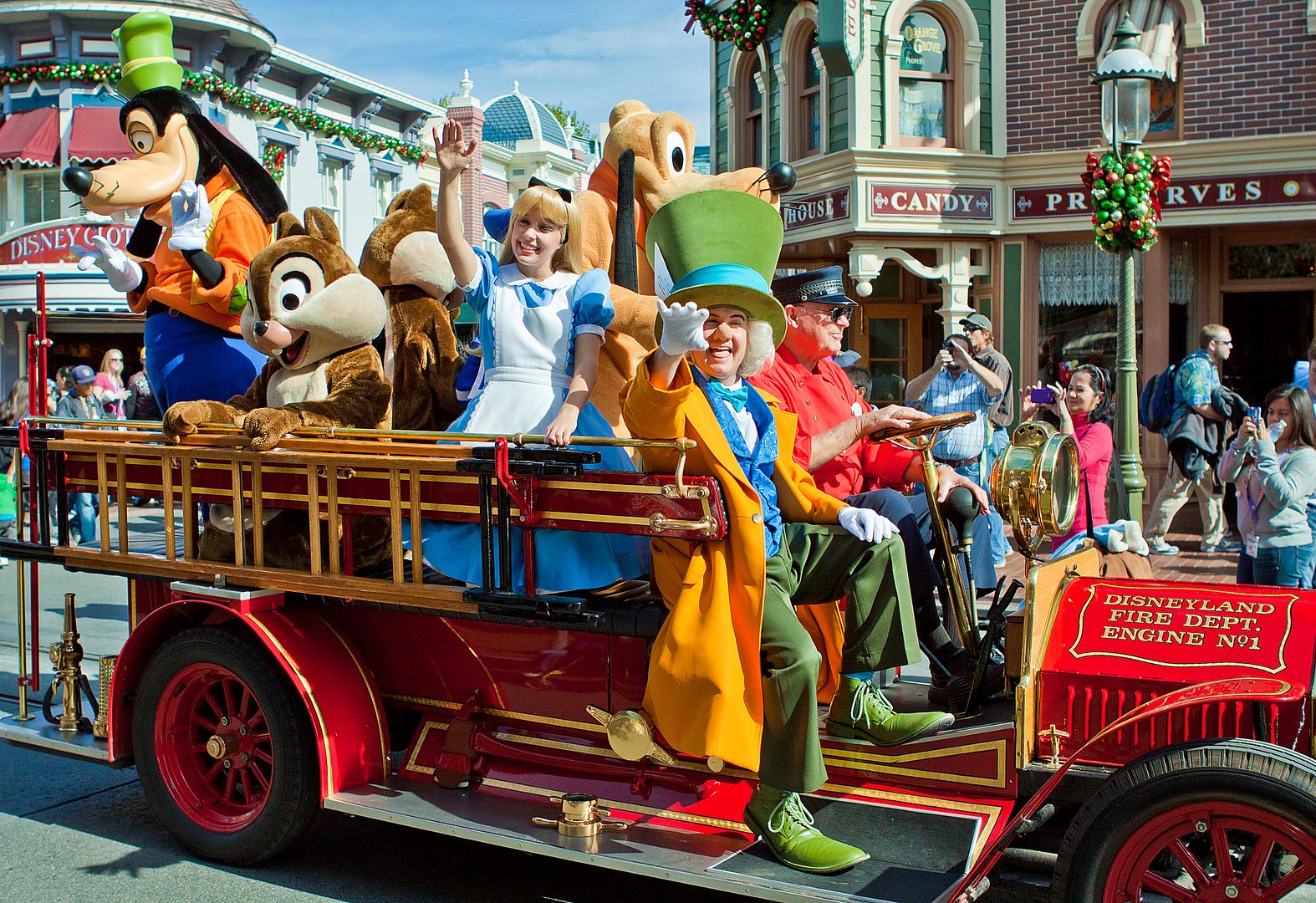 8. Fire Engine – The Fire Engine is one of several options to ride down Main Street, U.S.A. in Disneyland. It's a one-way trip, but it's a different experience than walking. The Fire Engine is candy apple red like all fire engines should be, and several people can fit in the back at one time. Guests sit on one of two benches that face each other in the open air back. It doesn't quite look like the fire engines of today that we normally think of, but it's got a fun, classic car feel to it. It should appeal greatly to the little ones in your family.
9. Horseless Carriage and Omnibus – Now the real classic cars of the street are the horseless carriages and Omnibus – or as most humans call it, the double decker bus. Now I have absolutely no knowledge of classic automobiles and it's very possible that these options look nothing like true classic cars, and maybe double decker cars didn't even exist more than 30 years ago, but they look classic to me! The Horseless Carriage is a more intimate trip with a friendly driver. The Omnibus carries a lot more people and has better views from the top! Don't worry, these are Disney busses and Little Johnny isn't accidentally falling off the top level. There are rails on top of bars on top of fences to keep that from happening. But, remarkably, even with all of that safety equipment, you can still get a lovely, and slightly unusual, view of Main Street.
10. Horse-Drawn Streetcars – My horse loving daughter would have put this before the other three Main Street Vehicle options above. The trolley-like streetcars are beautiful, as are the horses. The horses are large magnificent creatures and the streetcar is a shiny beauty with benches that can seat up to 30.
What do you think? Did I leave any off? Can you think of any other transportation rides?
Posted on August 17, 2012