by Tammy Whiting on October 5, 2012 16 Comments
Filed under: Disneyland (CA), Uncategorized
If you haven't seen my recent blog posts, I was at Disneyland recently for some work related training.  As much as I know and love Disneyland, I always learn something on these training trips!  And that's not a bad thing!  I also sometimes have to refrain from correcting the trainer when they are mistaken because I think if I did, that would be a bad thing.  Or at least make me look like an obnoxious know-it-all, which I try to avoid.  I'm afraid I'm not always successful, but I do try.
So here are some of the things I learned this time!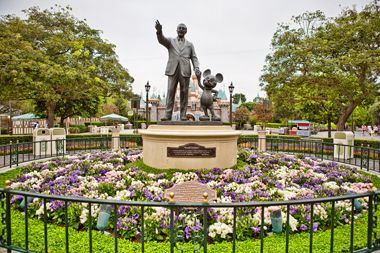 1. There is a Super Cheap Tour Option – I knew of the tour, but I didn't realize how inexpensive it is.  The Welcome to the Disneyland Resort Tour certainly sounds like it's for newbies to Disneyland, but it's a great value and even seasoned veterans may enjoy it.  At $25 a person (only $20 if you are an Annual Passholder, AAA member, Disney Vacation Club member, or Disney Visa cardmember), it's about the cheapest tour you could do—and, there are extras included!  I won't get into too much detail because I'm planning a blog post about Disneyland tours soon, but pin collectors take note—each participant gets a special pin made just for the tour.  You will experience two rides on the tour, as well as get Fastpasses for two more!  Not bad for $25, huh?
2. There are a Lot of Characters at Minnie's Breakfast – This is good information for character stalkers out there!  Someone in our group counted eleven characters at the Breakfast in the Park with Minnie & Friends at the Plaza Inn!  Eleven!!  Just in the 45 minutes or so that we were there!  Of course there's no guarantee there will be that many when you're there since Disney won't even say who may be there other than Minnie ("yada yada yada").  But I'm just saying, eleven is a big number!  Even if you miss a few, if you are looking for a meal with characters, that is money well spent.
3. No Wraps on Disneyland Resort Express Busses Anymore – I was waiting for the standard Disneyland Resort Express charter bus to pull up and pick me up at LAX, but I was headed for disappointment.  Instead of the festively decorated bus "wrapped" in Disney characters, a plain white charter bus pulled up!  This threw me off, because there are a lot of other vans and busses that have very similar names to the Disneyland Resort Express bus, and several with Disneyland plastered somewhere on the side.  As usual, I ignored them all and waited for my Disneyland bus!  When the plain white bus pulled up I thought it was another decoy.  Since I did see the words Disneyland Resort Express in that order on the front, however, I did check with the driver.  Apparently LAX cannot have wrapped busses anymore!?!  That could be completely and totally false, but that's what we heard from a bus driver.  They're the best source of accurate information, don't you know?  🙂
4. There are Some Crazy Bounceback Offers – A Bounceback offer is fairly common at Disney World these days.  Usually in your room you'll find an advertisement for a discount on a future stay if you book before you check out of your resort.  Well, this was a Bounceback like I have never seen before.  When our bill showed up under our door at the Disneyland Hotel the last morning, there was an offer to extend our stay for another night for an incredible rate of $119!  Oh how they tempted me!  Had I not had a plane to catch and expensive flight change fees, I would have jumped on that.  For those with more flexible schedules, that would have been perfect!  Okay, not as perfect as getting that rate when we first booked, but still pretty good!
5. Disney Can be Cheap in the Lighting Department – Maybe it's because I was with someone who wasn't familiar with Disneyland and I was trying to see some things through her eyes, but I have never noticed how dark some rides are!  No, not the intentionally dark rides I posted about recently which are actually rather well lit in places.  I'm talking about outdoor rides that Disney apparently ran out of money for before they remembered that when it's dark, outdoor rides will be, well, dark.  Heimlich's Chew Chew Train had me so desperate I was actually looking for the pop up flash on my camera which I later realized was made for people like me who despise pop up flashes and it doesn't even have one!  The Storybook Land Canal Boats took us on the usual path through miniature scenes of classic Disney movies.  At least I think it did.  To be honest, it was so dark back there that we may have stopped inside Monstro's belly because the rest of the ride didn't look too dissimilar from that.  Would a few more spotlights here and there really be that much trouble?
6. Toontown Morning Madness and Preferred Seating with Packages are Going Away – This could certainly change, but we were told that the 2013 packages would no longer include Toontown Morning Madness and Preferred Seating passes.  And no, we were not told this by a bus driver (I kid, I kid) and I have confirmed it since returning.  Just FYI for planning purposes in 2013.
7. There is Priceless Artwork Inside Carthay Circle – What does priceless mean exactly?  I'm not really sure, so maybe I should say there's some artwork inside Carthay Circle that's worth more than some of us will earn our entire lives.  Currently there are some original cells from Snow White.  They used to hang in Walt and Lily's apartment and are now in Carthay Circle behind protective security glass.  The plans are to change the artwork every 6 months to something equally impressive.  Even if you're not eating there, go inside the lobby and check it out!
8. The Grand Californian Entrance Line Was Efficient during Extra Magic Hours – I was hesitant to use the Grand Californian Hotel entrance for Extra Magic Hours because there are so few entrance turn styles.  And sure enough, when we saw the line wrap around the building past Whitewater Snacks, I thought we had made a huge, time costly mistake.  But when 7:00 hit, I was beyond impressed.  We started walking slowly and didn't really ever stop!  They were prepared for the crowd and it was a super-fast process.  We were inside by around 7:05.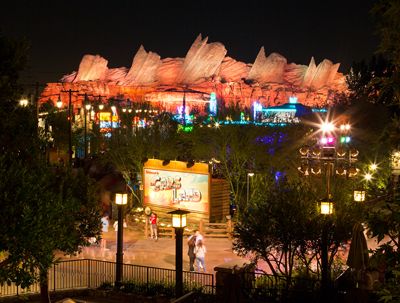 9. The Cadillac Tail Fins on Cadillac Range are from 1957-1962 – To tell you the truth, I'd forgotten there even were Cadillac Tail Fins represented on Cadillac Range, but when the cast member in Blue Sky Cellar told us, we were all very impressed.  If you look at the mountain, you can clearly see the back end of five Caddies coming out the top.  Of course, Disney left no detail overlooked in Cars Land and each tail fin is different and accurate to the year it represents.
10. The Big Rooms in the Disneyland Hotel are Awesome – I've stayed at the Disneyland Hotel many, many times, but I don't think I've ever actually had one of the fabled oversize rooms.  The room was so wide they just about could have fit two more beds in there.  Let me tell you, with four women and their luggage, all of that extra floor space was a very welcome sight!
So how about you?  What did you learn on your last trip to Disneyland?
Posted on October 5, 2012