by Tammy Whiting on October 19, 2012 16 Comments
Filed under: Disneyland (CA), Uncategorized
It's always dangerous to list the "best" of anything, since obviously everything is subjective, but at the risk of offending half the readers by leaving off their favorite, why not!  This is my opinion and does not necessarily reflect the opinions of anyone else at TouringPlans, any other Disney fans, or anyone else of great importance.  It's just my favorites.  I've ridden most of them too many times to count, so I do have some basis for my opinion.  But in the end I will not insist this list is anything more important or valid than my opinion.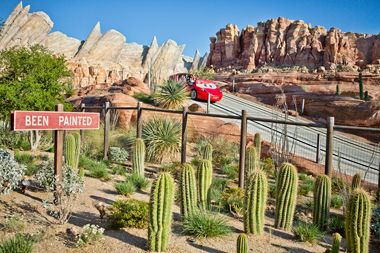 Wikipedia, which is never wrong of course, defines an E-ticket ride as a ride that is "an unusually interesting, thrilling, or expensive experience."  The term originated at Disney where until 1982, Disneyland and the Magic Kingdom took coupons for rides.  The most popular ones required an "E-ticket."  Back in the day, E-ticket rides included the Submarine Voyage, Matterhorn Bobsleds, and even the Mark Twain Riverboat.  Nowadays, we don't tend to think of the Mark Twain Riverboat as an unusually interesting, thrilling or expensive ride.  Relaxing, beautiful, and fun?  Sure!  But thrilling?  Not even close.  So I'll pick out of the rides I think would be E-ticket rides if the system still existed today.  There are certainly more that would qualify, but these are my top 10.
1. Radiator Springs Racers – The LA Times said Radiator Springs "redefines" E-ticket rides.  The article said it's the kind of ride only Disney can do.  The entire article is chock full of praise for Radiator Springs, using phrases like "pinnacle of theme park supremacy" and "bar-setting."  I couldn't have said it any better.  Praise for Radiator Springs is universal and words cannot do it justice.  If you haven't made it to California Adventure to try it yet, go.  Do it.  Get there now.
2. Indiana Jones Adventure– I remember the first time I rode Indy about 8 years ago.  I had heard it was amazing, but the inevitable comparisons to DINOSAUR at Walt Disney World had me wondering.  DINOSAUR is a good ride, but it has its weaknesses.  A big weakness is that it can be stinking scary, especially for young kids.  Those dinos are menacing and, at times, jump right out at you!  So it's good, but not my favorite.  I think Indiana Jones, on the other hand, has the perfect mix of excitement and surprises.  Although it's still too intense for a lot of children, there's nothing too scary.  You don't have to be a fan of the movie to appreciate it (but come on, who isn't a fan of the original Indiana Jones?).  It's just a great ride.
3. Soarin' Over California – When it opened, Soarin' Over California was one of the most innovative rides I'd ever seen.  The technology is just genius.  You can completely lose yourself in those scenes.  I know I'm not the only one who felt the urge to try to dip your feet in the waves below.  And when the Thunderbirds fly by?  Go Air Force (and go Navy, but mostly Air Force)!  It's a great ride, incredibly themed in its own hangar, and appropriate and fun for anyone that's tall enough to ride.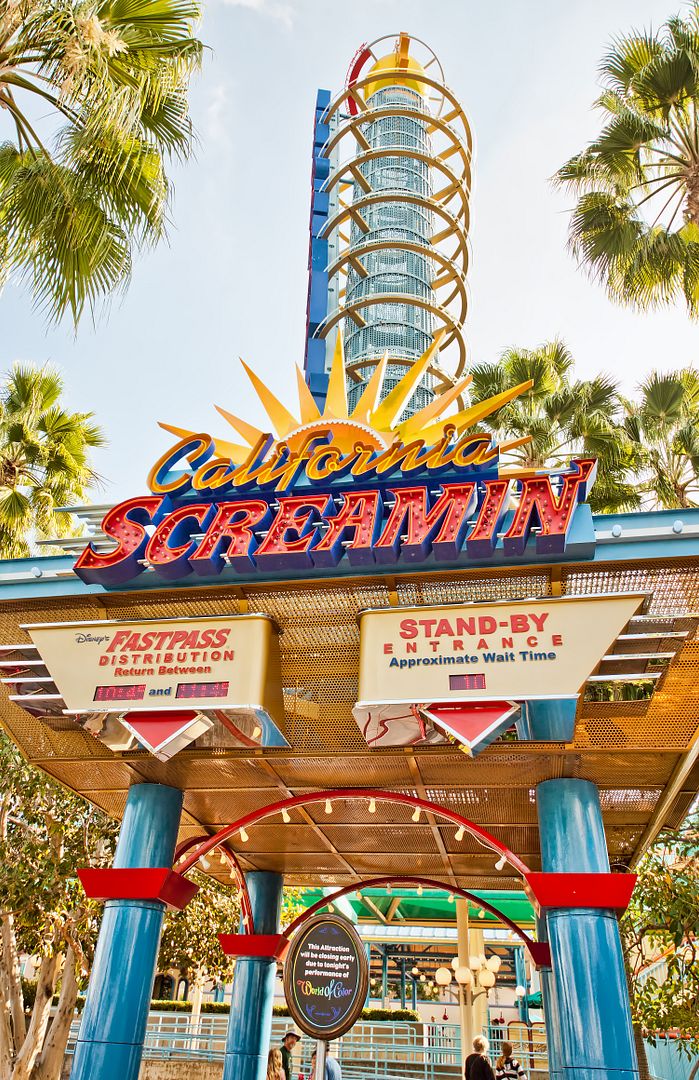 4. California Screamin'– Screamin' is my favorite roller coaster anywhere.  I admit, I'm not a roller coaster fanatic, and some roller coasters at Magic Mountain scare me to death.  But I enjoy a great, smooth coaster.  That's exactly what Screamin' is.  A great, smooth coaster.  It's not jerky, you don't feel like you were beat up when you get off, unlike some coasters these days.  The take-off is every bit as good as Rock 'n' Roller Coaster and I prefer Screamin' because it's so much longer than Rock 'n' Roller Coaster.  Rock 'n' Roller Coaster is awesome, but over way too quickly—about 50% more quickly than California Screamin'.
5. The Twilight Zone Tower of Terror – I don't think you'll find many people that wouldn't say Tower of Terror is a great ride.  Will you find some people that don't like the heights involved?  Sure!  Is it better at Disney World?  Probably.  But it's still a great ride.  My husband doesn't like heights and he still loves Tower.  You wouldn't have caught him dead on the Maliboomer, but Tower is different.  You don't feel the height as much, you still get all the thrills of the elevator shooting up and down, and the theming is exquisite from the moment you enter the queue until you exit the obligatory gift store at the end.
6. Space Mountain – I am absolutely one of those that feel like Space Mountain at Disneyland is way better than Disney World's version.  I like the seating better, it's smoother, I enjoy the tracks more, I love the overlays, and I like the queue better.  It's just better to me.  The incredibly painful and long refurbishment was ultimately worth it, because it's a great ride.
7. Toy Story Midway Mania! – We thought Buzz Lightyear Astro Blasters was a revelation the first time we rode it; we had no idea that the marvel that was Toy Story was still to come.  It's a ride that appeals to all ages and has complete rerideability.  (I'm not sure if I just made that word up or stole it from someone.)  If the line wasn't so crazy long, I could ride it over and over and over.  Of course, I'm awful at it, and never seem to beat anyone, including my niece who was probably 6 at the time, but that doesn't in any way diminish my enjoyment of the ride.  Well maybe a little, but not enough to keep it out of the top 10.
8. Star Tours: The Adventure Continues – Star Tours makes me nauseated and I still put it in my top 10!  The redo made it worth risking a little queasiness for me and I've ridden it a few times since it reopened.  A ride with multiple versions and experiences is really the ultimate ride in some ways, don't you think?  We used to ride once a trip.  Well, I should say my family used to ride once a trip while I waited in the cute little store.  Now we go multiple times on the same trip.  It's like a box of chocolates – you never know what you're going to get!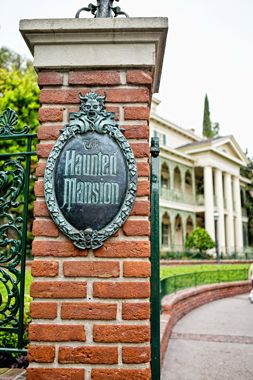 9. Haunted Mansion – Of course, if you want to talk about theming, you couldn't leave off Haunted Mansion (or number 10 for that matter).  It's not a thrill ride at all, but I'd still qualify it as an E-ticket ride.  It's a "do not miss" ride for any vacationer over the age of 5.  If you have brave children, it can be a "do not miss" for the under 5 crowd too.  It's nowhere near as scary as the name implies, although being in the Stretching Room with screaming teenagers can terrify even the bravest of adults.  It's a feast for the eyes.  So don't miss it!
10. Pirates of the Caribbean – At first glance, I'm surprised Pirates of the Caribbean comes in at number 10 on my list of favorite E-ticket rides at Disneyland because I love it and I ride it over and over.  But to be honest, I had a hard time putting it above anything else in this list.  I wouldn't put it above a thrill ride for me.  I would have put it above Star Tours, but the refurb moved Star Tours higher on my list.  Haunted Mansion and Pirates are neck and neck for me.  Both are excellent rides, but I have to give Haunted Mansion the edge because of the holiday overlay.  As a frequent visitor, I like it when rides change a little, even (maybe especially?) if it's temporary.  So Pirates ended up at number 10.  Not because it's not great, because it is.  It's just not as great, right now, as the other 9.  But way better than the unlucky rides who didn't earn a spot on my very prestigious list.
So that's it!  I know there are more, I can think of two that were painful to leave off.  Which rides would you include on your top 10, and which ones would you leave off in their place?
Posted on October 19, 2012