I have said before that I am no foodie! I am actually pretty picky and I enjoy the basics when I am eating. Meat and potatoes! Or, if I really want to mix it up, meat and rice! And bread. Don't forget bread. So, considering I eat basically the same thing at every restaurant I visit (in other words, I order steak every time it's available) maybe that makes me the best judge! Okay, maybe it doesn't, but I do have a good baseline to compare restaurants.
By the way, I am defining sit down restaurants as a restaurant where you sit down and order your food which is then brought to you. A restaurant where you can make reservations. There are a lot more to choose from than you would think at Disneyland, and it was a little difficult to pick 10. But, without further ado, here is my list; feel free to add yours, disagree, or vigorously agree in the comments below!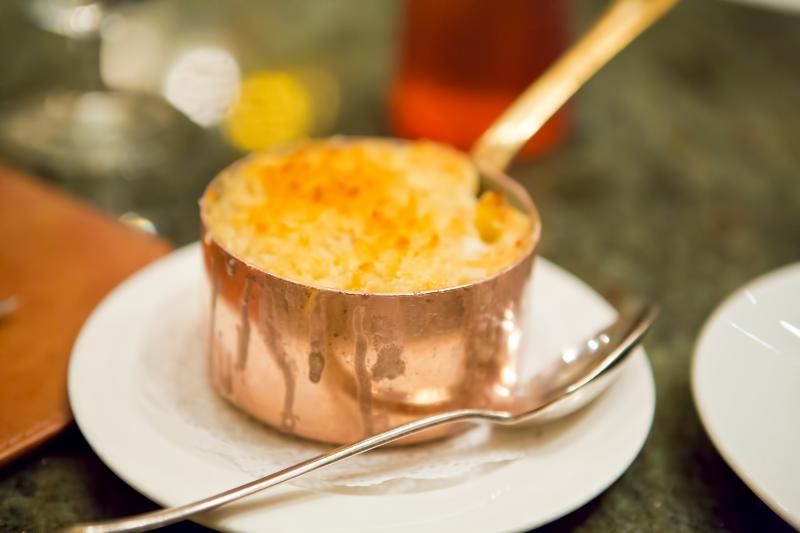 1. Napa Rose – After spending three and a half glorious hours at the Chef's Counter at Napa Rose a few weeks ago, there is no way it wasn't going to be number one. It was an incredible experience, even for a picky eater such as myself. The same chef prepares the food for the restaurant and for the Chef's Counter, so trust me, you won't be disappointed. The filet melted in my mouth. I could have cut it with a butter knife. The side dishes were amazing. I could have eaten from the bread basket all night long and been fairly happy. I didn't try a single dessert I was disappointed in. They all tasted as delicious as they looked. Napa Rose is a fine dining restaurant where every server is a sommelier and there are over 16,000 bottles of wine to choose from. Whoops! I probably could have led with that and stopped right there.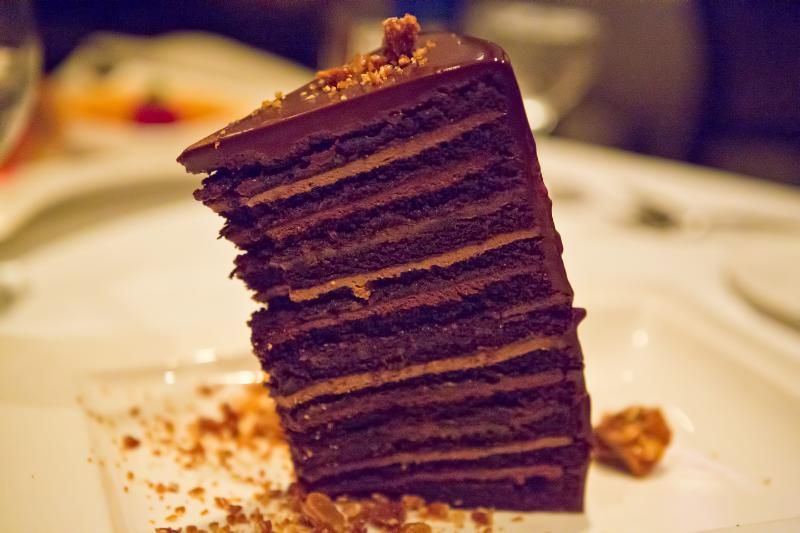 2. Steakhouse 55 – It was tough to choose my second favorite sit down restaurant at DLR, but ultimately I decided I enjoy Steakhouse 55 a tiny bit more than Carthay Circle. To be fair, in Carthay Circle we were in one of the atrium rooms on the side of the restaurant and it didn't feel quite as luxurious and rich as the other rooms. Had I been in the gorgeous atmosphere of the other rooms, it may have made me flip these two, but they are both awesome. At Steakhouse 55, we were in the gorgeous main dining room with an old elegant Hollywood vibe. The photos of Walt Disney and Hollywood stars on the wall were the perfect touch. I just loved it. My filet was amazing, and the 24-layer cake was to die for. I am not a big Nutella person, and when I saw the word Nutella in the name of the cake, I did hesitate. But, that hesitation lasted just for a second, thank goodness, because the cake was delicious.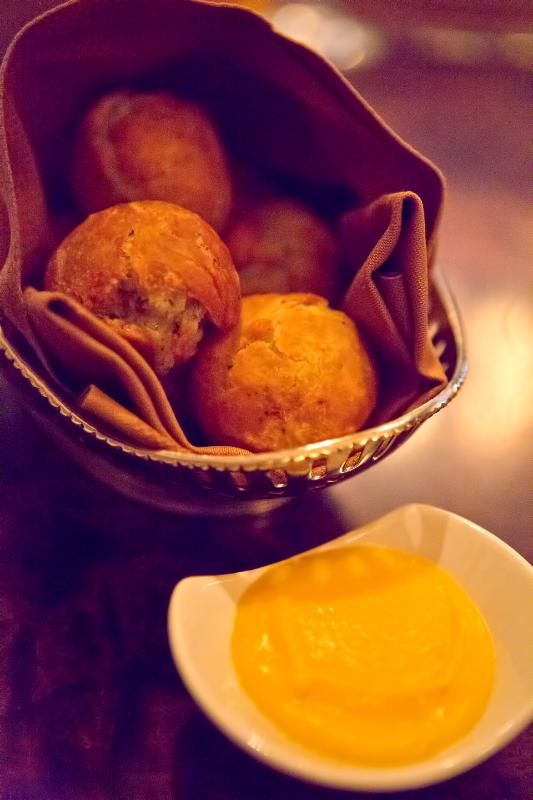 3. Carthay Circle – I was so looking forward to Carthay Circle and I wasn't disappointed. We had toured it earlier in the day and it was so beautiful inside. I was a tiny, tiny bit disappointed to be seated in an outer room and not one of the richer wood paneled interior rooms, but the disappointment didn't last long. We started our meal with the house biscuits which are stuffed with jalapeno, cheddar and bacon – if you haven't heard of them yet, you will. After my first bite, I thought, "Wow, that's a little strange." And then I kept eating and eating them. They are strangely addictive. I also ventured out from my usual steak and went for a pot roast of all things! And it was so tender I could have eaten it with a toothpick. I don't know how, but I could have. Delicious! And in case you weren't aware, if you order an appetizer or dessert with your entrée, you will get FASTPASSes to World of Color that night!
4. Blue Bayou –There aren't many restaurants at Disneyland that you really need to make reservations ahead of time for, but Blue Bayou is definitely one. I have heard walk up guest after walk up guest turned away. It's crazy popular and there's a reason for it. My highly scientific guess is that about half of the reason Blue Bayou is so popular is its setting. I've eaten in several restaurants at Disney that nailed atmosphere, but the food is wanting. Sci-Fi Dine-In Theater Restaurant, anyone? Blue Bayou, on the other hand, pulls off atmosphere and food quality. I've never been disappointed with a meal. The gumbo appetizer is the perfect starter and the filet is, again, wonderful. The Blue Bayou potatoes are delicious, also! For dessert, I prefer the chocolate cake. And who wouldn't?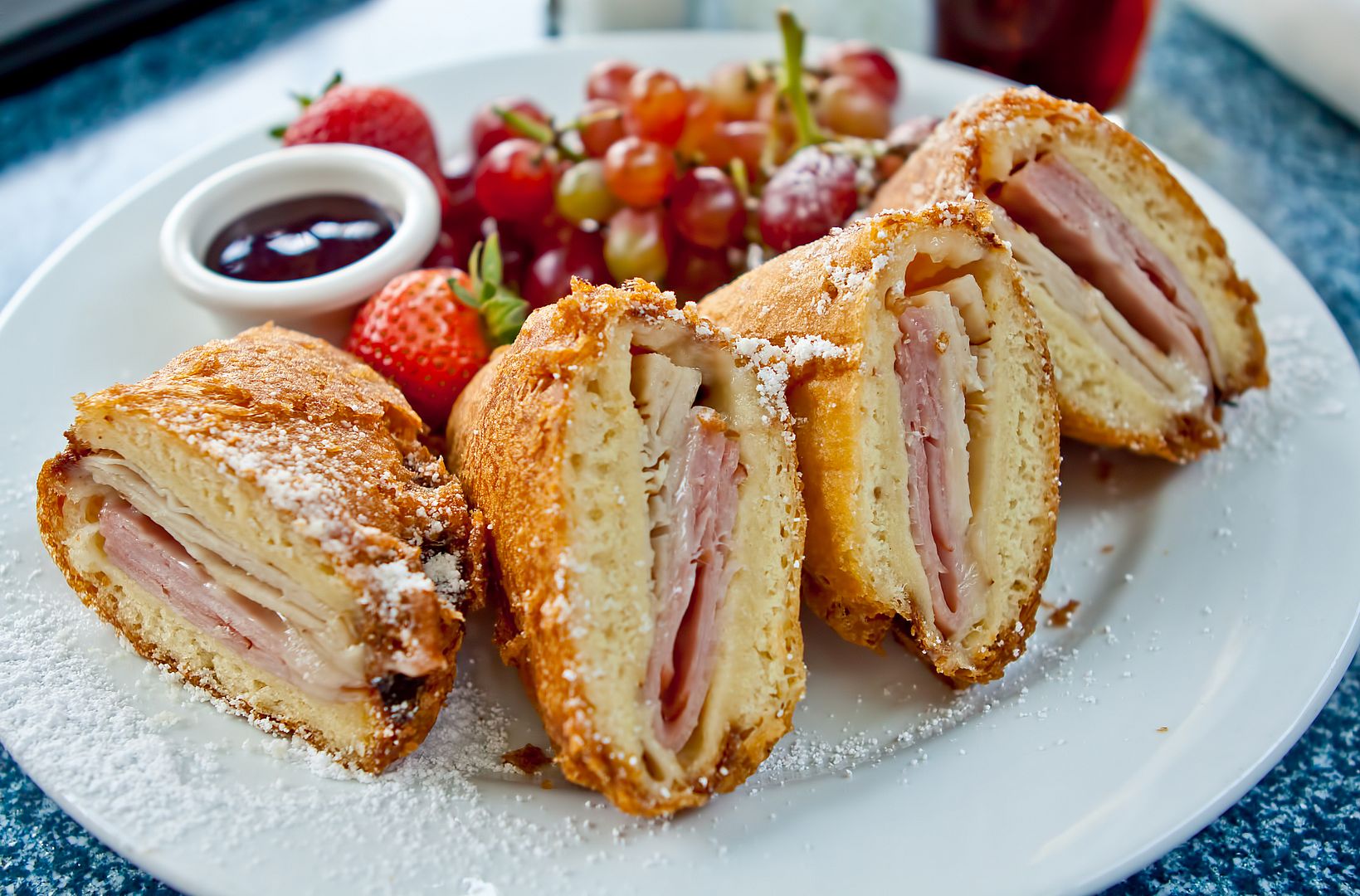 5. Café Orleans – I love eating at Café Orleans. The outdoor tables have such a wonderful setting. If you want to people-watch while you eat, get an outdoor table. The view of people and Frontierland in general is wonderful. I have eaten there all by my lonesome and not had that, "Oh my word, I'm eating all by myself and have nothing to do but study the paintings on the wall" feeling. There was so much activity a few feet from my table that I was thoroughly entertained. The food was delicious as well. My favorite is the Monte Cristo which is amazing to me. I can't even imagine how many calories I'm eating and therefore I try to restrict myself to one a year, but that's okay because there are lots of other choices. The pommes frites are to die for, and The Unofficial Guide to Disneyland says they alone are worth the price of admission to the park. And what meal wouldn't be complete with Mickey-shaped beignets at the end?
6. Wine Country Trattoria at the Golden Vine Winery– Wine Country Tratttoria is another one of those restaurants with an absolutely beautiful setting. The gorgeous patio is surrounded by vined trellis on a tiled terrace. You really do feel like you are eating in a California vineyard. It's hard to believe the hustle and bustle of Cars Land is on the other side of that greenery. You have a couple of choices here. You can order a la carte off the regular menu, or you can order off the fixed price menu which includes World of Color FASTPASSes. The fixed price dinner menu is currently about $40 per guest 10 and up and includes an appetizer, entrée and dessert.
7. Ralph Brennan's Jazz Kitchen – If you're hankering for some andouille, jambalaya, roulade, or Gumbo Ya-Ya, Ralph's is the place. If you have no idea what the majority of the words in that last sentence mean, then Ralph's is definitely the place. It's time to try some good old Cajun food y'all. And it is good. My husband grew up on the Gulf Coast of Mississippi and according to him, this is pretty authentic stuff. He likes the pasta jambalaya and who would say no to Black and Blue Filet Mignon? And bonus – the shrimp po boy, which you can get from the take out window next door, is pretty delicious too!
8. Storytellers Café – One of the great things about Storytellers is that you're not relegated to a buffet if you don't want it. My seventeen year old son is a buffet nut, but I usually prefer to order off a menu both to control my food portion and to improve the food quality. Storytellers is the best of both worlds! There is a buffet with plenty of choices, as well as a delicious menu including sea bass, chicken, and New York strip steak among other things. Something (yummy) for everyone! Breakfast with Chip and Dale and their woodland friends is a great option too!
9. Tortilla Jo's – Mexican food is touchy subject for some people. I've lived in Colorado, I've lived in California, and I've lived in Texas. All three are states that feel very strongly about their Mexican food. Okay I didn't really live in Texas, but my sister lives there and I've visited lots! When someone's serious about their Mexican food, they want to know is it authentic, is it Tex-Mex, or is it Baja style? And the answer is – I don't know! Haha! I never became an expert in Mexican food because I like all of it! Tortilla Jo's is probably closer to Tex-Mex, and they certainly serve some Baja style because that's what I order. If you're accustomed to Mexican food that sits heavy in your stomach, try some Baja style tacos because they don't. You won't be disappointed!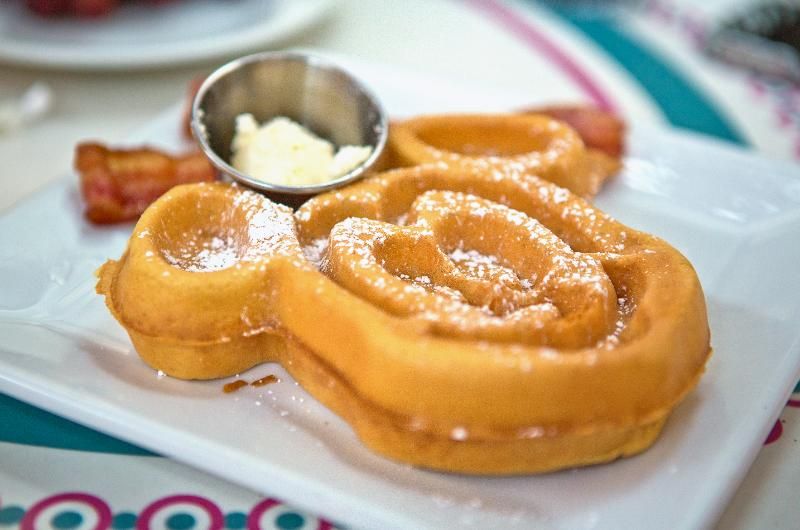 10. Carnation Café – Carnation Café is a little treasure tucked into Main Street, U.S.A. Eat outside, (have you noticed I like eating outside? Thank you, Southern California, because I wouldn't even consider that most months in Florida!) and people-watch, or just enjoy the quaint setting. The umbrellas on the tables reminded me of Dick Van Dyke's jacket in Mary Poppins. The fun red and white one, not the dirty chimney sweeping one. Breakfast is wonderful at Carnation Café. On our last trip we rode as many rides as we could during Extra Magic Hour and then relaxed with a leisurely breakfast at Carnation Café. Lunch and dinner are great, too. I just came across a pin on Pinterest today for the loaded baked potato soup which the pinner named the "best soup they'd ever had!" While you're there, make sure to say hi to Oscar – Disneyland's longest tenured employee. He's always got time for a hug and a picture.
So what did I leave off? I know there are some!