by Tammy Whiting on December 7, 2012 8 Comments
Filed under: Disneyland (CA)
So you want to visit Disneyland?  Well, it's about time!!  And if you want to go, the first question you will probably ask is "When?"  When indeed.  Of course, everyone would love to go when the crowds are low, and the crowd calendar is your best asset if you have no other restrictions and that is your main goal.  But, I realize that many people (teachers and parents of high school students come to mind) don't have the luxury of picking their dates based solely on the lowest crowds, so we'll look at some good options for other reasons, but keeping the crowds in mind.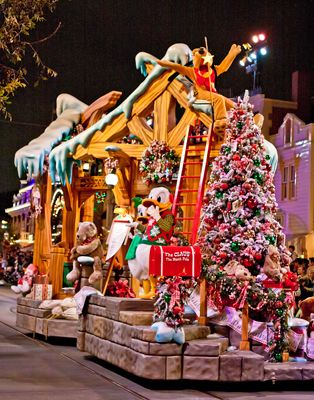 1. Holidays – It's the most wonderful time of the year!  Anyone who has been, or is there right now, can vouch for this.  I, and others at Touring Plans, have written multiple blog posts trying to convince you that you need to go to Disneyland during the holidays.  It's just gorgeous.  I just returned from a holiday trip to Walt Disney World, and there is nothing that will put me in the holiday spirit more than the parks being completely decked out, with Christmas music playing all over.  It's just beautiful!  Avoiding the crowds at Disneyland during the holidays isn't impossible.  In fact, one of the quietest times of the year was the week that just passed with crowd level predictions at a 1!  And the parks are fully decorated around Veterans Day, long before the Thanksgiving crowds arrive!  If you are more tied to school schedules, try going right when the kids get out.  The biggest crowds will show up between Christmas and New Year's Day, so if you can go earlier (or stay later) than that, they'll be a little more tolerable.  Christmas break itself is packed, so notice I said a "little more" tolerable.
2. Best Weather – Go when the weather is good!  Good weather isn't hard to do in Southern California, but there are some times when it's more comfortable than others.  As a general rule, May and October are some of my favorite months weather-wise.  The hot summer isn't usually in full force in May, but it's still nice and warm.  The summers aren't as humid as Florida, but they can still be hot.  In October, the nights can be cool enough for a sweatshirt, but the daytime is generally gorgeous!  And bonus – both months have low crowd levels in general with the exception of Memorial Day weekend.


3. Halloween – Halloween is a great time to visit also.  The parks are decorated for fall, with Mickey pumpkins everywhere.  Mickey's Halloween Parties are going on and the wonderful Haunted Mansion overlay is up.  The weather is great and the crowds are generally low during the week.  Avoid the weekends as much as possible and you're golden!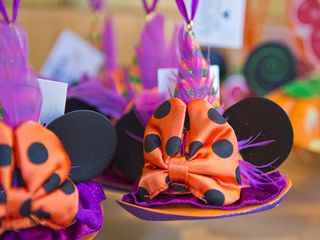 4. Fall Break – If you are in one of the lucky school districts that still have a fall break, go to Disneyland!!  You can take advantage of number 2 and 3 above!  And the crowds will be great!  My very unscientific poll of friends who live across the country and a little googling tell me that most of these school systems with fall breaks are in the South.  That means most of those breakers are going to Disney World because they don't know what they're missing and it's closer.  So be a rebel!  Go to Disneyland instead!
5. Celebrations – Go for a celebration!  Who doesn't want to spend their birthday at Disneyland?  How about your anniversary?  Or a family reunion?  There are special ways to celebrate the occasion, or you can just enjoy being on a vacation and away from real life on that special day.  Get a totally free celebration button and cast members, not to mention the occasional random guest, will recognize your celebration all day long!  Now, how well the crowds match up to your celebration completely depends on when your special day is.  If your birthday is December 25th, first – I'm sorry, and second – it's going to be packed.  In that case, see number 10 below.
6. Grad Nights – Let me be clear, I'm only recommending you go for Grad Nights if you are, in fact, a grad.  During the daytime, the parks are going to be full of herds of roaming high school seniors.  And at nighttime they'll be the only ones in the parks!  And wouldn't you love to be one of them?  Well, maybe not the staying up until 3 am part, the acne, the studying, etc., but roaming theHappiest Place on Earth with your friends, surrounded by no one but your peers?  Anyone who has done a Grad Night at Disneyland or Disney World will tell you it was an awesome night.  My husband still waxes philosophic about his grad night at Disney World years ago.  Also, since Disney World no longer offers them, Disneyland is your only shot!
7. Rainy Days – If you're flexible enough to pop over to Disneyland at the last minute, rainy days can be a great time to visit.  The locals are a big part of the crowds at Disneyland and rain tends to keep the locals away even during the busiest of seasons.  So if you don't mind your shoes being a little wet, grab that Mickey poncho and go!
8. Early or Late Summer – Early or late summer can be pretty quiet.  School districts across the country vary pretty widely on when school starts and ends.  In California, schools tend to get out pretty late, like middle of June late.  That means that even after Memorial Day you can get a few quiet days.  If your school gets out really early, like mid-May, and you can make it before Memorial Day, it's the perfect time!  Likewise, in late August, many schools have started back, and if they haven't, often activities like sports have thus preventing many families from traveling to Disney.  The parks aren't empty, by any means, but the weekdays aren't anywhere near the peak crowd levels you will experience in the summer.
9. Summer – Sure, summer isn't ideal crowd or heat wise, but it's convenient for most people.  If summer is your best option, try to avoid weekends.  The great thing about summer is longer park hours and more entertainment offerings.  Longer hours and more things to do!  Sounds good to me!  It's also rare for Disneyland to schedule major refurbishments during the summer.  That means everything should be open!  No arriving and bursting into tears when you realize that Indiana Jones Adventure is closed for your entire trip.  Not that I've ever done that, I've just heard stories.
10. Whenever You Can Get There – If none of the above options work for you, when should you go?  Whenever you can get there.  Seriously.  I'm a big believer that you can have fun at Disneyland no matter how oppressive the crowds.  First – use our Touring Plans!  They will save you so much time!  Get there early and eat at off times.  Use Fastpass to the maximum extent.  See the great street shows and entertainment!  You can have a great time without spending the entire day waiting in line for hours!  Crowds schmowds.
So how about you?  What are some of your favorite times to visit the parks?  Do crowd levels alone dictate when you go?
Posted on December 7, 2012