by Tammy Whiting on March 22, 2013 17 Comments
Filed under: Dining, Disneyland (CA)
Yum! Breakfast! Is it weird that I don't eat breakfast at home (unless you count cookies) but that I love eating breakfast at Disneyland? Maybe my body is fueling up for all the walking I'm about to do. Maybe my body knows I'm within walking distance of Mickey Waffles! Whatever the reason, breakfast at Disney is a must do for me! If I'm trying to save money, that breakfast may just be a few donuts from a box that we brought with us (and, really, is that all that different from cookies?), but otherwise we make a point to find something tasty to start the day.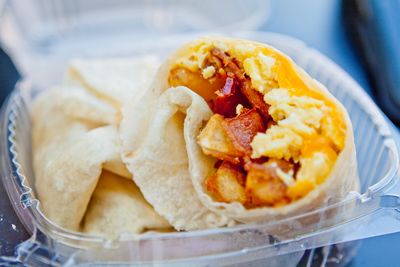 1. Jazz Kitchen Express – Ralph Brennan's Jazz Kitchen in Downtown Disney District isn't open at breakfast, but the Express Window is! And there are lots of good choices for breakfast. The beignets are probably the most popular and with good reason. They are hot deliciousness dipped (smothered?) in powdered sugar. Or try them dipping style with cinnamon sugar and syrup on the side. Take my advice and do not attempt to eat these without several napkins on hand. Messy doesn't even begin to describe it. Worth it, but messy. The breakfast burrito pictured at right is also delicious.
2. Steakhouse 55 – In my blog post about my favorite restaurants at Disney, a commenter pointed out how good the breakfast at Steakhouse 55 in the Disneyland Hotel is. Boy was that person right! Shout out to Marmorgan! And unless you are getting the steak and eggs for $17, it's fairly reasonably priced! A large stack of hot pancakes for $11, build your own omelet for $12, an American breakfast with eggs, ham, bacon or sausage and toast or a bagel for $12. With the Two Times Four you get French toast or pancakes, eggs, bacon AND sausage for $12. Not bad for a nice restaurant, huh? I didn't say cheap, I said reasonable. Compare it to the prices of Goofy's Kitchen next door and you'll realize what a bargain you're getting.
3. Tangaroa Terrace – You may remember a previous blog post where I said I was not excited by the Tangaroa Terrace menu in the Disneyland Hotel simply because they only had sweet potato fries. No plain old regular Idaho potato fries! But the breakfast menu is a crowd pleaser. And I'm not talking about the Egg White, Vegetable and Tofu bake, although I'm sure the vegetarians out there would disagree with me. There are lots of other great choices though. The Breakfast Platter was delicious. I could have eaten a whole plate of just the roasted potatoes. The French toast comes with a banana caramel sauce and bacon. There are also some ginormous cinnamon rolls to make just about anyone happy.
4. White Water Snacks – White Water Snacks in the Grand Californian Hotel and Spa is a great option. Especially if you want to grab something quick and hot on your way into the park. There are biscuit sandwiches, a breakfast burrito and French toast Sticks. Of course, the real highlight here for me is Mickey Waffles! Mickey Waffles are quick and pretty cheap at 6 bucks! The best way to start any day at Disney, right?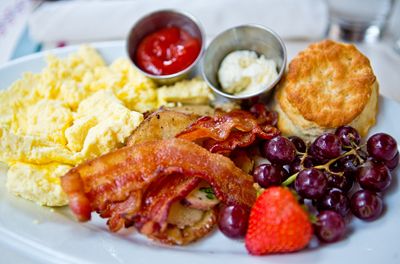 5. Carnation Café – The Carnation Café is one of my favorite places for breakfast in the Disneyland Park. The menu is quite big. Here your Mickey Waffles come with bacon or sausage. My dining companions loved the Huevos Rancheros and Apple Granola Pancakes. The delightful Oscar, the longest employee of Disneyland, has a wonderful breakfast platter named after him, and is there to greet the diners in the morning.
6. Jolly Holiday Bakery – The Jolly Holiday! You didn't think I was going to leave that off did you? The Bakery is, not surprisingly, a bakery! Of course, a bakery is a good place to get breakfast! In the morning they have quiche, fresh assorted pastries, specialty coffees, cookies (!), cupcakes! Everything you could want or need in the morning!
7. La Brea Bakery & Café – La Brea in Downtown Disney has both an express counter and a sit down restaurant. The restaurant side has much more elaborate options like smoked salmon and items with very fancy names like Croque Madame. There are some very yummy options at the sit down restaurant to be sure, but if you want to grab something on the go, there is a lot to choose from at the express counter. There are breakfast paninis, quiche, French toast, and more fresh breads than you can shake a stick at!
8. Earl of Sandwich – A recent (happy) addition to the breakfast line up at Disneyland is Earl of Sandwich. Known for its delicious sandwiches during the day, Earl also has breakfast sandwiches! They're hot, taste great, and cheap! Less than $4!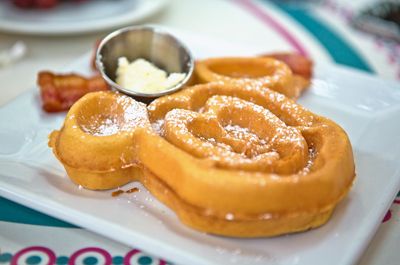 9. Flo's V8 Café – Did you know Flo's V8 Café in Cars Land serves breakfast? It does! There are chicken tamales, French toast, a platter with eggs, toast and breakfast potatoes…Wait. They had me at breakfast potatoes.
10. River Belle Terrace – The River Belle Terrace in Frontierland has Mickey Mouse pancakes? No, I did not say Mickey Waffles, I said pancakes! Walt himself was rumored to have dined on Mickey pancakes in the mornings at the River Belle Terrace. Of course, there are regular shaped pancakes too, but what purpose do those serve? The River Belle Terrace is also a great place to get your breakfast and sit outside, people watch, and enjoy the beautiful setting.
What's your favorite place to eat breakfast at Disneyland? Let us know!