by Tammy Whiting on April 5, 2013 12 Comments
Filed under: Disneyland (CA)
Last week we talked about places to let toddlers blow off steam at Disneyland. But a vacation with toddlers doesn't have to be all stroller-sitting with brief periods of escaping and running off energy. There are actually some rides that many toddlers will enjoy as well! Let me be clear. There are many rides that they are allowed to go on, but that certainly doesn't mean they should. Any child can of course ride Snow White's Scary Adventures or Mr. Toad's Wild Ride, but I wouldn't recommend either of these rides for toddlers unless you have a child who isn't easily frightened at all! For this list, I tried to stick to rides that aren't dark, aren't too loud, and don't have things jumping out at unsuspecting riders. Your toddler's mileage may vary, but these are all very tame.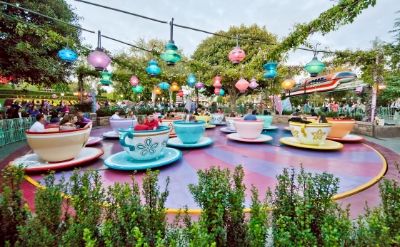 The biggest piece of advice I have – start mild. My sister made the mistake of starting their vacation on Buzz Lightyear Astro Blasters during one trip. Is Buzz Lightyear scary? I would say no! But the darkness and sensory overload, along with the fear of the unknown that was coming, ruined my nephew for the rest of the trip. After that, even it's a small world worried him. So my advice is to work up to the ones that aren't on this list. If your toddler does well on these, then you can see how much they enjoy battling the evil emperor Zurg!
1. Dumbo the Flying Elephant – Isn't Dumbo the first ride you think of when you think of little ones? Don't you avoid it like the plague when you don't have little ones? Well, there are reasons Dumbo appeals to little ones. One – it's a flying elephant! It's a flying. Elephant. We could stop there. But we won't. It's whimsical and bright. Wary toddlers can see the entire ride. There are no surprises there and that appeals to little ones with a fear of the unknown. So, Dumbo. Do it, and do it early.
2. Autopia – Autopia has a minimum height of 32 inches. In other words, not very tall. Autopia is a ride with instant curb appeal (see what I did there?). What toddler wouldn't like to go riding in a miniature convertible? The one caveat is that they can't technically drive, only ride, but there's no rule against them helping you steer and making them feel like they're driving! The entire ride is outside, and the only surprise could be if Dad is behind Mom and toddler, not paying attention, and accidentally bumps cars. Remind Dad before boarding to avoid such a surprise. I'm sure he'll appreciate that.
3. Flik's Flyers – Flik's Flyers is another version of Dumbo! A Bug's Life version! In this version, you just sit and have no control over your discarded food box that you're riding in (it makes sense when you see it). Unlike Dumbo, you can't choose to go up and down. Like Dumbo, you are simply being swung in a circle in your vehicle. Nothing more, nothing less. That's a good thing for a skittish toddler.
4. Mad Tea Party – The Mad Tea Party may not be a favorite for many adults, but kids love it and toddlers are no exception. While the spinning can make a grown man fall to his knees retching, toddlers don't tend to react that way. When in doubt, don't spin. Or don't spin any extra I should say. Just let the Tea Cups move on their own and sit back and enjoy. Or try not to hurl. Whichever the case may be.
5. Main Street Vehicles – You may think transportation is not a ride, but especially in the eyes of a toddler, you'd be wrong. A dear friend of ours took his toddler to Walt Disney World and after disembarking the parking lot tram on the way into Magic Kingdom, the youngster declared at the top of his lungs that it was the best ride EVER!!! Meanwhile, said friend almost choked realizing how much money he could have saved on tickets. The point is that toddlers consider anything where they are out of their stroller and still moving – a ride. All the different "rides" down Main Street, U.S.A. are perfect for them. There's a fire engine, a horse-drawn carriage, a bus, and cars. All fun choices for a toddler!
6. Disneyland Railroad – What toddler doesn't love a train? My toddlers certainly did! We spent the toddler years stepping over Brio tracks in the living room. The train ride is a peaceful trip around the outskirts of the entire park. It stops in the station on Main Street U.S.A., New Orleans Square, Mickey's Toontown, and Tomorrowland. The train does go through one dark area (a Grand Canyon Diorama and some audio-animatronic dinosaurs in a Primeval World section) between Tomorrowland and theMain Street station. It's not scary, but if you're worried about the dark at all, make sure to get off the train in Tomorrowland.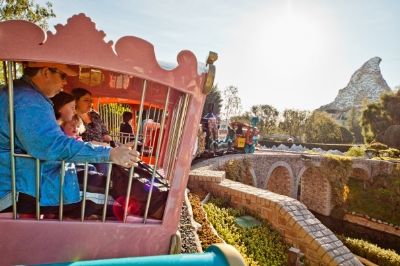 7. Casey Jr. Circus Train – What appears to be a cage of torture for adults who have to cram into the tiny cars is a toddlers dream. It's an adorable tiny circus train! You can ride in cages (I wasn't kidding!) or an open air passenger car as you travel through miniature towns. It's very cute. You can see many similar sights by riding the Storybook Land Canal Boats (and probably more comfortably), but your boat has to float into a giant whale's mouth to get there. If you think that will scare your toddler, stick to the train.
8. Heimlich's Chew Chew Train – On Heimlich's you actually ride on a Heimlich shaped train! Heimlich's German accent can be heard throughout the ride which takes you through giant replicas of food he's obviously munched his way through previously. The train ride is all outside and there is nothing scary about it. Perfect for toddlers.
9. Golden Zephyr – The Golden Zephyr may look a little intimidating because it's set up on a platform, but it's really not scary at all. The Zephyrs are open rockets that are hanging by wires, and once they start spinning, it's a fun swinging sensation. Little ones can ride with their parents, and I think they'll enjoy, because it's been a sentimental favorite of our family for a long time!
10. Carousel – King Arthur's OR King Triton's! That's right,Disneyland has two carousels. One in Disneyland and one in California Adventure. They are both excellently themed and perfect for toddlers. Give them a try!
Can you think of any other rides that are great for toddlers?