by Tammy Whiting on August 19, 2013 18 Comments
Filed under: Dining, Disneyland (CA)
So your goal of losing weight and your vacation to Disneyland have come crashing down upon each other! You don't have to give up your diet completely. Disneyland has some very healthy options. Maybe that's the topic for a future blog!? But I'll admit, I'm a much better judge of "good" than I am "good for you". So let's go with good! Things you may want to consider splurging on so to speak. I'll leave off my standard favorites like the Dole Whip Float and Premium Mickey Bars and try to pick some others that may not get as much ink. You probably shouldn't eat all 10 on the same trip, though! But, hopefully you are able to pick something you'd like to try.
1. Mickey Beignets from Café Orleans – Really, I've never had a bad beignet on property. The ones at Ralph Brennan's Jazz Kitchen Express are not too shabby. And at Café Orleans, they're Mickey shaped! So not only are they delicious, they're cute! They're hot fried dough covered in powdered sugar. What's not to like? Shake off some sugar if you want to get closer to diet standards. Not at diet standards, mind you, closer.
2. Hand Dipped Ice Cream from Clarabelle's Hand-scooped Ice Cream Parlor – Anyone who has ever read one of my blogs knows how much I love Mickey bars. Well, I hate to say it, but Clarabelle's could give my beloved Mickey bars a run for their money. The beauty of Clarabelle's is the ability to choose your poison. Choose your ice cream flavor, choose a milk or dark chocolate shell, and then choose a topping to roll it in. That, my friends, is genius.
3. Churros – If you haven't had a fresh hot churro, you haven't had a churro. Those not-fresh things that Disney World is trying to pass off as churros don't compare. Disneyland carts are serving hot fresh churros all day long. And everywhere. It's hard to walk very far without seeing one. These are a great diet splurge. They're a good size and very filling.
4. Truffled "Mac and Cheese" from Napa Rose – I'm talking super cheating on your diet here. But this really too-good-to-be-called-mac-and-cheese dish is worth every calorie. It's made with truffle oil, orecchiette pasta, and parmigiano-reggiano cheese, and served in your own personal-size copper pot. We could not stop talking about it after we tried it. It's rich and completely divine.
5. Pomme Frittes from Café Orleans – Continuing along with the savory theme of the aforementioned mac and cheese, let's talk Pomme Frittes at Café Orleans. If you're craving something not sweet, Café Orleans is your destination. These French fried potatoes are covered in garlic and wonderful Cajun spices. They're awesome. Try them!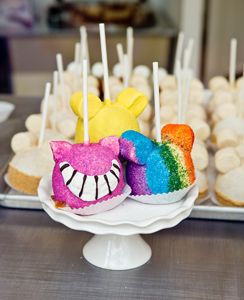 6. Caramel Apples – Disneyland takes its caramel apples very seriously. There are more kinds than you can shake a stick at. Disneyland takes your basic apple, dips it in caramel, and then covers them in chocolate. And that's just the beginning! The apples are then decorated in countless adorable themes. There are princesses, cars, some famous Muppets, monsters, Cheshire cats, and Mickey and Minnie of course. Some apples are rolled in M&M's, Reese's Pieces, Oreo crumbs, nuts or many other tasty treats. These are not your mother's caramel apples!
7. Cream Cheese Filled Pretzels – These delicious pretzels are filled with the queen of all cheeses – cream. It's more of a sweet cream cheese then what you may be expecting, but it's delicious either way. If you're a spicy fan, try the jalapeno cheese stuffed pretzels instead.
8. Matterhorn Macaroons – Let me say up front that I'm not a big Matterhorn Macaroon lover, but only because I don't like coconut. I included these because I know how much people love them. They're a dense baked coconut confection dipped in white chocolate shaped to resemble – you guessed it – the Matterhorn Bobsleds. Stop at the Jolly Holiday Bakery to get your macaroons, while trying to avert your eyes from everything else unless you want to completely blow the diet!
9. Mickey Sourdough Bread – Maybe I'm fooling myself by thinking the Mickey sourdough isn't a huge cheat on your diet. The sourdough doesn't feel sinful to me, but it does feel delicious, however. All of the sourdough in California Adventure is wonderful and worth trying. We're big fans of the giant Mickey head. We buy it in the morning and snack all day. I can see how that would be a problem for a carb free diet, so if you're limiting breads, go for a smaller size, or even a free sample at the The Bakery Tour in DCA.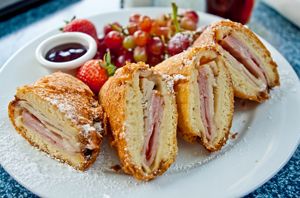 10. Monte Cristo from Café Orleans – I know there are some who don't care for this deep fried goodness, I'm not one of them. Admittedly, I can't eat the whole thing. In my mind they're made to share. I've had other Monte Cristos (the Cheesecake Factory has one on its brunch menu), but none I've enjoyed as much as Disneyland's. Disneyland's version is simply ham cheese and bread deep fried together and dusted with powdered sugar. Yes, deep fried. This may not be so much of a cheat on your diet as an obliteration of your diet. Don't forget my advice! Share!
So, what are your favorite calorie splurges at Disneyland?
Posted on August 19, 2013