Did you hear the Disney Magic was just "reimagined"? They recently dragged me off I recently returned from the inaugural sailing of the new Disney Magic, and (spoiler alert!) I loved it. Since I had also spent 12 wonderful nights on the Magic this summer before she went to dry dock, I had a very recent experience to compare the "old" Magic to the "new" Magic. So, let me tell you my impressions (and reviews) of the new Magic (and her new features)!
[Shameless plug: Check out our new Disney Cruise Line coverage, with more than 300 pages and 400 photos! – Len]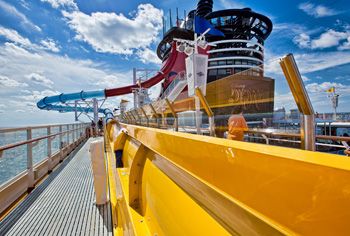 1. AquaDunk – The AquaDunk is by far my favorite addition. I'm not a big fan of body slides, but it's a complete rush. It lasts all of 7 seconds and yet somehow feels like you fall for at least 7 minutes. Some critics of the AquaDuck on the Disney Dream and Fantasy felt like it was too tame. Not so with the AquaDunk. You step into a vertical tube with water pouring down your back and a Plexiglas door closes around you. After you give the thumbs up signal that you're ready, Huey, Duey and Louie count you down, then the floor drops out from under you and you fall. And fall and fall and fall! Oh, and twist through a tube that goes out over the ocean, which is more than 100 feet below you. The wait was short on my sailing, but it certainly could be long during a hot afternoon at sea. Ride first thing in the morning or during the evening shows. If you're onboard during a port day, the line should be short, as well!
Read the rest of this entry »