TouringPlans is pleased to welcome guest author Chloe Gandal to share her personal insights about Concierge. 
Planning a Walt Disney World trip can be overwhelming, and sometimes you may need a little extra help to get everything just right. As a former Walt Disney World Resort Concierge, I know that there are many families who never stop by the Concierge desk, perhaps because they simply don't know how helpful the Concierge can be. We can assist families in many of the same areas as Guest Relations, without having to wait in a long line! If you need assistance in dining reservations, FastPass+ selections, MagicBands, tickets, or any magical extras (like tours, gift baskets, etc.), your resort Concierge is the place to visit. Here's five ways that a resort Concierge can help you on your next trip.
Dining Reservations
While the My Disney Experience app has made planning dining reservations more convenient, there are some instances where the reservation you're looking for is simply unavailable on the app. In this case, visit the resort Concierge and check if they can find something on their end. Now, I'm not saying that the Concierge can always find a reservation for you and your family (some restaurants are almost always booked, like Be Our Guest), but they often have more access to reservations. They can also directly call the restaurant to see about cancellations, food allergies, or any other restaurant-related questions you may have. If they're unable to find a reservation for you and your family, they are a wealth of knowledge for other dining options. Many of the Concierge cast members are well-versed in Disney Dining, and can recommend a restaurant perfectly suited for you and your family's dining desires.
Read the rest of this entry »
My husband and I just celebrated our tenth anniversary. We wanted to do something special for this milestone, so we booked a concierge room on the Disney Dream for our anniversary weekend. I had actually booked the upgrade as a secret from my husband, so any researching done ahead of time about what to expect was all on me. In short, we had a fantastic time, but there were a few things that I learned on our first time in concierge.
There's a Lot of Stuff Included
The price difference between the highest-end non-concierge and a concierge room is fairly steep. We booked a category T one-bedroom suite, which we knew would provide us with a lot of space, and we figured there would be some extras. There were quite a few nice touches that don't often get mentioned, however. In the closet, there were kid-sized hangers and a couple sachets to keep the walk-in closet (yes, you read that right!) from being musty. In addition, there were bathrobes for our use and slippers for us to use and keep. The closet also had a shoe shine tray, in case we had shoes needed to be shined. Because it was our anniversary, we arrived in the room to find a fruit arrangement on our coffee table. There were canned sodas and bottled water already chilling in our fridge. Bagged popcorn for the shows is included. A small internet package (beyond the 50 MB freebie package), included. Sunscreen is available on the sundeck. DVD rentals are included. Beer, wine, some mixed drinks (depending on what the bartender had), better-than-average coffee drinks, snacks (including mini desserts and hors d'oeuvres) throughout the day, unlimited canned soda and bottled water–all included. That doesn't mention the amazing staff who go well above and beyond.
Read the rest of this entry »
Upgrading from your usual category stateroom is a dangerous game. You start off on your first cruise in an inside room thinking, "I'm just happy to be on the ship! How much time will I spend in my room anyway?" On your next cruise, you upgrade to an oceanview for one cruise and realize you can't ever go back to a room where there are no real windows. Then, just once, you decide to splurge for a verandah—and now you never want the terrible inconvenience of walking up a few decks to be outside in the glorious ocean air. Well, let me tell you those upgrades were but a hop compared to the Grand Canyon jump that is concierge. After my recent sailing in a one-bedroom suite on the Dream (all the suites are "concierge" on Disney Cruise Line), I'm pretty sure I'm going to feel like I'm sailing in a closet in my oceanview stateroom on my upcoming Thanksgiving cruise!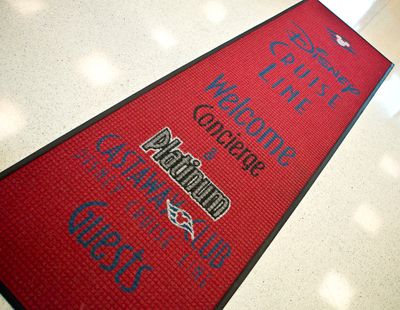 Recently, I was lucky enough to split the cost of a one-bedroom suite on the Disney Dream with a friend on a 4-night, off-season cruise, and my cost wasn't ridiculous. There are times when the additional cost has passed ridiculous and found full-blown disbelief. Price out the Roy Disney Suite on a longer summer cruise and you'll be convinced there must be a typo or horrible glitch in the system. No one really pays that right? Actually they do. Concierge sells out all the time. There are reasons it costs more though. And for some people, it's worth it.
1. Embarkation Day is Super Smooth – For those of you that are frustrated by picking arrival times to the port, you may like to know that concierge guests do not pick an arrival time, they can arrive at their leisure. Once there, they also have a separate check-in with minimal to no waits. After concierge guests check in, they are welcomed into a separate lounge reserved just for them while awaiting boarding. When the ship is cleared, before boarding numbers begin to be called, the concierge guests are led through a side door and up the gangway. When we boarded the Dream, we took our boarding picture quickly and were literally the first guests onboard the ship. The concierge guests gather in an empty lobby and are then escorted upstairs to the concierge lounge on Deck 12 by one of the concierge hosts. They are met there by some of the ship's officers and the rest of the concierge team. There are snacks and drinks (both non-alcoholic and fully alcoholic), and the concierge hosts meet with each family to go over everything they have booked beforehand to see if they would like to add anything. It's quite the luxurious way to start a cruise.
Read the rest of this entry »