¡Hola mis amigos! As you may have already heard, the TouringPlans team will be spreading out all over the Mickey-loving world for next October's #Everywhere project, and I was lucky enough to be selected to sail the Southern Caribbean on the Disney Magic out of Puerto Rico. I'm excited because this trip represents a few firsts for me. I've cruised previously with other companies, but am a Disney Cruise Line virgin, so I can't wait to see if their legendary reputation for service actually exceeds my less-than-perfect prior experiences with their competitors. Also, this will be my first time cruising from a departure point other than Port Canaveral (which is an easy drive from my home), necessitating air travel and a hotel stay. This post is my first entry in a brief series explaining how I'm approaching these issues, in hopes of helping any readers out there who may be contemplating a similar itinerary someday!
Disney Magic Southern Caribbean Itinerary
The Disney Magic, which was extensively refurbished last year, spent the summer of 2014 sailing around the Mediterranean, and will cruise the eastern and western Caribbean out of Port Canaveral from Halloween through next spring. But the 7-night cruise I'm on is somewhat unique, and calls for a different kind of introduction…It is one of only 4 scheduled Southern Caribbean itineraries departing from San Juan, Puerto Rico. (This port is also visited by the Disney Fantasy during some of its 7-Night Eastern Caribbean cruises.)
Read the rest of this entry »
Did you hear the Disney Magic was just "reimagined"? They recently dragged me off I recently returned from the inaugural sailing of the new Disney Magic, and (spoiler alert!) I loved it. Since I had also spent 12 wonderful nights on the Magic this summer before she went to dry dock, I had a very recent experience to compare the "old" Magic to the "new" Magic. So, let me tell you my impressions (and reviews) of the new Magic (and her new features)!
[Shameless plug: Check out our new Disney Cruise Line coverage, with more than 300 pages and 400 photos! – Len]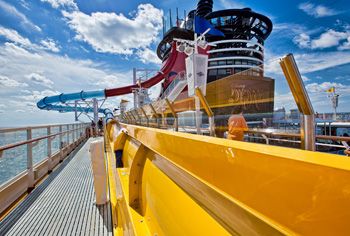 1. AquaDunk – The AquaDunk is by far my favorite addition. I'm not a big fan of body slides, but it's a complete rush. It lasts all of 7 seconds and yet somehow feels like you fall for at least 7 minutes. Some critics of the AquaDuck on the Disney Dream and Fantasy felt like it was too tame. Not so with the AquaDunk. You step into a vertical tube with water pouring down your back and a Plexiglas door closes around you. After you give the thumbs up signal that you're ready, Huey, Duey and Louie count you down, then the floor drops out from under you and you fall. And fall and fall and fall! Oh, and twist through a tube that goes out over the ocean, which is more than 100 feet below you. The wait was short on my sailing, but it certainly could be long during a hot afternoon at sea. Ride first thing in the morning or during the evening shows. If you're onboard during a port day, the line should be short, as well!
Read the rest of this entry »
Today we're launching coverage of the Disney Cruise Line!
It's more than 300 pages and 400 photos – the largest expansion ever to TouringPlans.com. You'll find detailed reviews of every ship, port, show, restaurant, bar, and activity on-board, plus itinerary, port, and Port Adventure details.
Our Coverage Includes
A new Fare Tracker shows you the daily price of every cruise on every ship for every stateroom category. See whether you'll save money by booking now or waiting, and see how Disney priced the same cruise last year.
Details and photos of the Magic, Wonder, Dream, and Fantasy, including stateroom types and descriptions, children's clubs and activities, restaurant and bar reviews, family activities, how to meet characters, on-board seminars, and shopping. We'll even tell you which theater shows to skip for more time at Senses Spa.
Complete coverage of Castaway Cay, Disney's private island, including reviews of every Port Adventure activity, what to pack for your day, food and bar reviews, and more.
Read the rest of this entry »